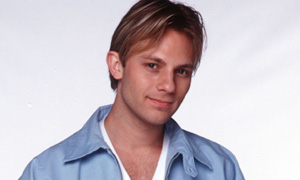 Alex Wilkinson (Craig Robert Young)
1998-1999
First Regular Appearance: 2.4 (#68) Tuesday 10th September 1998
Last Regular Appearance: 2.76 (#140) Thursday 20th May 1999
Duration: EP: 68 - 140 ½ SE: 2.4 – 2.76
Squad Number/Position: #25 (Defender) (1998-1999) / Youth Team (1998-1999)
Last Seen: Dropped from the team in disgrace, storms away from Wembley leaving behind his upset mother.
Alex was a promising talent in Harchester United's Youth Team, but was persistently in trouble with the law and in and out of a young offender's home for three years. By the beginning of the 1998-99 season, Alex's mother Denise was managing the club's canteen, and Alex was about to come out of the home without a place in football. Frank Patcham had been Alex's coach, and always had a soft spot for Denise, so when she asked if he'd consider taking Alex on again, Frank saw it as a double-edged sword. He decided to give Alex a second chance which he grabbed hold of, seemingly determined to prove he had changed his ways. Away from Frank and his mother however, Alex's determination to succeed and take down anyone who stood in his way was as strong as ever.
Fellow youth teamer Hari Lal was unfortunate enough to come under Alex's radar, and asking the right questions of Frank revealed to Alex how Hari's place in the team wasn't his decision. Alex used this information to his advantage, and made Hari his target with humiliating penalty shoot-outs and conducting his own 'Kangaroo Court' with a punishment of naked track running for Hari. Hari didn't feel cut out for the team and quit, with his pushy father Councillor Lal (whose deal with Jerry Block had gotten Hari into the youth team) accusing the club of racism and bullying.
In the run up to the Boxing Day match against Charlton, several of the first team squad are ruled out with injuries, and having impressed during the first half of the season Alex received a promotion to the top. But during Christmas dinner with Frank and his mother, Alex learned his place was no more with the player he was due to replace passing a late fitness test. Alex bitterly blamed Frank, and spent the remainder of the day getting drunk at the Digs in front of Fletch, Sean and Warren. A case of food poisoning was next to strike the squad before the game, and Alex narrowly got his chance back along with Billy O'Neill. The previous night's events affected Alex though, and a poor performance saw him taken off, which became the moment Alex decided he would achieve his place in the first team without caring what he had to do to get it.
Alex's next competition came in the form of Leon Richards, who playing in the same position as Alex, posed an almighty threat when it was learnt only one would get a professional contract next season. When Leon collapses and is taken to hospital, tests find drugs in his system, and Leon protests he would not have taken them. The truth is Alex spiked Leon's drink in order to improve his chances with Frank, who is temporarily in charge of the first team. Leon realises Alex was behind his spiking, and in an attempt to shut Leon up, Alex gets involved with Leon's ex Claire, and mother to his baby son Clayton. Alex uses Clayton to threaten Leon, how he will harm his son if Leon doesn't stop his allegations about him. With nobody but his best mate Billy to turn to, Leon takes Clayton away without telling anyone, causing Alex to manipulate Claire into thinking Leon has kidnapped their son! Billy comes through for Leon and tells Denise what Alex had been doing, putting her on the way to seeing that her son was still a wrong 'un.
Alex is all set to play in Harchester's historic FA Cup Final, until Denise goes to Frank with what she's learned about Alex threatening Leon. The ultimate karma hits Alex when he is dropped from the team for the final and replaced by Leon! After Luis tells Alex his actions have cost him his place in the squad, he knows he is finished at Harchester. With this, Alex holds Denise responsible for his downfall and disappears from Harchester, to be missed by no one (except the viewers!).
Craig Robert Young Interview with Dream Team Diehard (June 2013)