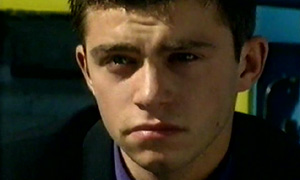 Billy O'Neill (Phil Barantini)
1998-2000
First Regular Appearance: 2.1 (#65) Tuesday 1st September 1998
Last Regular Appearance: 4.1 (#203) Sunday 1st October 2000
Duration: EP: 65 - 203 | SE: 2.1 – 4.1
Squad Number/Position: #17 (Striker) (1999-2000) / #33 Youth Team (1998-1999)
Last Seen: Being interviewed on Sky Sports about his summer move from the Dragons to West Ham.
Billy O'Neill lived and breathed Liverpool. His ultimate dream was to play for the club but couldn't cut it in the youth team there, mainly through waring with team mates and poor obedience to his coaches. In order to grow as a player, the 18-year-old had to put his Liverpool F.C hopes on hold and work under Frank Patcham at Harchester United.

Billy arrives in dramatic style - the back of a police car, and becomes part of the HUFC youth team hostel where he meets Leon Richards, who soon becomes his best friend. Trouble finds the two boys almost immediately, when Billy encourages Leon to break curfew and get into a party at Studs, and Jerry Block mistakenly hands the wrong "Billy-boy" £50,000 in what was intended as a bribe for Biloo Kapur. Billy is irresponsible with the money, and wants to spend it left, right and centre, until Leon has to hide it for his own good. It isn't long before Jerry is onto the boys, and sends his right-hand-man Fraser to retrieve the money in anyway he can. This includes ransacking Billy and Leon's room at the hostel, and putting Leon in hospital, with the threat only ending when Fraser is killed after falling through the roof of a building.

When Billy receives promotion to the first team bench, he hopes Leon will be joining him soon, knowing that he is good enough. Alex Wilkinson has other ideas, and sets about discrediting Leon in order to strengthen his own chances of gaining a first team place. When Alex's menace reaches a dangerous point for Leon and his family, Billy steps in and reveals all to Alex's mother and Frank about what Alex has done. Leon gets his place in the squad for the FA Cup Final and he and Billy are awarded their winners medals.

Now both first team regulars, Billy and Leon have their first big European match shortly into the 1999-00 season. Amsterdam is not a happy experience for Billy, as not only does he get himself sent off but Leon is killed in a separate plane crash on the way home. Billy is lost without his best mate, and takes a while to come to terms with what's happened, but finds support from long term friend Kelly James, who is also grieving following the plane crash. Billy also gets the chance to honour Leon's memory when Clare, the mother of Leon's son Clayton, makes him the boy's godfather. New striker Wes Kingsley becomes a good friend to Billy, and in return Billy helps get Wes and Kelly together, and they become engaged for a time.

During this season, Billy learns his salary is dwarfed by the size of his team mates' own, and when his request for a pay increase is turned down he is pressured by his agent Jeff Stein into finding a new club. In the end the pressure gets too much for Billy and he barricades himself in the dressing room toilets. Billy stays with Harchester until the end of the season, and over the summer of 2000 West Ham, who had recently come in for him, return with a new offer which Billy accepts.