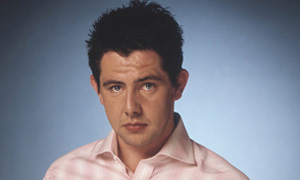 Dean Boyle (Michael Ryan)
2003-2005
First Regular Appearance: 7.1 (#293) Groundhog Day Sunday 28th September 2003
Last Regular Appearance: 8.32 (#356) Play Off Sunday 29th May 2005
Duration: EP: 293 - 356 ½ SE: 7.1 – 8.32
Position: Harchester United Chairman (2004) / Chief Executive (2004-2005)
Last Seen: Gaining the lads' forgiveness following his role in the racism plot, before joining them on the doomed coach.
Dean was brought up in Liverpool, with any relationship his parents once had over by the time he reached adolescence. Dean was mostly raised by his mother, and the one thing, if only, he shared with his father was their love for Everton football club. Dean's trade was as a builder, and he went to work for his dad at Tony's business Boyles Builders, though often belittled he was treated as a lackey by his father. When Tony Boyle married his second wife Karen in 2001, Dean is introduced to her sister Donna, and thinks he's struck gold, though Donna is just as taken with what's in Dean's wallet (which was never much anyway). By this point, Dean had grown ever more disappointed with his father's lack of support and contact, and following the wedding does not see Tony for the next two years.
Karen, who is only three years older than Dean, is determined to get father and son back together, finding the perfect opportunity with Dean's twenty-second birthday on the same day as the Everton final replay against Harchester. With Donna, the four arrive at the Dragons Lair, and Tony sends Dean off with £600 to find the tickets he neglected to pick up beforehand. Dean buys Clyde Connelly's comps from ticket tout Steve and the Boyles end up in the home end with the Dragons fans. When Harchester prevent Everton reaching Europe, Dean thinks his birthday is ruined, until Phil Wallis raffles the club off to the winning seat - which Donna is sitting in.
Dean's road to becoming Chairman is met with the competition of Clyde arguing his tickets were used, and Matt Webster, who had owned seat #61 as a season ticket holder for eleven years. Having to wait for the court case, the Boyles receive greater merit when Dean and Tony witness Ryan Naysmith accidentally kill Steve, thus protecting their claim further. And although Dean loses Donna to Clyde, he ends up solely fighting her in court for the club when Matt's claim is thrown out. That Christmas Dean sees a reconciliation with Donna on the cards after Tony destroys her marriage to Clyde. Donna however has revenge on her mind, and exposes Tony to Dean and Karen for how he has always wanted her for himself, contributing to Tony collapsing dead from a heart attack.
When Dean and Donna are both awarded 50% shares each in Harchester United, Dean vows to use his power to bring Donna and the club down. Karen convinces Dean that Tony was to blame just as much as Donna, and it takes her leaving and a rollocking from Stuart to make Dean see sense. He promises to take his new responsibility as Chairman seriously, almost as if the club was his own son. There is soon trouble for everyone when the club falls below its warned position of sixth place in the League, and Coopers Bank liquidates Harchester United! With the support of Curtis, the two refuse to let the club die, and together convince the rest of the lads to play on for free until the end of the season. Dean's passionate plea for the nineteen other Premier League chairmen to allow them to play on goes Harchester's way, and Coopers allow the club to continue.
With the bank now in charge, Dean and Donna part ways when they are required to sell their shares for £1 each, only the lads stand by Dean by choosing him as their new Chief Executive. When Marcel Sabatier's death causes Pilar to admit responsibility for the club's liquidation, Dean is relieved when the FA decide not to punish the club. But when Jeff comes to him with news that UEFA are deciding further sanctions in Geneva, the two fly out for Dean to once again plead the club's case. Dean gets the news he was dreading; UEFA decide to relegate Harchester from the Premiership to the First Division, and a final appeal to the Court of Arbitration of Sport fails, forcing them to accept they will be spending the next season in the Championship.
Millionaire gambling magnet Eli Knox buys the club, and appoints former Wigan manager Don Barker as new manager. To his surprise, Eli keeps Dean on as Chief Exec, but soon has Dean betraying his friends in order to keep them from leaving the club, including taking away Curtis' dream move to Charlton. When Clyde commits suicide due to Barker's harsh regime, Dean believes he can lift the mood by bringing back Dragons legend Karl Fletcher, although the now overweight, has-been Fletch is seen to be another in a line of embarrassing decisions made by Dean.
When Don pressurises Dean to pay rebel fans to cause a race ruckus in order to get a Champions League game against Lazio awarded in Harchester's favour, it backfires when the main two thugs are arrested. They arrive home, believing Dean has betrayed them, and beat him so badly he is unconscious in hospital for several days. Following this, Dean plots with Fletch to remove Barker from United, but in the face of Don blackmailing Nicole Caskey into bed, Eli backs Don as his man in charge, and Dean is forced to resign. Dean moves in with Curtis and Ryan, refusing his job back when Eli asks him to consider returning after Barker has been forced out.
At the Play-Off final in Cardiff, Dean is one of the few at the club who learn Fletch has been found dead in Barker's car, and is there to comfort Gina. Later, as the team celebrate their return to the Premiership, Dean asks them, in particular best friend Curtis, to let him make it up to them for his part in the race row. It seems the lads are prepared for this to happen, as Dean is last seen joining them in the celebrations on board the team coach. Knowing he has been connected to the death of Fletch, Barker gains access to the wheel again and drives into the coach, causing a massive explosion. Dean is killed with the team and remembered as a Harchester legend from then on.