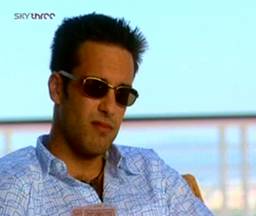 Jamie Parker (Jim Alexander) 2000-2003
First Regular Appearance: 4.1 (#203) Sunday 1st October 2000
Temporary Departure: 6.2 (#262) We Are United Sunday 13th October 2002
Return: 6.10 (#270) A Game Of Two Halves Sunday 8th December 2002
Last Regular Appearance: 6.30 (#290) End Game Sunday 4th May 2003
Duration: EP: 203 – 262, 270 – 290 ½ SE: 4.1 – 6.2, 6.10 – 6.30
Squad Number/Position: #1 (Goalkeeper) (2000-2003)
Last Seen: Being zipped in a body-bag having been shot at the close of the siege.
A known contender for stardom in the England team goal, Jamie Parker had his youth and early professional career at Chelsea. Having famous star players as mates, and a glamour model girlfriend saw Jamie make more appearances on the social and celebrity scene than he was actually making first team appearances for the club. His infrequent appearances in goal at Chelsea began to become a problem for Jamie's prospects, and his agent father-in-law Jeff had what he thought was the perfect solution. Take Jamie from where he was just seen as another face in a big dressing room to where he'd be a big fish in a small pond: Harchester United.
Guaranteed selection and a new public perception, apart from the capital-superstar attitude Jamie brought with him, 24-year-old Jamie was snapped up by Harchester manager Ray Wyatt on a free transfer from Chelsea. Arriving in glamorous style with now wife Tash, Jamie's career with the Dragons doesn't get off to a good start, with his partying lifestyle playing a part in the team's 7-0 defeat to Leeds, and worse - being photographed drunk with a stripper nearly costs him his only-months old marriage to Tash. Another one of Jamie's weaknesses that would plague his time in Harchester was his gambling. This again leads to Tash getting hurt (physically this time) but she comes through for him by helping Jamie out of his debt-ridden mess.
Into Jamie's second season at Harchester, best mate Fletch is on a murder charge and wants to see the main prosecution witness, Victoria Baptiste. Staying in a rehabilitation clinic, Jamie checks in to see her himself, using his gambling addiction as a cover. Before long however, Jamie has forgotten his mission and has drunkenly bedded Victoria! Jamie's nightmare continues when she pitches up right next door to the Parkers at the Barrons, and soon the long-suffering Tash is dragged into Fletch and Jamie's mess - unassumingly caught on video camera handing Victoria money from Fletch to leave town. The shock of what Jamie has been a part of sends Tash into the arms of Monday Bandele, and a one night stand follows.
When Tash discovers she is pregnant, she and Jamie are reconciled, although Tash herself is unsure whether the baby is his or Monday's. When tests reveal Jamie is the father, he further jeopardises his future with Tash by sleeping with Victoria again, but her latest threat of blackmail doesn't last long, as Lynda soon has Victoria on her way and she never troubles the Parker's again. Whilst the team are on their way to the UEFA Cup final at the close of that season, Tash goes into premature labour and is unable to get through to Jamie - as he is aboard the doomed team coach about to crash on the M1! Jamie is traumatised following the crash, and cannot be around new daughter Hope as she is a frequent reminder of the last few months' events.
Early in his third season with

Harchester

, at Jeff's suggestion, Jamie heads to a rehabilitation clinic in L.A to give himself the best chance of getting well again. Jamie returns shortly before Christmas 2002, but unbeknownst to him

Tash

has turned to his team mate Robbie Walsh for support during his absence. Jamie soon suspects the affair, but believes Fletch is the guilty man and head butts him at the Christmas party, before Robbie admits it is him.

Tash

doesn't have to feel in the wrong for too long, as at Fletch and

Abi's

for Christmas dinner, a Tennis player named
Shannon
arrives revealing she and Jamie are in a relationship! Soon though,
Shannon
realises Jamie still loves

Tash

and goes back to L.A, and with Robbie now in
Brighto
n, Jamie and Tash begin to warm to each other again.
With the team fighting for Premiership survival, Jamie falls under the control of rogue manager Patrick Doyle, and even after Patrick is dismissed from the club, he is still forcing Jamie to throw games. Returning manager Alan Rothman has had enough of Jamie's unstable behaviour and drops him for their final, most crucial match against Everton. Jamie has now well and truly lost it, and with a gun Doyle handed him to kill himself with, Jamie takes the whole team hostage in the dressing room at half time. During the stand-off, Jamie accidentally shoots Abi, gravely injuring her. Tash is put on the phone to Jamie, where there is an emotional breakdown between the two, and everything involving Doyle's control of Jamie comes out in the open.
When

Tash

tells Jamie he hasn't lost her or Hope, he is persuaded to end the siege and surrender. Jamie is expecting to see

Tash

waiting as he leaves the dressing room, but all he can see outside are SO11 officers yelling at him to put the gun down. Jamie panics, unintentionally raising his gun and the officers fire to take him down. Jamie is hit in the upper
torso and dies on the Lair tunnel floor, the affects of this tragedy looming for long after.
Jim Alexander's Interview with Dream Team Diehard (May 2011)