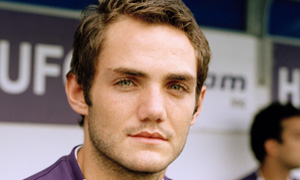 Jason Porter (Frankie Fitzgerald)
2006-2007
First Regular Appearance: 10.1 (#388) Dragon Til I Die Sunday 29th October 2006
Last Regular Appearance: 10.32 (#419) The Final Whistle Part Two Sunday 3rd June 2007
Duration: EP: 388 - 419 ½ SE: 10.1 – 10.32
Squad Number/Position: #10 (Midfielder/Striker) (2006-2007)
Last Seen: Ending the twenty-one year wait for title glory at Harchester United. With a little help from Mr. Harchester!
Jason's father David was a lifelong Harchester fan who recognised his son had potential. His proudest moment came when Jason, at the age of twelve, was welcomed into the club's academy by Frank Patcham. Tragically, Jason lost his dad only a year later, and at such a vulnerable age, began to go off the rails and rebel. By fifteen he had dropped out of the academy, persistently warring with rival players and team mates, and indulging in heavy under-age drinking whilst becoming a regular smoker. The day he barely scraped his GCSE's Jason came home to find his bags already packed, not seeing his mother since.
Despite his troubles, Jason didn't lose his love for playing and despite a serious comedown from Harchester's academy, he joined a local five-a-side team where he met his only true companions Phil and Deano. The three began their working lives together at the Tyre Bay, and never missed a Dragons game - where at a Carling Cup away with Preston, Jason met his girlfriend Katy, admiring her front in berating his hero Karl Fletcher for missing the ball! Attending a pre-season friendly in 2006 against Southend, Jason chooses his moment to loudly voice his annoyance at Alex Rose's managing tactics. Jason gets a shock when Alex orders him down to face him on the sidelines, and is told he is going on to show he can do a better job! On the pitch, Jason shows he hasn't lost the talent that once secured him schoolboy forms, and it is down to a goal he scores that Harchester win the match.
When Alex turns up at the Tyre Bay, Jason believes it's a prank by Phil and Deano, but it's for real - an impressed Alex offers Jason a two-week trial with the reserves. The reserves do not take kindly to the commodity that is "Tyre Boy" pitching up when they have had to work years to get to where they are. Jason doubts whether he can do it, but gets advice from European-class Pavel Kovac who admires his story. When both Alex and Kovac leave, Jason's trial is nearing its end, and he fears new manager Jimmy Craig holds his last chance. After Katy passionately demands he stay to see Jason, Jimmy agrees to give him a contract while he continues to train with the reserves. Jason and Katy leave their high-rise council flat in time for his (real) first team debut.
The life of a Premier League footballer begins to change Jason, his head turned by his high wages and, after accepting ecstasy at a party in London, has a much regretted one-night-stand with Emma. Upon returning home, he tries to ease his guilt by proposing to Katy, which she accepts. There is another problem brewing with Phil and Deano, who feel neglected by Jason in favour of his new famous friends, in particular Gavin, Miguel and Sean. For Jason's twentieth birthday, the boys and Katy obtain Karl Fletcher's FA Cup winning shirt - a real piece of Harchester history. Jason doesn't show up on the night to collect his present, and Phil and Deano can't be bothered with him anymore. In reality, Jason was roped into the "Invincible" trio's gambling woes, which saw casino boss J.F Freddericks choke to death on chewing gum. This reminds Jason who his real friends are, and he puts Phil and Deano first again.
Only interested in keeping Jason quiet about the J.F involvement, Sean and co plan to initiate Jason into the Invincibles - and use the Fletch shirt as a prop. Strange occurrences begin happening afterwards, and forced to pay Emma when she threatens to reveal their liaison, Jason is stunned to see the ghost of Fletch sitting beside him! This Fletch however appears to be a figment of Jason's guilt - over Katy, J.F and his fear of screwing up at Harchester. At their wedding, Jason admits the truth of his mistake and is left by Katy. This is followed by being wrongly labelled as Dragonslayer, after a mix-up with Danny Sullivan's tracksuit sees Jason accused of being the faceless troublemaker determined to destroy the team. It is only when Jason goes to the police and publicly admits he was alone with J.F when he died that Katy and Gavin make the team realise Jason is not Dragonslayer.
Jason gets a place on the bench for Harchester's historic Premier League title bid against Chelsea, and when Gavin comes off injured, acting-manager(!) Steve Kramer gives Jason his chance. With just one goal needed for the win, a pass comes Jason's way, and the sprit of Fletch inside of him, Jason shoots as Fletch watches, waits, and smiles!