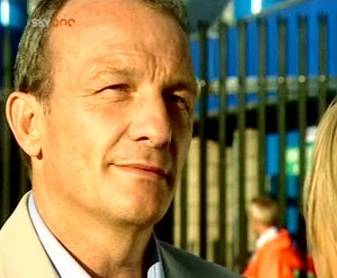 Jeff Stein (Ray
MacAllan

)

1999-2004

Guest: 3.19 (#159) Tuesday 23rd November 1999 – 3.20 (#160) Thursday 25th November 1999

First Regular Appearance: 3.44 (#184) Thursday 16th March 2000

Last Regular Appearance: 8.3 (#327) Last Exit to Harchester Sunday 31st October 2004

Duration: EP: 159 - 160, 184 - 327 ½ SE: 3.19 – 3.20, 3.44 – 8.3

Position: Football Agent (1999-2003) / Agent Consultant (2003-2004)

Last Seen: Being let go by Lee to find a new future scouting undiscovered football talent.

Jeff was born in 1955. Growing up he was double-blessed with a mind for business and a gift of the gab, always having a deal on the go in the playground and could stand up for those weaker than him. So it was no surprise as a young man Jeff managed to turn around his lack of skill in making it as a football player into entering the new-world of football agenting, showing up-and-coming players his own age of the further benefits and bigger pay-packets they could be in for. To the annoyance of old-guard managers and chairmen alike! Jeff married his first wife at this time, and their only daughter Natasha, or Tash to everyone but her parents, followed. The family lived in Leigh-on-Sea, Essex until Jeff and his wife divorced when Tash was a teenager.
In the late 1990's, Jeff is in a lull in terms of in-demand clients. Scouting the talent at Liverpool, he persuades Scott Lucas to sign with him, having learnt of how Scott is unhappy at the club. Jeff uses a personality clash between the young striker and Gerard Houllier to organise a transfer, and his involvement with Harchester United begins when they take Scott. Always willing to be a headache to any club for his clients, Jeff thrives on Scott's troubled nature. But in a short time at Harchester it backfires on Jeff when Scott goes on strike after being left out of the team's UEFA Cup Tie with Rangers, and is subsequently refused another transfer. Jeff knows Scott's value is decreasing the longer he refuses to play, so joins forces with loud-mouth manager Gordon Gallagher to get Scott back in the team.
Jeff is next called to the Dragon's Lair when Billy O'Neill, wanting a piece of what his older team mates are getting, signs with him and asks for his help achieving a pay rise. With the opportunity to pocket himself money, Jeff informs Billy a move will be his best option and lines up a £3M transfer to West Ham. Feeling he has already offended Ray and not wanting to do the same to Jeff when he doesn't want to leave Harchester, Billy hides out in the toilets so he won't have to sign. Billy sorts things out with Ray, but Jeff is more annoyed about the money he's lost and the damage done to his relationship with Harry Redknapp!
Now with his connections in Harchester at their most ripe, Jeff settles down in the Midlands town, moving into the club's purpose-built housing estate The Barrons. At this same time, he is joined by his immediate family when overseeing the transfer to the club of Tash's husband, Chelsea goalkeeper Jamie Parker. Harchester now come to use Jeff as their priority agent, and Lynda and Ray bring him in on their bid to sign Monday Bandele. When Monday discovers his agent Wolfgang Meyer isn't as clean cut as he thought, Jeff takes his moment to steal his place and organise Monday's permit. When in Dublin to finalise the paperwork, they learn Monday is not eligible, so Jeff puts his mind to finding Monday an EU citizen to marry! At her hotel, Tash meets a lonely chambermaid from the North, Siobhan, who agrees to be Monday's wife and return to Harchester with him.
After Scott leaves for Chelsea, nineteen-year-old Danny Rawsthorne becomes Jeff's most valuable client. Though Jeff even faced competition to keep him from none other than Fletch, who declared he was becoming an agent and would handle Danny's affairs, in order to get at Lynda. A more, slightly serious, rival came in manager Patrick Doyle's son Taylor, who organises Andrei Belanov a move to Monaco which loses the club and Jeff a serious amount of money. Taylor continues to be a thorn in Jeff's side, persuading Danny to select Ireland over his England Under-21 call up and playing on his insecurities for his own game. The younger, more ruthless Taylor then gets in on the latest promotion from the youth team, Robbie Walsh, to Jeff's dismay once again. Jeff at least thought he would be all right as long as he had Danny, who he keeps from Taylor, but is dealt a terrible blow when the young star is killed in the M1 coach crash - something Jeff would be affected by financially for a long time after.
There is some good news for Jeff when the unpopular Taylor outstays his welcome, and joining forces with Doyle senior, they set up a consortium in which to buy Harchester United from Sam Irving. They underestimate Sam's loyalty of first-refusal being former employees, and are shocked when he sells to a bidder offering an extra £2M. The new chairman is a plumber-turned-lottery-winner, and Jeff takes advantage of how inexperienced and naïve Phil Wallis is in business. Phil on the other hand, sees Jeff as a valuable colleague, assigning him the tasks of bringing back fans favourite Scott Lucas and the signing of Real Madrid's Roberto Mendoza. Patrick, however, sees to the end of these deals, with Lucas leaving again and Mendoza suffering a career-ending injury. Mendoza later comes back to haunt Jeff when, at a time when his business was struggling, he held back money from the deal and an enquiry ultimately bans him as an agent.
It is not just Jeff's business and personal life that falls apart during this time, for Jamie is shot dead having lost his mind and holding the team hostage in the dressing room, followed by Tash and Jeff's grand-daughter Hope staying abroad for an extended period. Unable to practice as an agent, Jeff is still around to advise and keep a 'fatherly eye' on his former clients in the team. He also works as a coach for an under-11 schoolboy team, where, one Sunday, he catches sight of someone who could provide a new future for them both. Lee is seventeen and in a young offender's institute, but with Nikki acting as Jeff's fiancée, they can take him in with Jeff his legal guardian while Nikki ultimately becomes his agent. Nikki fails her agent's exams, leading to Jeff making the grandest gesture of his career - a marriage proposal so Nikki can still represent Lee!
As they await the day Lee can sign a professional contract with Harchester, keeping him hidden from more established agents and offers becomes a problem. The self-serving Joel Brooks proves competition, followed by Jeff standing up to hardman John Wilson and his cronies who are owed money by Lee's mother, and taking a beating for it. Lee stays loyal to Jeff and Nikki and signs with the club on his eighteenth birthday. When Harchester are relegated to the Championship, Jeff and Nikki plan to keep Lee where they believe he belongs - in the Premier League. They have meetings with Man United representatives and a bid from Barcelona comes in, but Lee's heart is with Harchester and he also has the chance to play in the Champions League with them.
At this time, Jeff shares with Lee that he has fallen in love with Nikki for real, which an uncomfortable Lee has to listen to knowing he and Nikki are in a secret relationship! Thanks to a spat between Viv and Lee, the team find out about Lee and Nikki before they have had time to tell Jeff, and he hurtfully hears the truth through the lads' banter. Jeff feels he has been an old fool, but he and Nikki get another answer when they each receive cheques for the amount they would have received had the Barcelona deal been completed. They realise this is Lee's way of letting them go and work away from Harchester, as he doesn't want to go. Jeff has a sweet goodbye with Nikki outside the Dragon's Lair, stating he doesn't know what he'll do next, but as long as there's unsigned talent out there looking for guidance, he'll be all right.