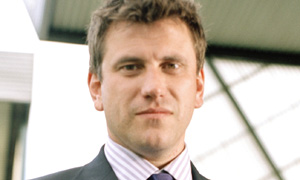 Jimmy Craig (Danny Midwinter)
2006-2007
First Regular Appearance: 10.4 (#391) All Good Things… Sunday 26th November 2006
Last Regular Appearance: 10.32 (#419) The Final Whistle Part Two Sunday 3rd June 2007
Duration: EP: 391 - 419 ½ SE: 10.4 – 10.32
Position: Manager (2006-2007)
Last Seen: Being treated by paramedics after his attack by Dragonslayer Danny – unclear if he would remember anything!
The son of a Leeds United stalwart, Jimmy was raised by his father George Craig to follow the path he had in football, his son's youth career guided with little direction of his own due to his influential father. After signing his professional contract with Leeds, Jimmy's determination to make it on his own merit saw him work twice as hard as the players around him. At 21, Sheffield Wednesday came in for him and, against his father's wishes, Jimmy signed with them and moved south, taking his girlfriend Rachel who was also keen to escape her parents. Jimmy and Rachel married and a year later their only daughter Gemma was born.
After playing for Sheffield for six years, with stints at Queens Park Rangers and Newcastle following, Jimmy re-signed for Wednesday in his early thirties, his final club before retiring from playing in 2002. From this, Jimmy naturally progressed into coaching, taking an ultra-modern approach with an impassioned interest in sports science and it's benefits to a team's performance. By the autumn of 2006, Jimmy was based where he'd begun his footballing life, Leeds United, when his old Wednesday team mate Alex Dempsey (now Rose) invited him to Harchester United where he was now manager. Jimmy was happy to see his old friend, but could never have guessed Alex would be relinquishing his role as boss of the current FA Cup holders to him there and then. He has an uphill task of convincing the team to adjust to him as manager, Jimmy being someone they had never even heard of before. This extends to the boardroom where Terry Harrison tells Jimmy his role is only until they appoint a more experienced manager.
Jimmy decides he is going to prove to Harrison he is the man for the job, but it becomes a task he ultimately has no choice in but to stay, when Gemma arrives married to a man she just met on holiday. Rachel sorts out the problem, but agrees when seventeen-year-old Gemma wants to stay in Harchester with her dad. Gemma causes no end of problems for Jimmy, even jeopardising Liam's place in the team's UEFA Cup second leg when she goes out partying before getting into trouble and needs rescuing. While he may have had his patience tested by Gemma, it is needed in a whole new way when she is injured by crashing her dad's car at the club's Christmas party, and subsequently ends up in a coma. While Jimmy, Rachel and Liam try to stay hopeful by Gemma's hospital bedside, a man is seen meeting with Rachel and Jimmy learns while he has been working away from his wife, she has begun a new relationship. With all the worry for his family, and keeping the team in a safe position, Jimmy and Katy have a near kiss.
Gemma wakes up after six weeks, but suffers memory loss leading to more anguish for her loved ones. As she recovers, Gemma's romance with Liam rears it's head again, and the two keep things a secret from Jimmy. As they approach the end of the season, Harchester are on course to go head to head for the Title, their first such win in 21 years. Jimmy begins to be taunted by a faceless online enemy known as "Dragonslayer", who is out to destroy the team's chances of victory. Jimmy comes to realise an employee at the club, possibly someone on his own coaching staff or team is responsible. Dragonslayer reveals secrets only someone in the know could be aware of, including Liam and Gemma's relationship which drives Jimmy mad! Both on a low, especially when on her wedding day to Jason he admits to cheating, Katy and Jimmy give into their insecurities and sleep together, but both realise it can't happen again.
Harchester face Chelsea in a battle for the Title, but during the first half Jimmy is called away having been told Gemma has fallen unwell. He finds himself in an isolated stairwell inside the Lair, with Danny Sullivan standing over him about to clock Jimmy with a petrol canister. Jimmy learns Danny has been Dragonslayer all along, holding a deep-seated grudge at Jimmy for what he sees as ending his playing career, Jimmy having sent Danny on loan to Southend where he suffered a crippling injury. With Jimmy knocked out on the ground, Danny douses him in petrol and prepares to set him alight, until Amy bursts in and talks him out of it. They get Jimmy to the ambulance bay where a confused Gemma wants to know what happened. It is left unknown how much Jimmy would remember of the incident, and whether or not he would say anything of Danny's actions!