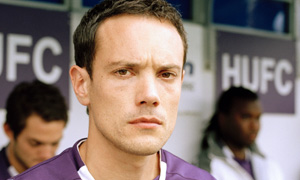 Liam MacKay (Duncan Pow)
2005-2007
First Regular Appearance: 9.1 (#357) Phoenix From The Flames Sunday 16th October 2005
Last Regular Appearance: 10.32 (#419) The Final Whistle Part Two Sunday 3rd June 2007
Duration: EP: 357 - 419 ½ SE: 9.1 – 10.32
Squad Number/Position: #8 / #15 (Defensive Midfielder) / Captain (2006, 2007)
Last Seen: As captain playing his part in securing Harchester's title as Premier League champions.
A red-blooded Scot, reserved and disciplined as a man, Liam would only allow his passionate side to reveal itself when on the pitch. He was dedicated to his football growing up, worked hard and dreamed big that it would take him places, while proud of the Glasgow background he was accustomed to. Liam's game being the most important thing in his life, he didn't let anything get in the way, and didn't fall in love for the first time until the age of 22. He met Chloe Tyler, who became his agent and later fiancée during his third season with Partick Thistle, having made his professional debut for the second division club at the start of the 1999-00 season. Liam spent four years with the side, contributing to their rise to the SPL. In the January transfer window of the 2002-03 season, Liam's breakthrough to the English Championship saw him sign for Crewe Alexandra.
It was here during a pre-season friendly against Sheffield Wednesday that a tackle by Liam ultimately ended the career of rival midfielder Alex Dempsey. Liam wasn't punished for this challenge, and continued at Crewe for the next two seasons, though made little impact. With Chloe's dogged determination, Liam sort to re-establish himself elsewhere. After some interest from Ian Holloway and QPR, a totally unexpected offer came from re-promoted Premiership returnees Harchester United. Liam is under the impression that Felix Hahn personally selected him, but when the manager shows no interest in his presence, forces it out of him that Chloe organised the move in a blackmail bid to avoid the secret signing of Casper and Eugene Rose coming out. Liam discovers this on the very day he and Chloe have married, and struggles to forgive his new wife for some time. Liam decides he is going to make Felix take notice of his fitness, and embarks on a non-stop sprint around the Dragon's Lair pitch, refusing to stop until he collapses. After this, Felix comes to respect Liam more.
Due to the mystery owner's plan, Liam and Alex come face to face again when Dempsey is taken on as first team coach, becoming manager after Felix's removal. When Harchester face Chelsea in the Carling Cup Final, Liam sees red when Asa Maloin injures Hector, and in revenge takes Maloin down with the same tackle used on Alex. Liam is arrested after Alex goes to the police hoping to see him punished this time. Chloe, disappointed in her husband, sleeps with Alex, while Liam earns the nickname 'Truth Mackay' for stating the reasons of why he did what he did to Maloin. It comes at a cost, for the insurers of many of the Premier League's players refuse to cover their clients following Liam and Harchester's actions, bringing a week of matches to a halt. The FA impose a lifetime ban on Liam which Lynda fights to get overturned, temporarily. His best friend in the team is Gavin, and Liam is his best man at his wedding to Cindi. In the meantime, Liam gets a shot as captain at Harchester's FA Cup win against Arsenal, and following this learns he will still be able to play.
It is shortly into his second season with Harchester that Liam learns the truth of Chloe and Alex, and is about to leave the club when the team show their loyalty and force Alex out. Liam is gutted that Chloe could not stay faithful and tells her the marriage can't go on. With new manager Jimmy Craig comes his 17-year-old daughter Gemma, and there is an immediate spark when newly-single Liam first encounters her in the training ground showers. Liam has a prediction for this season that the team will go unbeaten, as they strive for their first title win in twenty-one years. Gemma however, provides a fair few distractions for him this season. When she falls into a coma following a car crash, Liam becomes especially attached to her, and upon waking, helps Gemma to recover from memory loss. However, owing to the respect he has from Jimmy, who promoted him to the captaincy permanently, Liam keeps the relationship with Gemma a secret.
When Dragonslayer forces Liam into admitting all to Jimmy, he loses that respect alongside that of his team mates, and decides he must call time on things with Gemma until the end of this all important season. Refusing to let Dragonslayer tear the team apart anymore than they already have done, and unaware it is his good mate Danny Sullivan behind it all, Liam leads Harchester into a 2-1 win against Chelsea, with the proud honour of captaining their long-awaited title win.