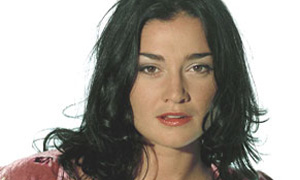 Lizzie Conlon (Natalie J. Robb)
2000-2001
First Regular Appearance: 4.1 (#203) Sunday 1st October 2000
Last Regular Appearance: 4.26 (#228) Sunday 15th April 2001
Duration: EP: 203 - 228 ½ SE: 4.1 – 4.26
Position: Wife of Matt Conlon / Mother to Emma and Jake Conlon
Last Seen: Celebrating with the wives & team as Harchester make the Champions League. Leaves with Matt for Bolton Wanderers.
From a working-class background in Glasgow, Lizzie met Matt Conlon while he was on loan in the Scottish Football League in the early 90's. After a short time together they married, and Matt returned to the English First Division, the couple having two children Emma and Jake along the way. By 1999 Matt was a stalwart at Queens Park Rangers, and while Lizzie is busy raising the family, Matt has an affair with the club's receptionist Rachel Gately. Lizzie is mortified when the truth comes out, and with fiery determination shows Rachel she will fight for her marriage and win, forcing Matt to take a transfer far away from Rachel.

Matt signs for Harchester United, and is appointed their new captain, but his discretion with Rachel has left Lizzie more suspicious of her husband than ever, especially when she thinks Matt has eyes for their new neighbour, fellow HUFC wife Tash Parker! Lizzie sees Tash as another Rachel, not helped by the fact that they are both younger blondes with great figures (not having carried two children!) and her jealousy grows when Emma idolises Tash and wants to be just like her! Lizzie begins to wonder whether Harchester is even worse than QPR - with Matt's poor performances on the pitch resulting in Jake being bullied at school, and Emma going missing over her parents' frequent squabbles. As if this isn't enough, Lizzie gets a huge shock when Rachel turns up as Harchester's new receptionist, something Matt has tried to hide from her!

Lizzie knows she has a fight on her hands as Rachel has clearly followed Matt to the club, and she knows deep down that her husband still harbours feelings for the girl. When the club holds a charity event Harchester Uncovered, Lizzie is due to walk down the catwalk with Matt, but body-conscious with all the younger wives taking part, Lizzie backs out at the last minute. All hell brakes loose when Rachel steps into Lizzie's shoes and accompanies Matt on stage, with a humiliated Lizzie knocking Matt to the floor in front of all the press. Lizzie decides to give Rachel the 'best served cold' dish of revenge and shows her a typical Conlon family day including the school-run and food shopping, which makes Rachel realise she is damaging a happy family.

Rachel begins going out with Danny Rawsthorne as an attempt to get over Matt, but it is Matt who now cannot stand to see Rachel with someone else. This makes Lizzie worse than ever, knowing her husband is still lusting after his mistress. Lizzie takes to the bottle and kisses her good friend Scott Lucas, causing much awkwardness. With Matt doing a disappearing act, Lizzie drunk and the kids scared all at Christmas, Rachel is consumed with guilt and leaves town. Having originally decided to divorce Matt, they decide to take things slowly and try again for the kids' sake.

Despite all of her woes, Lizzie makes some good friends at Harchester, particularly Kitty, wife of manager Ray Wyatt and Siobhan, Monday's new wife-of-EU-citizenship convenience! She is also a huge support to Scott as he tries to form a relationship with his estranged father, and Lynda as she battles against slimy chief exec Prash. When Lynda suffers a miscarriage in part to the stress of Prash's victimisation, Lizzie doesn't leave her side and helps her friend in her fight against Dattani, leading the other team wives in their support. When the summer transfer window opens, it is time for the Conlon's to move on again, and the family head up north when Matt is transferred to Bolton Wanderers.