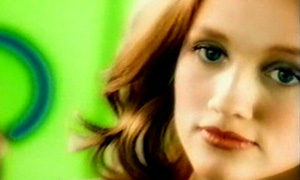 Lucy
Patcham

(Kate

Farrah

)

1997-1998

First Regular Appearance: 1.1 (#1) Tuesday 14th October 1997

Last Regular Appearance: 1.48 (#48) Wednesday 25th March 1998

Duration: EP: 1 - 48 ½ SE: 1.1 – 1.48

Position: Harchester Sound Sports FM Reporter (1997-1998)

Last Seen: Leaving Harchester, and Fletch behind for a Sky Sports presenting job in London.

Lucy was born during her father Frank Patcham's long first stint as a player with Harchester United, at what is regarded as a golden period for the club. When Lucy was still young, Frank moved on from Harchester but returned in the late 80's to finish his career at the club he loved. In her pre-teens, Lucy's mother and Frank's wife Helen passed away, leaving Frank and Lucy alone at the time she needed a mother the most, though Frank did an exceptional job raising Lucy to be strong-willed and confident. Frank stayed with Harchester after his retirement from playing, taking up the position of Youth Team Manager, and after leaving school Lucy trained to be a sports journalist, gradually gaining work with local radio station Harchester Sound FM.

With Frank's job coaching the Dragons' youth team and her job as a reporter, Lucy comes into contact with rising star Dean Hocknell. The two become a couple to Frank's delight, as he has great respect for Dean and knows he is on the road to big things. Lucy is the main go-between between the radio station and Harchester United and is always first with the latest news and stories from the club. When manager Ron Atkinson leaves after a bad run and bust-up with chairman Michael Jacobs, Lucy is there with her recording equipment to get his last comment as he drives away bound for Athletico Madrid.

She is often busy with work when Dean is wanting to have fun, and this happens on the day he makes his first team debut for the club and scores. Getting drunk, he heads off with mystery blonde Georgina and they make out in the Addison Road boardroom. Lucy has no idea about Dean's cheating, and even makes friends with Georgina, to Dean's anguish as he only wants Lucy and Georgina keeps hanging around. She and Dean become engaged and move into their own place together, and Lucy looks forward to a happy future. When a tape surfaces of Dean and Georgina's boardroom romp, Dean has no choice but to tell Lucy all, and she is understandably furious, exploding at both he and Georgina. Reeling from the revelation, Lucy lets herself become a pawn in Michael's game of getting back at Dean, by sleeping with Georgina's dad.

Michael dies from a heart attack a short time later, and at his funeral there are further fireworks when not only is his liaison with Lucy exposed causing a catfight between Lucy and Georgina, but in the struggle Dean reveals that Georgina is in fact pregnant. Lucy can't forgive Dean, and while he is away on loan in Italy, begins a relationship with the troubled Fletch. But she knows she doesn't love him and cuts him adrift, just in time to receive the news that her dream job has come through. Lucy tells Frank she will be moving to London to work as a sports presenter for Sky. On the morning of her departure, Dean returns to Harchester with a new fiancée Natalie in tow, and with a heavy heart, Lucy leaves to put all the painful memories behind her. Not knowing what a lucky escape she'd had from Dean, given the rough ride Natalie was in for!