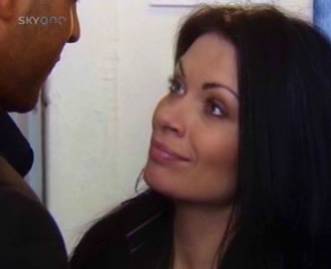 Lynda Block (Alison King)
1998-2002, 2003, 2005-2006, 2007
First Regular Appearance: 2.1 (#65) Tuesday 1st September 1998
Left: 6.1 (#261) It Could Be You Sunday 6th October 2002
First Guest Appearance: 6.32 (#292) Just The Ticket Sunday 18th May 2003
Second Guest Appearance: 7.2 (#294) Long Live The King Sunday 5th October 2003
Second Regular Appearance: 9.1 (#357) Phoenix From The Flames Sunday 16th October 2005
Last Regular Appearance: 10.3 (#390) Fantasy Football Sunday 12th November 2006
Third Guest Appearance: 10.32 (#419) The Final Whistle Part Two Sunday 3rd June 2007
Duration: EP: 65 - 261, 292, 294, 357 - 390, 419 ½ SE: 2.1 – 6.1, 6.32, 7.2, 9.1 – 10.3, 10.32
Position: Chairman's Wife (1998-2000) / Harchester United Chairwoman (2000-2001) / Chief Executive (2001-2002, 2005-2006)
Last Seen: Returning to support the team as they play for the Premier League Title. Hopefully back for another long stay!
Harchester United's most loyal female servant, was born Lynda Duxbury, in late 1972 and raised in Manchester. The oldest of three, Lynda had two sisters, Angie and Maxine, though their parents' relationship was anything but stable, and after splitting and reuniting throughout her childhood, Lynda's father left and the family rarely saw him thereafter.
Lynda had an ambition to be around people who were going places, and was drawn to taking a job at Manchester Airport, working on the make-up counter of a department store. It was here in 1993 she met the man who would later introduce her to a world she had never particularly taken much interest in. Jerry Block was a rich businessman who Lynda was excited had taken an interest in her. He was also seventeen years older, which provided Lynda with a love from an older man she had longed for since her father's absence. Mrs Duxbury couldn't have been happier when Lynda brought Jerry home, believing her daughter had found a real catch. Lynda and Jerry, or JJ, as she affectionately nicknamed him, married two years later and Lynda settled into a comfortable life as Mrs Block, never having to worry about bills again.
But all of Jerry's money couldn't cure Lynda's loneliness for friends her own age, and the only people she really had during this time were her sisters. In the early summer of 1998, Jerry embarked on his latest business venture, this time as a football club chairman and purchased Harchester United, a club which had just survived relegation by the skin of their teeth. This meant the Block's would be moving to the Midlands, and before long, Lynda had found a friend in Natalie Hocknell, wife of the recently transferred to Galatasaray, Dean. Lynda learns that Natalie has run away from Dean after he started hitting her in Turkey, and does her best to stop Natalie going back to him. Lynda is shocked when Dean later puts a pregnant Natalie in hospital.
Also at this time, Lynda finds her head turned by new Argentinean signing Luis Amor Rodriguez. Luis makes Lynda feel like she never has before. He is passionate, stimulating and willing to devote time to her, leading Lynda to realise she no longer has much in common with Jerry, who spends more time at work than with her. Accepting her marriage is a sham and in love with Luis, Lynda makes plans to leave Jerry and fly away with Luis on the day Harchester win the FA Cup at Wembley. Jerry however has discovered their affair, and determined to keep Lynda, hires a hitman to shoot Luis during the on-pitch celebrations. Captain John Black gives his life to save Lynda, although she is grazed in the head by one bullet and suffers memory loss for some time afterwards. Jerry uses this to play on Lynda's emotions about Luis, making her believe he never visited her in hospital and was carrying on with other women back home in Argentina while she recovered.
Lynda becomes suspicious of Jerry however, believing he knows the real reason why she was shot, leading Jerry to control Lynda further. Things get worse for Lynda with the arrival of her selfish sister Maxine, who becomes an ally to Jerry in his quest to have Lynda declared unbalanced, as she wants to move into her home and take her life. Lynda eventually escapes as Luis is returning from surgery in America, and he is determined to protect her. Together, they uncover the truth of Jerry hiring the hitman and using this against him, see him out of Harchester to Brazil with Lynda forcing him to relinquish the chairmanship to her! Luis plans to finish his playing career in his home country, but Lynda has found a new calling in running the club and having her own career again. The two lovers know they both want different things, and even a marriage proposal from Luis can not keep he and Lynda together. Ultimately, Lynda is left alone in Harchester with the club her only companion.
On the rebound from Luis, Lynda develops an attachment to manager Ray Wyatt. This is bolstered further when Lynda, deciding to give up her lonely life in Harchester, decides to join Luis, only to find he has moved on and is marrying his first love. Ray too is feeling neglected, his wife Kitty has taken their son to Thailand to care for her dying father. In Paris to approach Monday Bandele for a move to the Dragons, Lynda and Ray sleep together, and the result is Lynda becoming pregnant with his baby. On the scene at this time is Prashant Dattani, the club's chief executive, who is always watching like a hawk, waiting for Lynda to fail. When Harchester fails a safety inspection, Prash puts the club into administration before Lynda can find an investor, and it soon becomes clear when Prash convinces the creditors to take his offer to buy the club that he was out to take it from Lynda all along. Lynda is helpless as Prash knows the truth about her baby with Ray, and threatens to expose it if she tries to stop him taking over.
The stress becomes too much for Lynda, and she miscarries her baby, leaving her devastated. Having lost her child and the club, Lynda plans to leave Harchester, but wants to see what was her team play one last game before she goes. On the final day of the 2000-01 season, she sees Harchester qualify for the Champions League, but also learns Prash is set to sell the club for £40M, always just out for how much he could sell it for. Lynda confronts Prash in his office, high on emotion, but has to accept Prash has won and turns to leave. At that moment, Prash taunts her that she should have looked after herself better, otherwise she might not have lost the baby. It pushes Lynda over the edge, and she hits Prash over the head with a trophy sitting on the desk. The blow doesn't kill Prash outright, but makes him fall and cause fatal damage to his skull with a second impact from his desk.
Lynda makes her exit abroad, staying at Jeff Stein's villa in Mallorca, but is persuaded to return to Harchester by new club owner Sam Irving, who is a fan and offers her the role of Harchester's chief exec. It appears Lynda is entering another Jerry situation with Sam, who is another older businessman who can provide her with a comfortable lifestyle, while in love with Lynda more than she is with him. But at this same time, Lynda is growing closer to Fletch, especially as he has been charged with killing Prash, something she desperately hopes he will be acquitted of. Fletch and Lynda start an affair, but when he is actually found guilty of Prash's murder, Lynda stands up in court and comes clean. For a short time after, Fletch is outraged with Lynda, for how she could leave him to suffer for months while also being his lover, and he even terrifies her one afternoon by holding her in her home with a fake gun.
While Lynda stays with Sam for security, and even accepts his marriage proposal, she and Fletch can't stay away from each other, and the night before her wedding to Sam, he catches them in a loving embrace at the club. Lynda believes she is doing the right thing by marrying Sam, after all she has done to Fletch, but Sam turns the League tables on her by exposing the affair at the alter, and ditches Lynda. Lynda decides to let Fletch go, and makes a last minute attempt to flee abroad, only to be stopped in her tracks by the news of Harchester's coach crash on the M1 while on their way to the UEFA Cup Final. The tragedy forces Lynda to stay and face up to her actions, and is subsequently sentenced to six years in prison for Prash's murder, three years non-parole.
Even away from the club, Lynda continues to have an effect felt outside the walls of Harchester Women's Prison, her new home. In the spring of 2003, Lynda gives birth to Fletch's son, Louis, and after a couple of months with him, she knows she has to give him to Fletch and new wife Abi to raise. Fletch, while shocked at first, loves his son, especially as he and Abi cannot have children of their own, but when he is forced out of Harchester and takes the next best offer - a move to Saudi Arabia - Lynda is scared for Louis safety and refuses to allow him to be taken to the Middle East. Because of this, Fletch leaves alone, and Abi stays behind to look after Louis. Lynda is shocked early the following year when Fletch returns Louis to her, having broken up with Abi, and now has to turn to sister Angie, who has a family of her own, to have Louis.
Louis remains with Angie even after Fletch returns to England, and in early 2005 Lynda is informed she has been granted parole having completed half of her sentence. As if by fate however, Lynda's release coincides with another tragedy (just as when she was going into prison), only this time all but three of the Harchester United team have been killed, including Fletch which stuns Lynda. After spending some time with the survivors, she returns to Manchester to live with Louis, not expecting to be working for the club again. So it is a surprise when she receives a letter from the club's new manager Felix Hahn, offering her her old job as chief executive back. While apprehensive at first, for the heartache she had suffered at the club in the past, Lynda had never lost her love for Harchester United. Indeed her return was exactly what the fans and town needed following the worst tragedy in it's history - a fond figure from it's recent past.
One feeling that grips Lynda in her first months back at the club is that the illusive present owner of Harchester is someone she knows well. The way the owner conducts himself with hiding behind letters instead of instructing in person, and mad-cap schemes leads Lynda to believe Jerry has returned and is chairman again. Lynda finds a company, BlockMedia, and believes it is Jerry's headquarters, but when she gets there she discovers it is Jerry's son from his first marriage running it. He tells Lynda Jerry actually died a year ago, and back at the Dragon's Lair she breaks down over how she'd once loved Jerry and was shocked to only now learn he's died.
The owner continues to cause havoc and mistrust for Lynda, his refusal to show himself causes an impostor to trick Lynda into believing he is the real owner, when really he is a mailroom man stealing £2M of the fans' money. Lynda has one loyal colleague by her side this season, first team coach, and later manager Alex Dempsey, who too is having his life steered by the controlling owner. Alex is a great support to Lynda, and is secretly carrying a torch for her, which she later realises she does too for him. Lynda feels she has found someone she could build a long-term future with, but this is thrown into jeopardy when Casper Rose reveals himself to be the owner, and in a moment of rage, quite like when Lynda struck out at Prash, Alex hits him with an ink bottle which kills him. Alex is guilt-ridden about what he's done, and is about to confess to the police when Lynda discovers she is pregnant.
With Alex co-inheriting the club with Eugene, Lynda sees it as a secure future for their baby, so convinces Alex to not confess, but before she knows it she is the number one suspect! Lynda is pursued by the same detective who investigated Prash's murder, and is arrested, prompting Alex to frame Ashleigh King in order to get Lynda out. Lynda and Alex hope Ashleigh will receive a diminished responsibility verdict, but the trouble isn't over as a new letter sender informs them he knows the real truth. Lynda is worried sick, and it starts to affect her pregnancy as before. Lynda ends up in hospital and learns D.I. Burrows was sending the letters. Knowing he isn't going to give up until the truth is out, and desperate to protect her baby, Lynda leaves Harchester without telling Alex. Alex now turns himself in, and as he awaits his trial Lynda returns to her family in Manchester. Out of the limelight, she has her second child in early 2007.
A few months later she is a special guest at the Lair for Harchester's historic title clash against Chelsea, there to witness winning goals from Sean Campbell and Jason Porter. A fire breaks out, causing an unseen amount of damage to the club. To quote Lynda herself: "Whenever this club has a problem it will always be down to me to sort it". Another stint for Mrs Block was surely on the cards!