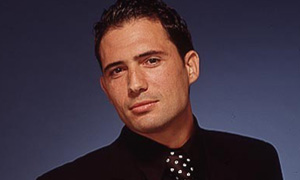 Marcel
Sabatier

(

Dhaffer

L'Abidine

)

2002-2004

First Regular Appearance: 6.1 (#261) It Could Be You Sunday 6th October 2002

Last Regular Appearance: 7.31 (#323) Thrown To The Wolves Sunday 9th May 2004

Duration: EP: 261 - 323 ½ SE: 6.1 – 7.31

Squad Number/Position: #7 (Centre/Attacking Midfield) (2002-2004)

Last Seen: Being injected to death by a hitman on behalf of Sheik Al-Shaziz, in mistake of Stuart.

Marcel Sabatier was the midfield dream player of any manager in any league. In physically perfect condition with a respect for authority, and easily able to command leadership from his team mates, Marcel was born in Tunisia in 1975. He was intelligent and cultured enough to have forged any carer successfully, but his impressive ability in centre and attacking midfield set him on his way to becoming a European class footballer. In 1994 Marcel had made a name for himself in his home country and caught the interest of Paris Saint-Germain, signing his first professional contract and joining the French Division 1. A sensible romantic, it is at this time Marcel meets a young Spanish girl his age, Pilar Hernandez who is attending university in Paris. Through Marcel, Pilar believed she had found her calling to become a football agent, and Marcel became her first client and lover.

But while he may be the player any manager would want in his team, Marcel is not always a wise and calm influence and is not good at keeping his aggression under control. Out of the watch of the French media, Marcel has flown off the handle more than once, but to his club's gratitude, the astute Pilar had always managed to keep things under wraps. Even when Marcel's actions resulted in a man's death. Early 2002 brings about a turning point for Marcel. His long-term manager Patrick Doyle, who he has always shared a solid relationship with, leaves PSG to go to Harchester United in the English Premiership, and Marcel feels adrift. His good friend and team mate Curtis Alexander, who's brother Linton played for Harchester and just died in the coach crash, is tempted to go too. And then there's his relationship with Pilar, which has been overtaken by her ruthless business-nature and ambition to succeed. All of this prompts Marcel's decision to leave PSG after eight years and sign for Harchester, and Patrick unveils Marcel and Curtis in a double signing.

Owing to their highly respected relationship, Marcel is appointed the new captain and scores on his debut for the club's opening day game against Leeds. But something sits not right with Marcel as the season goes on. Harchester's losses are becoming more frequent, and Patrick doesn't seem to be out to find the solution to challenge this. When Fletch shares his belief that Patrick is involved in match fixing, Marcel finds this hard to believe and goes to question Patrick which a worried Fletch intervenes by setting off the fire alarm. Marcel comes round to Fletch's way of thinking when a false story he has made up about Barcelona wanting to sign him is used by Patrick on television. Patrick's downfall at the club comes with the exposing of his affair with Jacqui Wallis, though it is too late by the time Marcel and the team learn of the extent of Doyle's control over Jamie Parker.

Marcel comes under scrutiny when a gossip website puts out a rumour that he is gay, owing to him being spotted making frequent visits to a man at the apartment block Ryan and Clyde live at. The man is in fact Marcel's therapist, who is working with him through his anger problems, but the younger team players continue to make insults at Marcel. When Ryan goes too far, Marcel loses control and seriously hurts Ryan, resulting in him needing surgery. Through fear and guilt, Marcel runs away to hide in his villa, where Tash finds him and persuades him to come home and face up to his actions. With Tash's help, she sets him up on a 'date' with her old pal from the modelling world, Jordan, which helps to quash the gay rumours. Marcel also develops a bond with Jennifer Taylor, though she is in love with his manager Alan Rothman.

The new season brings Marcel's past back to him, when Pilar is appointed Harchester's chief executive and Marcel is determined not to be sucked in by her once more, immediately requesting a transfer. Pilar tells Marcel he's going nowhere, with the excuse her new star signing the world-class Luke Davenport wants him on the same team, aside from her own reasons of still being in love with Marcel. With Pilar selling his good friend Fletch in order to bring Davenport in, Abi can only keep her home at The Barrons if Marcel moves in with her. Fletch asked Marcel to look after Abi while he is gone, and with her left with Fletch's son Louis Marcel brings more much needed support. The more time Marcel and Abi spend together however, the more dependant they become on each other, with Abi pining for Fletch and Marcel disillusioned with the way his career is heading at Harchester. On Christmas Day, after they discover more lies and secrecy from the club regarding Luke going blind, a stressed and lonely Marcel and Abi sleep together, with Marcel breaking his moral code of ever seducing another man's wife. Abi regrets the incident afterwards and when Marcel admits he is in love with her, she tells him it can't happen.

Marcel feels greatly uncomfortable when Fletch returns, for Fletch is hugely grateful for how he has looked after his wife(!) and Marcel still wants Abi. Fletch poses a threat to Pilar and Stuart's positions at the club, so after guessing from Stuart that Abi has cheated on Fletch, Pilar makes sure Fletch knows, which results in the truth about Marcel coming out. When Fletch takes Louis back to Lynda, Abi leaves and goes back to Ireland. Marcel learns that the Sheik Fletch brought in is still on the scene, and Pilar and Stuart plan to throw the next game so Harchester will be bankrupt and the Sheik will buy. Marcel decides to stop them and fights to win the game, until he is forcibly removed (i.e. substituted) from the pitch by Stuart. To stop Marcel talking, the Sheik's assistant offers to get Marcel his much wanted move from Harchester to AS Roma, and Marcel travels to Ireland to ask Abi to come with him. When Abi learns from Paul Hankin about Pilar and Stuart's plans, she is determined to expose them, which Marcel reluctantly has to talk her out of, as they need to protect the players and the club not the people running it.

At Lee's birthday, Abi is surprised when Marcel introduces her to a woman he is seeing, Georgina, which makes Abi question her true feelings for Marcel more. Georgina can tell Marcel wants to be with Abi too, and tells him to go for it. Marcel and Abi finally decide to make a go of things on the same night the match fixing has been revealed and the full blame has fallen on Stuart. Pilar hopes the Sheik will offer Stuart a deal elsewhere in return for his silence as he did with Marcel, only they decide Stuart needs to be killed! Abi supports Stuart after his sacking and lets him stay at the house, where the Sheik's assistant believes he is the only male in the house. Stuart goes out late that night, and Abi and Marcel sleep together, where the killer finds Marcel believing him to be Stuart and delivers a lethal injection. When Abi awakes the next morning, Marcel is dead, and she and Pilar are devastated at the loss of the man they both loved. Pilar makes sure Marcel's parents, and the world know he didn't overdose himself while secretly addicted to steroids, and in doing so, sees that she and Stuart have to go into protective custody until those responsible are caught.