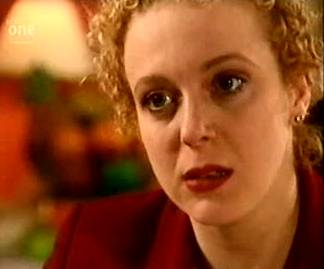 Marilyn Harwood (Amanda Abbington)
1999-2000
First Regular Appearance: 3.7 (#147) Tuesday 12th October 1999
Last Regular Appearance: 3.47 (#187) Tuesday 28th March 2000
Duration: EP: 147 - 187 ½ SE: 3.7 – 3.47
Position: Harchester United Chief Executive (1999-2000)
Last Seen: Fired by Jerry and ditched by Prash, leaves the club having lost everything.
A bright and capable professional, Marilyn began working for Jerry at Block Enterprises in 1991, excelling to the stage where she was promoted to oversee the Far East division of the business. By 1999 Jerry had built The Dragon's Lair stadium for Harchester United, but has created a great deal of financial problems and debt for the club along the way. Jerry knows Marilyn has a proven record for troubleshooting any difficulty, and while the boardroom dealings of a football club will be a new experience for her, she can confidently turn her hand to managing any business. Jerry appoints Marilyn Chief Executive of the club, and she arrives in the days following the plane crash, making her first appearance at the memorial service held.

Marilyn is thrown in the deep end right away, when she is tasked with persuading UEFA to postpone a Cup match between the club and Glasgow Rangers. Although she is a tough negotiator, UEFA won't agree but Marilyn succeeds in strengthening their tragically weakened side by getting new signing Wes Kingsley the green light to play the game. Marilyn's role brought her into contact with player-manager Luis Amor Rodriguez, and when he showed interest in her she thought she was in with a chance. Little did she know Luis was on the rebound from an affair with Lynda, who was Marilyn's closest friend at the club, and Marilyn was soon hearing about Lynda's suspicions of Jerry and his activities.

Soon Marilyn has another problem to deal with when Jerry brings in his good friend Gordon Gallagher to be the club's Director of Football. Marilyn doesn't trust Gordon and is displeased that Jerry has given him such a prominent role alongside her. There was great suspicion when stories and specific details about the club and its employees were being sold to the papers, and Marilyn was right to suspect it was an inside job. But believing the newspapers would never take an interest in her "boring" life led to a shock for Marilyn, when after foolishly sleeping with Luis, the tabloids were hot on the story. When Luis avoided Marilyn at work, she found out he felt guilty and was really in love with a married woman.

After Luis was injured during a game, Marilyn saw he and Lynda hugging at his hospital bed and realised that the woman he'd told her about was Lynda. Having previously confided in Lynda about her own situation with Luis, Marilyn held her responsible for the story in the press, and confronted her only to get a nasty tongue-lashing off Lynda's vile sister Maxine. Things got worse when financial details accustomed to Marilyn found their way into the papers, putting her in the firing line of accusations. She had one friend in Ray Wyatt however, and with his help she set about proving Gordon was the leak. After bugging his phone Gordon is exposed and Marilyn is vindicated.

Following his past dodgy deeds with Councillor Lal, Jerry was caught up in the scandal and his position as Chairman was looking untenable. The club's debt was growing and Marilyn tried to persuade him to allow an investor to come in, which Jerry vehemently refused. Marilyn got in touch with her ex-boyfriend, high flying businessman Prashant Dattani to see if he would buy shares in the club. When Jerry found out that Marilyn had brought Prash in, and that it would only take Lynda to sell Prash her shares to give him an overall majority, he harshly lets her arrive to find her office packed up. With her place at the club gone, Marilyn hopes she and Prash can work together. They try to buy Lynda's shares but when she requests a further four million than Prash was willing to pay, he sees Marilyn as a liability and cuts ties with her. A dejected Marilyn makes her exit from Harchester, only saying goodbye to her last remaining friend Ray.