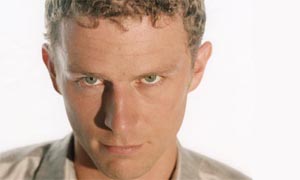 Matt Conlon (Paul
Swinnerton

)

2000-2001

First Regular Appearance: 4.1 (#203) Sunday 1st October 2000

Last Regular Appearance: 4.26 (#228) Sunday 15th April 2001

Duration: EP: 203 - 228 ½ SE: 4.1 – 4.26

Position: #5 (Centre Defence) (Captain) (2000-2001)

Last Seen: Captaining the team to qualify for their first Champions League. Sold to Bolton Wanderers in a summer transfer.

A strong central defender, Matt went on loan to the Scottish Football League in the early 1990's. While there he met his future wife Lizzie, and as Matt began plying his trade in the English First Division, they had two children, daughter Emma followed two years later by son Jake. By the end of the decade, Matt was a prominent figure at Queens Park Rangers, rising to the role of captain, but is feeling bogged down with his home life. He begins confiding in the club's receptionist Rachel, who is free, single and enjoying life, and Matt feels she listens to him. Before long they are doing more than just talking and begin seeing each other in secret. Their affair lasts for most of the 1999-00 football season, and when revealed, Rachel is sure Matt will finally set up home with her. Instead Matt is desperate not to lose his marriage and children, and obediently puts in for a transfer at Lizzie's request, taking his family from London to the Midlands and Harchester United.

Manager Ray Wyatt planned to bolster the team's strength in central defence, and believed Conlon had the attributes to be the on-pitch partner for Didier Baptiste. QPR accepted a bid of £1.2M, though without the funds to seek out an accomplished Premier League defender, Harchester knew they were getting in Matt one of the brightest the First Division could offer. Ray shows his faith in Matt and let's him continue his stance as captain at Harchester, while he also becomes the club's PFA Representative (and seems to have their number on speedial!). Though eager to prove himself at what was the biggest club of his career to date, the pressure to be as good and lead his team mates got to Matt. He took much of the blame for the team's shocking 7-0 defeat to Leeds, and had to contend with his performances now causing Jake to receive playground taunts from his classmates.

Matt overcame this rocky period and proves his worth to his team, and with things seemingly back on track with his marriage, Matt is stunned when Rachel is taken on as the club's new receptionist. Needless to say Lizzie is unhappy about Rachel's reappearance too! When the club hosts a charity event, Harchester Uncovered, Lizzie is due to walk down the catwalk with Matt but backs out at the last minute. When Rachel steps into Lizzie's shoes and accompanies Matt on stage, a furious Lizzie punches her husband in front of all the press. Still, when Rachel begins seeing Matt's team mate Danny Rawsthorne he cannot stand to see her with anyone else, and thrown out by Lizzie, Matt does a disappearing act, causing the family to implode. Rachel, consumed with guilt leaves town, and Lizzie drops her plans to divorce Matt, the two deciding to take things slowly and try again for the kids' sake.

Matt's good form continues for the remainder of his season at the club, and he is a support during Ray's own marital difficulties. He also comes to the aid of Lynda when physically removing Paul Hankin from her hotel room after she has lost Ray's baby. On the final day of the season, Matt contributes the first of the three winning goals that send Harchester through for their first ever Champions League. When Alan Rothman is appointed manager under new chairman Sam Irving, Matt does not figure in the European-exemplary boss' plans for the team. The club accepted a bid from newly-promoted Bolton Wanderers, which ensured Matt would be able to continue his time in the Premiership.