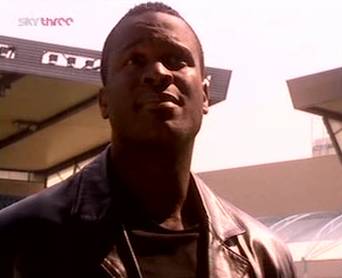 Monday
Bandele

(Louis

Decosta

Johnson)

2000-2002

First Regular Appearance: 4.9 (#211) Sunday 29th November 2000

Last Regular Appearance: 6.3 (#263) Easy Come, Easy Go Sunday 20th October 2002

Duration: EP: 211 - 263 ½ SE: 4.9 – 6.3

Squad Number/Position: (#8) Striker (2000-2002) / Caretaker Manager (2001-2002)

Last Seen: Disillusioned at Harchester (with a little help from Patrick Doyle), leaves for Turkey to play for Galatasaray.

Well-built with the potential to be intimidating on the pitch, and a wise and articulate 'gentle giant' off of it, Monday Bandele's impeccable skill as a striker saw him awarded 'African Player of the Year' on two occasions. The Nigerian's exemplary talent took him all the way to Paris-Saint Germain where by 2000 he was a first team stalwart with several other future Harchester United alumni. Ray Wyatt had been impressed by Monday's ability since his time coaching at Monaco in the early 90's, and believed Bandele could help Harchester greatly in qualifying for their first ever Champions League. As Lynda and Ray look for the funds for Monday's signing, Victoria spills to Prash about their plans and he makes out to the press that he is responsible for Monday coming to Harchester. This backfires on Prash when Monday fails his medical, and he is the target of the fans fury!

Ray and Lynda refuse to give up on the deal, and travel to Paris to meet with Monday again. Here, they discover Monday's agent Wolfgang Meyer is being less than honest with him, and Monday has a lot of trust in Wolfgang. With Jeff's help, Monday drops Wolfgang after learning of his deceptions and takes the move to Harchester. If the club thought all the drama was over now Monday was a Harchester player, they were wrong! Arriving for his first training session, Monday is arrested for not having a valid work permit, so new agent Jeff accompanied by Tash travel to Dublin with Monday to go about obtaining this. When they learn Monday is not eligible for an EU work permit, they put a plan into action for Monday to marry an EU citizen so he will receive one. By chance, Tash persuades a chambermaid at their hotel, Siobhan, to take on the 'role' and she and Monday begin married life.

Things come to a head when Monday's real fiancée Lola arrives, and understandably is ruffled to learn of his marriage to Siobhan. Monday spends the night away from Siobhan with Lola, only to be dragged back by an unexpected visit from immigration control. They pass themselves off as a genuine couple and just manage to send the officials away satisfied. Monday's move to Harchester pays off when the club makes the Champions League, and he and Siobhan decide to make a go of things with a honeymoon in the Caribbean. Shortly before the new season, Monday is back home for a friendly where he picks up an injury. Returning to Harchester he finds Siobhan has left him while he was away, leaving only a letter, and a lonely Monday begins spending time with Tash.

When Harchester lose their permanent manager in Alan Rothman, Monday is persuaded to use his expertise and enter the managerial role alongside former assistant manager David Spears. They both have very different ways of organising the team in terms of formation and tactics, and this causes an outright disaster at the important Mallorca match. With the team split down the middle on who should manage the squad, Monday decides to concentrate on his playing career so the job goes to David. Though Monday accepts his offer to become his assistant. The team head to Dublin to play Shelbourne, and Tash travels too for a break from Jamie. Tash confides her worries about her marriage to Monday, and Monday makes it clear he would always look after Tash if Jamie hurt her. An emotional Tash and an in-love Monday spend the night together, though in the morning Tash regrets what has happened and can only see Monday as a good friend. When Claudia hears Monday and Tash discussing their one-night-stand, she causes fireworks by revealing all to Jamie.

Claudia's 'other' actions with David bring about the return of Monday's ambition to manage the team, when David unexpectedly resigns. Monday is boss, but the team make it clear he won't have an easy ride from them following his sleeping with Jamie's wife. When Tash learns she is pregnant, she tells Jamie it is his, despite being unsure whether it could be Monday's. Monday knows Tash isn't sure, and persists until she admits this is true, and has to tell Jamie before going for the tests. When Jamie is shown to be the father, Monday knows he must move on from Tash properly. His unrequited love for Tash and the paternity of her baby proved an unhelpful distraction for Monday, first by letting his former PSG team mate Curtis Alexander run rings around them by having the club sign his brother Linton, when the club only wanted Curtis. Then after Harchester lose to Bolton, Lynda brings in Sky Sports' Andy Gray as Director of Football as a form of support to Monday, and the two work together as the club prepares for the FA Cup tie with Charlton.

However, Monday's time in the managerial role comes to an end when Sam Irving goes above Lynda and appoints Monday's former PSG boss Patrick Doyle. Monday shows his caring side with the arrival of Andrei Belanov's wife Anouk, who is looking to know why her husband has seemingly abandoned her to debt collectors. Monday develops a bond with Anouk, and shows he would treat her better than her husband, but Anouk returns home. Andrei now takes great pleasure in winding up Monday whenever he can, and when he taunts him about not being the father of Tash's baby, Monday whacks Andrei in front of Taylor Doyle's TV cameras. Andrei then goes public on Sky Sports claiming Monday's attack was unprovoked and shows off his blackened eye!

Patrick brings in a sports psychologist in Gemma McKenzie to work with the team, and it seems it could be her that gets through to Monday. After he confides about his anguish over Tash, the baby and his managerial career, Gemma is shocked when Monday comes onto her, and he brakes down afterwards. Gemma is also Doyle's secret lover, and after Monday asks her out to dinner she tells Patrick they should brake up. Monday suffers an ankle injury which prevents him from a place in the team's UEFA Cup Final, and as the squad leaves on the coach, Tash goes into labour with Monday by her side. Monday is there for Tash as she gives birth while Jamie has been caught up in the coach crash.

The new season finds Monday's position as striker in trouble with the official signing of Curtis, and this is further threatened when Phil Wallis wants former Dragon Scott Lucas, now at Chelsea, back at the club. With Monday the only player who would bring in the required amount to buy Lucas, it is decided he will be sold. Doyle, who has no intention of a successful transfer due to his bet against the club, sells photos of Monday in a Galatasaray shirt to the press. Monday is off to Turkey and Harchester are now a striker down. He takes one last look at the club that had caused him so much drama, and heartache over the previous couple of years, before leaving.