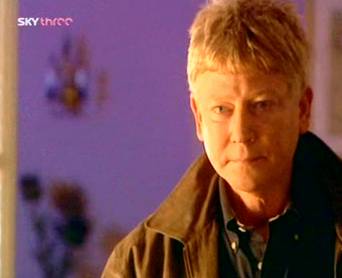 Patrick Doyle (Shaun Scott)
2002-2003
First Regular Appearance: 5.22 (#250) Changing Places Sunday 24th February 2002
Last Regular Appearance: 6.32 (#292) Just The Ticket Sunday 18th May 2003
Duration: EP: 250 - 292 ½ SE: 5.22 – 6.32
Position: Manager (2002-2003)
Last Seen: Shot to death in the Dragons Lair toilets while fleeing the heavies from his bet.
With sly and cunning traits masked by charm and intelligence, Patrick Doyle was proficient enough to oversee a successful run as a football manager in the highest leagues, and renowned for having a respected relationship with his players. Provided he could get what he wanted out of them and others around him. Patrick's prestigious career in football management saw him travel the world, spending a good deal of time particularly in New Zealand where his son Taylor was raised. Taylor followed his father into the 'family business' of football and became an agent, following Patrick across all his clubs and becoming his loyal sidekick.

Before returning to England, Doyle's previous position saw him in France managing Paris Saint-Germain. He was appointed in December 2000 and oversaw a successful two seasons at the club, including a record 7–1 European win against KAA Gent in the UEFA Intertoto Cup in 2001. Patrick's first dealings with Harchester United came when Ray Wyatt and Lynda Block came in for Monday Bandele, followed with his own striker Curtis Alexander arranging a contract for his brother at the club. A month after Linton Alexander signed for Harchester in February 2002, Sam Irving appoints Patrick as Harchester's new permanent manager taking over from Monday who had been acting as caretaker for the previous couple of months. Doyle leaves PSG in a comfortable position with his assistant Luiz Fernandez, and takes the reigns at United, determined to see the club through to the finals of the UEFA Cup and their first European trophy win.

Although getting his players in line is something he has to contend with almost immediately. When a bitter Andrei Belanov goes public on Sky Sports accusing Doyle's now assistant Monday of an unprovoked assault, Patrick wastes no time offloading the Ukrainian with a little help from Taylor. Then there's the fiery history between Linton and Stevie Shaw. Patrick brings in sports psychologist (and his secret lover) Gemma McKenzie to work with the team, but it backfires when she develops a bond with Monday and suggests to Patrick they should stop seeing each other. The team win their place for the UEFA Cup Final in Amsterdam, but on the way to the airport the coach crashes leaving three of Patrick's players dead. The game still goes ahead, but with a weakened side the Dragon's lose admirably to AC Milan. Taylor's pursuit of Danny Rawsthorne before his death sees him unwelcome in Harchester, and shortly after the crash he flees town leaving Patrick without his right hand man around.

Patrick wants further control of Harchester beyond managerial status for the new season, and with Jeff they set up a consortium in which to buy the club from Sam Irving. They are shocked however when he sells to a bidder offering an extra £2M, a lottery winning plumber called Phil Wallis. Having brought his former players Curtis Alexander and Marcel Sabatier across from PSG, Patrick, now unable to own the club shows his most ruthless streak - placing a £1M bet on Harchester being relegated. The plan for this is not immediately clear, but on Doyle's side, he kills two birds with one stone in selling Monday to accommodate Phil's desire to have Scott Lucas back at the club. Patrick deliberately won't play Scott in his preferred position as striker, so he backs out of the deal and Harchester are a striker down.

Doyle also sees off new Real Madrid signing Roberto Mendoza on his debut training session, after making him train when he knew he wasn't fit enough. Jacqui Wallis learns what Patrick has done, and plans to take him down but having learnt her husband used the last of their lottery money to buy the ultimately useless Mendoza, a bitter Jacqui goes renegade and joins Patrick in his bet... followed by his bed. As Harchester's form slips dramatically and a fight for survival looks ever more likely, Jacqui begins to feel guilty, and pleads with Patrick to free her from the bet. All she is met with however is a slap and being further blackmailed into bed by Doyle. Jacqui finds herself pregnant with Doyle's baby, but the stress of the bet gets too much for her and she miscarries the child.

Patrick slips up though, with his misjudgement that Fletch would join the bet due to the severity of his money troubles, and Karl shows his true commitment to the club by taking on the rogue manager. In order to discredit Fletch on all accounts, Patrick spikes him with cocaine before arranging a random drugs test, which Karl narrowly passes. If Fletch thought the danger of Patrick was over with his sacking by Phil following Jacqui's revealing of all, he was wrong. For Fletch wasn't the only player aware of the bet. Troubled goalkeeper Jamie Parker had fallen under Doyle's control, paid to throw games even after Patrick is dismissed from the club. When returning manager Alan Rothman drops him from the final, and most crucial game of survival against Everton, Jamie well and truly loses it. Doyle hands Jamie a gun to kill himself with, but Jamie takes the whole team hostage in the dressing room at half time. The end of the siege sees Jamie shot dead.

With Patrick exposed, the gangsters he owes money to from the bet are out to get him. He is released from prison into the custody of Phil, whom he has to stay with for his own safety! Phil takes Patrick to Jamie's grave, and forces his face into the dirt to say sorry for the death he caused. Patrick is forced to go with Phil to the club for the final replay which will decide Harchester's fate, which, ironically, they survive. Two thugs from the syndicate get inside the club and chase down Patrick, where he is found hiding inside the toilets and executed. Doyle's body is found by an unfortunate cleaner and it is later revealed the two killers were in police custody.