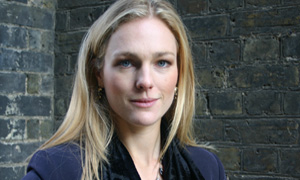 Rachel Craig (Annabel Reid)
2006-2007
First Regular Appearance: 10.6 (#393) Trust Sunday 3rd December 2006
Last Regular Appearance: 10.18 (#405) Educating Amy Sunday 25th February 2007
Duration: EP: 393 - 405 ½ SE: 10.6 – 10.18
Position: Manager's Wife / Mother to Gemma
Last Seen: Choosing to live with her secret boyfriend than continue her failing marriage to Jimmy.
Rachel was seventeen when she first got together with Jimmy Craig, at a time where he was a young talent at Leeds United and under his father's watchful eye, the last thing he wanted was for his son to be distracted by a girl. Rachel's parents too, had higher aspirations for their daughter than her becoming involved with a boy whose profession they saw as a "yobbo" sport. Both sets of parents hoped the relationship would fizzle out, but Rachel and Jimmy spent all of their spare time together in secret, and in the summer of 1988 found their big escape when Jimmy signed with Sheffield Wednesday. Within a year the two had married and become parents themselves to a daughter, Gemma.

After six years at Wednesday, Jimmy transferred to Queens Park Rangers, but when the time came for Jimmy to sign for Newcastle, Rachel stayed in London, wanting more stability for herself and Gemma. Jimmy was away for most of the year every season, and this did not change after he retired from playing in 2002, for his training for his coaching badges took him away to other clubs across the country. The continued absence of a husband and father had an affect on Rachel and Gemma, and their relationship was often strained.

By 2006 Jimmy is back to where it all started for him, as Reserve Team Coach at Leeds, when he is required to fill in the caretaker manager role at Premiership club Harchester United. Rachel is awaiting Gemma's return from a holiday in Turkey, when she gets an unexpected call to join Gemma and Jimmy at the new club. Arriving, she gets the shock of her life when Jimmy points out a Turkish man called Izmet, whom Gemma has married! While Rachel tells Jimmy to focus on keeping the biggest job of his career, she sets about finding what Izmet really wants - a pay off to annul his marriage to Gemma and disappear. Gemma accuses her mother of ruining her life and demands to live with Jimmy in Harchester, which Rachel doesn't think is a bad idea, as it would benefit Gemma to have her father's presence in her life after so long.

Rachel plans to spend Christmas with the family but when Gemma is in a car crash she arrives sooner, and is unsympathetic to what she sees as her daughter causing trouble once more. Things aren't helped when Gemma asks who Rachel was on the phone too, and it is clear the mom is hiding something. As Rachel goes to head back to London, Gemma collapses as a result of the accident, and falls into a coma. Jimmy and Rachel are distraught and don't leave Gemma's bedside as her condition slowly improves. Rachel is supportive of Liam visiting Gemma, but Jimmy is not so sure.

When a man arrives at the hospital looking for Rachel, Katy speaks with him and susses something is up. Rachel cannot hide that the man, David is in fact her secret lover and after Jimmy punches him, the two finally talk about how their marriage is only surviving for Gemma. When Tom Magee, a journalist threatens to Amy that he will reveal Rachel's affair just as Gemma is recovering at home, Rachel decides it is best that she goes back to David, officially showing her separation from Jimmy. Later in the season, Gemma visits, and then moves back in with her mom when Liam chooses to put the team before his relationship with her, just as Jimmy did so many times with her mother.