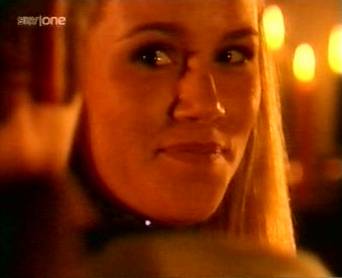 Rachel
Gately

(Elizabeth O'Grady)

2000

First Regular Appearance: 4.5 (#207) Sunday 29th October 2000

Last Regular Appearance: 4.11 (#213) Sunday 10th December 2000

Duration: EP: 207 - 213 ½ SE: 4.5 – 4.11

Position: Club Receptionist (2000)

Last Seen: Leaving after realising Matt belonged with his family, and unable to love Danny herself.

Originally from the North, Rachel re-located to London in her late teens, and found work as a receptionist at First Division football club Queens Park Rangers. Her job introduced her to Matt Conlon, and Rachel found herself falling in love with the club captain. Despite being married with two young children himself, Matt welcomed Rachel's feelings and began an affair with her, which in secret went on for months. Despite her actions, Rachel is not a deliberate homewrecker - she believes Matt truly loves her and his marriage to wife Lizzie is an unhappy one, only continuing for the sake of their children. The affair is revealed at the precise moment Q.P.R receive a transfer request for Matt from Harchester United, and Matt sees this promotion to the Premier League as a way to solve his Rachel/Lizzie problem.

Rachel is heartbroken that Matt upped and left without her, and still believing there is a chance for them, she follows him up to Harchester shortly into his new season there. Matt is shocked when he learns Rachel is now Harchester's new receptionist, and scared of his own feelings resurfacing, tells Rachel she must leave before Lizzie sees her. Lizzie finds out and is of course not happy, especially when she finds herself unable to appear on stage at the club's charity event 'Harchester Uncovered', to be replaced with Rachel walking out to the crowd with Matt! A humiliated Lizzie overcomes her stage fright to sock her husband one in front of all the cameras! Rachel is confused when Lizzie requests to meet with her, and finds herself being taken by Lizzie first to pick Jake and Emma up from school and then fetch the shopping. Rachel realises Lizzie is showing her how she is ruining their family life, causing a guilty Rachel to cry and announce she will leave.

Rachel has struck up a friendship with Matt's team mate Danny Rawsthorne, and when the two go out together, Matt gets very jealous. Tensions reach a high level at the Junior Dragons Christmas party when Matt and Danny both turn up as Santa, following which Rachel and Danny sleep together. Matt is furious at finding this out and fights with Danny, which shows a distraught Lizzie that Matt really is still in love with Rachel. In a state, Lizzie gets drunk, and Matt disappears, leaving Rachel feeling guiltier than ever. She has had enough of feeling the bad person, and decides she has to go from Harchester, telling a gutted Danny it wouldn't have worked out between them.