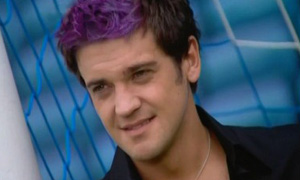 Robbie Walsh (Scott Mean)
2002-2003
First Regular Appearance: 5.24 (#252) The Birthday Party Sunday 10th March 2002
Last Regular Appearance: 6.20 (#280) They Think Its All Over Sunday 23rd February 2003
Duration: EP: 252 - 280 ½ SE: 5.24 – 6.20
Squad Number/Position: (#22 / #18) Centre Midfield (2001-2003)
Last Seen: Stays in Brighton when his loan deal is made permanent and after splitting from Tash.
Growing up local to Harchester United, the club was the central point of Robbie's development as a central midfielder, from academy level and youth team at Addison Road, onto the reserves and eventual first team at The Dragon's Lair. Robbie had to push himself hard to reach the final goal of a professional contract with Harchester; there were other players in the club's youth development with more natural ability and his talent was just about enough to see him through to the top flight. It was early in the 2001-02 season that Robbie began to receive his call-up to make his first appearances with the first team. Manager David Spears placed him on the bench for Harchester's 2nd Leg 1st Round UEFA Cup Tie against Shelbourne in Dublin, where Robbie made it onto the pitch during the second half of the game.

Robbie's next chance with the Dragon's was a more permanent one later that season, with Patrick Doyle now in the manager's role. He is soon the centre of a competition battle between Harchester's two resident agents Jeff Stein and Doyle's son Taylor, both determined to sign the new boy. Taylor is the successor to Jeff's irritation, but he doesn't have long to wait before snapping up Robbie for himself. As the team set off to face AC Milan in the UEFA Cup Final in Amsterdam, the coach crashes, injuring several and killing three of the team, including Danny Rawsthorne. As Taylor had betrayed Danny beforehand, he is driven out of the club leaving Robbie open to Jeff. Robbie isn't badly injured in the crash, so is a part of the weakened Harchester squad who still play the match, but lose 1-0.

Being on Jeff's books brought Robbie into contact with Jeff's daughter Tash more, wife of his team mate Jamie who was still out injured from the crash and in hospital. Tash had just given birth to their daughter, and was struggling without her husband around. Robbie stepped in to help, which everyone thought was admirable, but before long Robbie had begun an affair with the lonely Tash. When Jamie comes home, a guilty Tash decides to end things with Robbie, but when Jamie has to leave for treatment in a clinic in LA leaving her alone again, Tash is heartbroken and resumes the affair. Setting up a photoshoot for Robbie, Tash allows Hope to be a part of the pictures, bringing them closer and that day Fletch finds Robbie in bed with Tash at her house - and gives Robbie a black eye. Jamie unexpectedly returns from LA one day and just misses Robbie and Tash at it himself, but it isn't long before he discovers the truth, not before mistaking Fletch as Tash's lover!

When it is revealed Jamie himself had an affair in LA with tennis player Shannon, Tash goes to live with Robbie. Robbie's career seems to have stalled at Harchester, first with the arrival of Stuart Naysmith's son Ryan (under the guise of Ryan Greene) and now the Tash business has left him out of favour with Jamie's team mates, led by Fletch. Doyle decides to back Jamie (for less obvious reasons at this point) and informs Robbie he is going on loan to Brighton, with the view of making it permanent. Tash comes close to making the move with Robbie, but with Shannon now out of the picture, Tash realises she has never truly stopped loving Jamie and just wanted company with Robbie. Robbie realises this too, and reluctantly agrees to let Tash go, before transferring to Brighton where first team football was a guarantee.