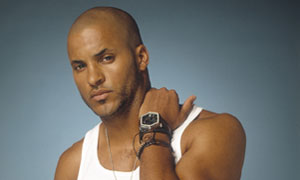 Ryan Naysmith (Ricky Whittle)
2002-2006, 2007
First Regular Appearance: 6.4 (#264) The Root Of All Evil Sunday 27th October 2002
Temporary Departure: 7.11 (#303) Saving Priceless Ryan Sunday 7th December 2003
Returned: 7.22 (#314) 11 Angry Men Sunday 29th February 2004
Last Regular Appearance: 9.31 (#387) Salt Of The Earth Sunday 14th May 2006
Guest Appearance: 10.32 (#419) The Final Whistle Part Two Sunday 3rd June 2007
Duration: EP: 264 - 303, 314 - 387, 419 ½ SE: 6.4 – 7.11, 7.22 – 9.31, 10.32
Squad Number/Position: #29 (Left/Right Midfield) (2002-2006)
Last Seen: Returning from Villarreal to watch Harchester's Title battle against Chelsea at the Lair.
Ryan was born in November 1983, conceived during his teenaged parents' first sexual encounter and arriving sooner than anyone expected. Stuart Naysmith was known to be on the road to a highly successful career as a professional footballer, and as his work took him to football clubs across the country, to Europe and beyond, a young Ryan was raised in Oldham by his mother and both sets of grandparents. From this early age it was clear that sporting talent had been passed down from father to son, and in 1993 after Stuart signed for Aston Villa, he nurtured his nine-year-old son's gift further by asking Birmingham City's youth academy to come and see Ryan play.
Ryan was accepted almost immediately, and spent the next six years a regular feature in the Blues academy, while Stuart continued to travel away to other clubs. When Ryan was sixteen he left home to join Birmingham's youth team, and shortly after Stuart and Janet, Ryan's mother split up, having realised the now departed Ryan was the only thing keeping them together in the end.
However Ryan's professional career at Birmingham was to be short lived, and Stuart, now at neighbouring side Harchester United, was shocked by his now eighteen year old son's sudden arrival at his house, having been expelled for accidental arson. While disappointed, Stuart was determined that his son's great potential did not flounder, and approached the management at Harchester to see Ryan play with the view of offering him a trial. As with Birmingham it paid off, and Ryan, using his mother's maiden name of Greene to avoid accusations that it was his father's influence, and not his own merit that had landed him the place, began training before very quickly impressing enough to win a contract with the club. Comfortable that he'd proven himself, Ryan was ready to play under the Naysmith name at Harchester.

At the club, Ryan falls for Tara Keane the HUTV presenter, unaware she is more interested in Stuart! Ryan carries on lusting after Tara until the club's Christmas party, where Tara kisses Stuart, and a drunk Ryan storms out to his car with Tara taking the wheel. The two snipe at each other and a man is run over, but because Ryan got into the driver's seat after the accident the police believe he is responsible. Tara decides to go along with the police's version of events, leading to Ryan's arrest. Stunned at Tara's betrayal and with his future in jeopardy, Ryan is now a scared kid. Pushed down to the reserves due to the club not knowing how to handle Ryan's situation, he fights with the team after a game against the Birmingham reserves, and following this attempts suicide by slashing his wrists, and is found by Fletch. After owning up, Tara gets forgiveness from Ryan, who persuades Stuart to do the same.

Back in the first team, Ryan makes a connection with Clyde Connelly, who has just moved up from the youth team. Ryan moves out of his dad's and into a flat share with Clyde, and the two throw a party to celebrate their move. In the same apartment block is Marcel Sabatier's therapist, who comes to complain about the party noise, and Ryan and Clyde blame Marcel for the party having to end. The two tease Marcel that the therapist is his boyfriend owing to the fact there are rumours of Marcel being gay going round. When Ryan goes too far, Marcel loses control and seriously hurts Ryan, resulting in him needing surgery and his spleen removed. Due to this, Ryan is out injured for the final weeks of the season, and he and Marcel decide to put what happened behind them.
Ryan seems to be having some luck when he begins going out with Tash's nanny Linzi, but trouble from his past soon rears it's head in the form of Steve Johnson, an old acquaintance from Manchester. To get rid of Steve, Ryan swipes Clyde's complimentary tickets for Harchester's last game of the season - tickets which prove highly controversial when they make the owner the winner of Harchester United. Steve begins to blackmail Ryan in order for his silence on how he got the tickets. Meanwhile superstar arrival Luke Davenport's playing style compliments Ryan's skill greatly, and before long they have both received call-ups to the England squad. This news brings Steve out of the woodwork once more, demanding more money. Ryan is under great stress and tells Steve this is the last he's getting, but Steve warns until the next time. Ryan flips and fights with Steve, resulting in Steve hitting his head on the side of the canal railings. Ryan doesn't realise Steve is dead until he sees it on the news, and when the Boyles reveal they witnessed Ryan kill Steve they make a deal to give each other alibi's, that Ryan was gambling with the Boyles when Steve was killed.

Although off the police's radar, Ryan is haunted by his actions involving Steve, and suffering recurring nightmares he takes sleeping tablets which are dangerous following his splenectomy. Ryan lets slip to Curtis what happened with Steve, and believing his dad needs to know, informs Stuart. Seeing first hand how his son's mental health is at risk, Stuart knows he has to get Ryan out of Harchester. Luke however is secretly going blind, and needs Ryan's game to cover his own, so when Ryan looks set to move to Liverpool Luke forces Pilar to put a stop to it. Ryan has a breakdown when told by Stuart that the deal is off, and punches Luke affecting his eye sight further. Stuart checks his son into a specialist clinic, believing he has truly let Ryan down.

During the months he was away, Harchester United slipped below sixth place in the table and were liquidated. Determined not to let the club die, the players set to fulfil a league cup fixture away to Charlton, and Ryan made an unexpected visit to wish the boys well. With a space to fill to reach eleven players, the lads ask Ryan to rejoin them, and he jumps at the chance, eager to get back to playing. The club is allowed to return when Coopers Bank set the ultimatum of achieving a fourth place finish. On the way to that, it is revealed that Stuart has been involved in match fixing, and the team especially Ryan, are disgusted. The Sheik involved has Marcel mistakenly killed in place of Stuart, and he has to be put into witness protection. Stuart has to say an emotional goodbye to Ryan, unsure whether they will see each other again, but lets his son know he will always be watching him through his career.
Harchester survive and secure Champions League status, and Ryan is now in the right mind frame to be included for England's Euro 2004 tournament. During a warm up for an international match, Ryan is dealt a devastating blow when he suffers a severe brake in his leg, an injury which would blight him long term and keep him out of the game for the next year*.

Isolated from his team mates, Dean asks Chelsea Wright if she could be a support to a down Ryan, and soon she is helping out in any way she can. When Chelsea realises she is stuck in a loveless marriage with Viv, she and Ryan begin an affair and Ryan has fallen in love with her. Ryan loses patience with Clyde, too wrapped up in his own problems to notice Clyde is depressed. When Ryan hits Clyde for insulting Chelsea, it exposes the affair to all of the team present. Ryan is rotten to Clyde when he turns up to apologise, telling him they aren't mates anymore. Ryan tells Chelsea he will give up everything so they can run away to the Maldives and be together properly. The two make it to the airport, but Chelsea realises she could never make Ryan abandon his career and makes the decision to slip away alone.

Ryan gets back to not only the news of Clyde committing suicide but the wrath of Viv who is determined to find out who his wife was having an affair with. Ryan gets a shock when he finds Viv pointing his shotgun and accusing him of being the guilty man, leading to Ryan telling his most wicked lie ever, that Clyde was the one seeing Chelsea, something he later uncomfortably has to repeat to Clyde's mother. Ryan feels drawn back in when Viv announces Chelsea has returned, but is the first to learn what he is seeing is a figment of his mind, when Chelsea, still in the Maldives, angrily tells Ryan not to contact her again.

As Ryan approaches returning to playing, a phobia overcomes him that going in for tackles is going to put his leg at risk again. Viv asks his psychologist Naomi to work with Ryan, but it is in fact a kick to the leg from Carl Caskey, when he sees Ryan and his daughter Savannah together, that shows Ryan he can overcome it. Carl is not at all happy about Ryan being Savannah's boyfriend, but Ryan proves his commitment and is serious about making a go of things with Savannah. Harchester make the Play Off Final to face West Ham in Cardiff, but when Ryan's affair with Chelsea is exposed for real, he flees in Don Barker's pool car. A plea from Viv to rejoin the team for this all important match sees Ryan return to face his fears, but he and Savannah are shocked when the police open the boot to find Fletch's dead body. Ryan is arrested and taken away to be questioned, which keeps him out of the way as the guilty Don Barker drives his car into the Harchester team coach, causing a massive explosion that rips through killing all on board.
Ryan alongside Danny and Tyson are the three survivors, and form a strong connection due to this tragedy. Ryan's relationship with Savannah does not survive her father's death, and they break up. As the new season begins, Ryan is struggling with his own survivor's guilt and it is affecting his game, something that is noticed by first team coach Ashleigh King. On his birthday, Ryan is shocked to find Danny and Tyson have bought Studs for him as a present, and he wanders if he will always be haunted by the ghosts of Viv and Chelsea. But spending his first night alone there actually helps Ryan move on from the past.

One of Ryan's coping mechanisms is to forget his troubles and pull a girl, but he oversteps the mark again when his next conquest is the girlfriend of his team mate Gavin Moody. He is less than impressed when Ashleigh sets Hector up as his new housemate, for the two have already had their fair share of clashes, but all is forgiven when Hector finds Ryan's missing dog Jaws. Gavin takes the team on a hunting trip for his stag do, where the lads find out and force Ryan to confess his sleeping with Cindi to Gavin. Gavin repays Ryan by shooting dead his dog, Jaws! On top of this, Ryan's team mates allow him to receive a 'punishment' beating in the shower by Gavin for his actions. Ryan and Gavin are now at war, and a further on-pitch punch-up leads to Ryan being suspended by the FA for five matches.

The demons plaguing him again, Ryan climbs onto the stadium roof to try and connect with Clyde and understand why he did what he did up there. Ashleigh talks Ryan into coming down, and partying to forget their troubles, the two drink too much while Ashleigh innocently stays the night in his hotel room. Casper believes she has cheated on him and is intent on revenge. He sets Ryan up for match fixing with a view of selling it to the press and ruining Ryan's career. When Ryan gets wind of this, he bursts into Gavin and Cindi's wedding and decks Gavin at the alter, not knowing Casper is behind it all. When Alex discovers it is Casper and accidentally kills him, the whole match-fixing is hushed up and Ryan can return to play in the team's FA Cup Final and the chance of making the England squad for the 2006 World Cup.

Part club owner Eugene has had enough of Ryan, and holds him responsible for the events that led to Casper's death, making it clear that when Ryan returns from Germany he will be sold. Ryan is the first Harchester player to play for England in a World Cup since Kevin Nelson in 1986, and following this he takes an £8 Million pound move to Spain's Villarreal. The following year he makes a return appearance at the Lair to watch his former side win the Title for the first time in twenty-one years.

*Ricky Whittle broke his leg during a charity match the actors were playing at Bury FC shortly after filming for Season 7 had ended. The injury was written into Ryan's story for Season 8 as both actor and character made a slow, and dangerous along the way, recovery.