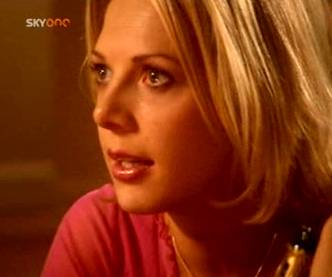 Sandra [Welch] Greene (Lisa
Burstow

)

1997, 1998, 1999-2004

Guest Appearances: 1.9 (#9) Tuesday 11th November 1997, 2.32 (#96) Thursday 17th December 1998

Recurring Character Appearances: 3.8 (#148) Thursday 14th October 1999 - 5.32 (#260) Forsaking All Others Sunday 5th May 2002

First Regular Appearance: 6.1 (#261) It Could Be You Sunday 6th October 2002

Last Regular Appearance: 7.32 (#324) A Matter Of Life And Death Sunday 16th May 2004

Duration: EP: 9, 96, 148 - 324 ½ SE: 1.9, 2.32, 3.8 – 7.32

Position: Receptionist (1997-1999) / Chairman's Secretary (1999-2004)

Last Seen: Cheering for the Dragons as they face Man U to gain qualification to the Champions League. Leaves off screen.

Sandra Greene was a long-term employee of Harchester United, who first worked in the ticket office before rising to club receptionist in the late 90's. In 1999 when Harchester moves from its ground at Addison Road to new stadium The Dragon's Lair, Sandra is promoted to her biggest role of Chairman's secretary, first under Jerry Block. Now more prominent at the club, Sandra is often witness to all the dramatic events that take place outside the Chairman's office, though nobody pays her much attention or worries too much about what she's heard! When Jerry fires Marilyn Harwood, Sandra has the uncomfortable task of packing up Marilyn's desk and telling the ousted Chief Exec that Jerry will "see her in his office".

Lynda Block is someone Sandra admires, and with Zoe, who took over Sandra's receptionist job, they are a big support to the troubled Chairwoman as she battles the heartless Prashant Dattani. Sandra has been married during her time at the club, known as Sandra Welch, but she is divorced by the 2000-01 season, resulting in her bedding Karl Fletcher at the Christmas period! Towards the end of the season, Fletch gets his chance to be player-manager, a long-held dream, though Sandra's listening-ears overhear Prash making it clear that Fletch's time as boss will not see it past it's first day. When Sandra informs Fletch of this, her actions result in her ultimately standing in the witness box of Fletch's trial, after he is wrongly charged with Prash's murder. When Lynda reveals she was responsible, Sandra loyally sticks by her boss when many turn against her, and Lynda gratefully makes Sandra and Zoe her matron of honour and bridesmaid respectively at her wedding to Sam Irving.

Although she wouldn't admit to it, due to the competition often between the pair, Sandra's best friend at the club is Nikki Peggs, who is team co-ordinator. Nikki and Sandra love to gossip and giggle at the club's often disastrous and scandalous events, with Sandra knowing Nikki fancies Chairman Phil Wallis while in turn, Nikki (and everyone else) can see Sandra is madly in love with midfielder Marcel Sabatier. Though it is something she holds out for, it seems Marcel doesn't think of Sandra in the same way. When Nikki is assigned to help worldwide superstar striker Luke Davenport settle into life at Harchester, she implies to Sandra that things went further between her and Luke, resulting in Sandra spreading the word around. This causes Nikki great embarrassment and she is furious when Sandra gets to take over her role as team co-ordinator. When Nikki resigns to become an agent, Sandra is straight in there for her friend's former role, though she loses to current receptionist Grace Ikema.

While things are rocky between her and Nikki at times, Sandra comes through for her pal when she reveals she is proud of how Nikki got out of the club and made a new career for herself, when Tash Parker is undermining her. With the girl's encouragement at Nikki's engagement party, Sandra plucks up the courage to speak to Marcel and gets a huge surprise when he kisses her passionately and leads her to his room, though Nikki can see he is doing what Luke did to her. Predictably, Sandra is hurt when Marcel blanks her afterwards. Even though she's annoyed at how he treated her, Sandra still hangs onto her feelings for Marcel, and is heartbroken when news comes through that he has been found dead at Abi's house. After giving her all to Harchester, as they now face Man U to survive and make it to the Champions League, Sandra decides it is time to finally move on, and she leaves for pastures new.

Lisa Burstow also made an appearance, in between Sandra's development, as a waitress bringing room service to Fletch and Sean at their London hotel before Harchester play Man U at the FA Cup Final in Season 2's finale.