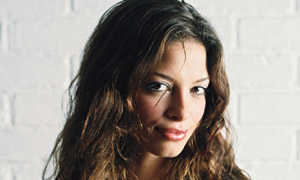 Scarlett

Rose (Lauren Gold)

2005-2006

First Regular Appearance: 9.1 (#357) Phoenix From The Flames Sunday 16th October 2005

Temporary Departure: 9.10 (#366) 'Tis The Season To Be Jolly Sunday 18th December 2005

Returned: 9.19 (#375) Just Another Game Sunday 26th February 2006

Last Regular Appearance: 9.22 (#378) Two Wrongs Sunday 19th March 2006

Duration: EP: 357 - 366, 375 - 378 ½ SE: 9.1 – 9.10, 9.19 – 9.22

Position: Wife of Eugene Rose

Last Seen: Goes back to London knowing Casper couldn't choose her over Eugene.

Brought up as their own equivalent of the Rose/Christie family, Scarlett and her half-brother Marlon were the Wells/Baldon's, sharing the same dad but with different mothers. Mrs Baldon was the more affluent second partner of Scarlett's dad, and wanted her daughter raised away from the troubled backgrounds of her husband's 'first' family. Although she had a more comfortable upbringing, Scarlett loved the times she would spend with her big brother in and around Peckham, with his friends who she got to know well, particularly his loyal sidekick Eugene Christie. Scarlett always hoped Eugene would notice she was more than just Marlon's kid sister, and was jealous when Jessica Hibbs caught his eye first, especially as she was more or less an older version of Scarlett herself. Eugene became acquainted with the wealthy Rose family after learning Liverpool legend Terry Rose was his biological father, and for the next few years, Scarlett saw less and less of him as his football career took off at Charlton.

In early 2001, Scarlett gets a surprise when she learns Jessica has left Eugene and suddenly moved to Australia, alongside the breakdown of his relationship with his half-brother Casper, whom Scarlett knew Gene was very close. With Terry his only remaining family, Eugene falls back in deep with Marlon and his crew, and the now 17-year-old Scarlett is hardly the schoolgirl he knew three years ago but a gorgeous young woman. Scarlett supports Eugene and they spend more time together, where he ultimately turns her against the 'evil' Casper and the Rose family to be completely on his side. Eugene's last link to his secure life with the Rose's dies along with Terry, and a bitter Gene doesn't attend his dad's funeral, instead concentrating on his 'real' family Marlon and his gang, marrying Scarlett to make he and Marlon officially "brothers." Eugene changed towards Scarlett though after the wedding, he was more controlling, secretive about his activity with Marlon, and she often had to speak to Eugene's agent Chloe to find out what her husband was up to.

Chloe sets up a meeting with Harchester United in order to get Eugene playing at the club he deserves, and more importantly, to get him away from Marlon who is now dragging Eugene along on armed burglaries. Eugene signs, but comes face to face with Casper, who is also a new Harchester player, and all hell brakes loose. Eugene puts Scarlett under strict instructions to steer clear of Casper, and she obediently follows through, refusing to even speak to Casper when they see each other. Bringing Eugene his lucky ear-ring the day they face their old club Charlton at the Lair, Scarlett finds herself stuck in a broken lift with Casper, which would normally be her (and Eugene's) worst nightmare. But forced to spend hours waiting to be rescued, Scarlett gets to see Casper in a different light and less of the villain Eugene painted for her.

Scarlett's change of heart increases Eugene's paranoia that Cass will ruin their relationship just as he did with Jessica, and her growing friendship with Casper leads to Eugene planting listening devices in much of Scarlett's property. It is Scarlett who comes to believe Eugene is having an affair with Chloe over their secretiveness, and in a state, crashes the car, with a repairman later informing her of Eugene's bugs that were found in the vehicle. Feeling betrayed, Scarlett deliberately relishes her independent side, and takes a job offered by Lynda to pose in Harchester's new away kit for the Christmas catalogue, alongside a member of the first team which she later learns is Cass. When a furious Eugene sees the pictures, he hurls a chair at Casper and Scarlett has had enough - she walks out on Eugene. Returning on the night of the Christmas party to collect her things, Scarlett finds her front room has become a hostage scene, and when she recognises one of the masked men as Marlon, it becomes apparent that Eugene is involved once again.

Scarlett splits with Eugene and goes back to live with her family in London, but returns with Casper's persuasion to help save Eugene from a lengthy prison sentence, having to testify against Marlon. Eugene is pleased when Scarlett agrees to stick around for a bit, but Scarlett is now more interested in Casper, hoping there might be something there between them both. Scarlett is pushed out even more when an Australian TV channel organises a reunion between not just Eugene and Jessica, but a daughter Eugene never knew he had. Eugene now has no further interest in Scarlett, which prompts her to reveal her feelings to Casper. Although Casper would jump at the chance to be with a girl like Scarlett, he tells her he couldn't do it to his brother and so Scarlett leaves again. She and Eugene later divorce.