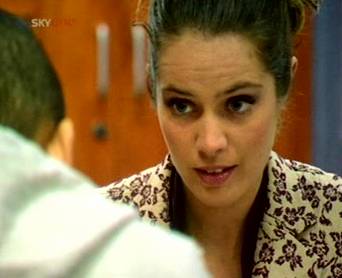 Sofia Moxham (Lisa McAllister)
2004-2005
First Regular Appearance: 8.1 (#325) Down Sunday 17th October 2004
Last Regular Appearance: 8.19 (#343) In Blood Thus Far Steep'd Sunday 27th February 2005
Duration: EP: 325 - 343 ½ SE: 8.1 – 8.19
Position: Football Agent
Last Seen: Assisting Nathan Woods on his contract. Leaves (possibly to Chelsea) without an on-screen exit or explanation.
Oozing class and sophistication, Sofia was a bright girl who set out to use her talents in an area where she would be successful and respected. Entering the business of football, she didn't quite expect how much of a rarity she would be as a young female agent in the late 90's, and that respect from those around her took a while to come through, but as a tough-negotiating fair representative who had the best interests for and cared about her clients, it was well earnt. As she progressed into the Premier League, Sofia didn't feel disheartened being in a sea of male colleagues, in fact she welcomed the opinion that she was seen as the best female agent anyone knew.

Based at Chelsea in 2003, Sofia snaps up new midfield signing Tommy Valentine, a player who has an impact on her unlike any other. Tommy is a womaniser, and his attitude that he is too good to be wasted on the Chelsea bench causes no end of headaches for Claudio Ranieri and the club. Sofia is the one to sort out Tommy's grievances with the club, quite often a regular task, and sees his liaison's with bored married wives as something he will grow out of when he sees she herself could be the one to settle down with - for Sofia harbours deep feelings for Tommy. After a season, Chelsea have had enough of Tommy with now an affair with his team mate's wife, and will only sell to a Premier League or European club. When only the now-Championship Harchester United come through, Sofia persuades Tommy it would be for just a few months until the January transfer window opens, and ends up being offered a role for herself at the club by chief executive Dean Boyle.

Sofia is assigned the job of finding new top flight homes for the club's Premier League stars, one being Clyde Connelly. Clyde however, has been going through a bad period, his play suffering due to manager Don Barker's new regime and his confidence at an all time low. Clyde's misguided attitude has seen him be judged as disrespectful, and no club will touch him, which Sofia sees is sending him into a continued downward spiral. Sofia can do little but watch as Clyde sinks further into depression, and when he commits suicide, it is the worst moment of her career as an agent, believing she failed Clyde. With Tommy, who was Clyde's only real friend in the team, they support each other and Sofia tries to move on by assisting Dean in his attempt to bring a huge European star, Carlos Valdez, to the club. Dean is left feeling a fool when it is learnt Joel Brooks was using Harchester in a bidding war which would see Valdez going to Chelsea and Tommy to Juventus in his place. But it brings Dean and Sofia closer.

Sofia still hopes that something will happen between herself and Tommy, and she has to clean up Tommy's latest affair with Michelle, which results in Tommy being stabbed by Michelle's husband Shay. Sofia doesn't leave Tommy's side and is the voice of reason that gets through to him when he almost arranges to have Shay killed! After recovering, Tommy makes his return to Harchester, only to be lost in a bet between Eli Knox and Spartak Moscow owner Nicolai Kulikov - meaning Tommy is going to Russia! Sofia does all she can to stop the deal/bet, but with Eli honouring his bets and even assisting Nicolai in buying Tommy from Chelsea, her efforts run short. With both Eli and Nicolai paying Tommy £50,000 a week each, Tommy signs the contract, which Sofia is shocked at. Even with Sofia set to become a millionaire at twenty-seven from the commission, she doesn't want to go and hopes Tommy will change his mind about going too.

With his head turned by the money, Tommy wants to celebrate and he and a sombre Sofia get drunk, leading to Sofia giving in to her feelings and sleeps with Tommy. The next morning, reality hits Sofia when Tommy shows that he sees Sofia as any other woman, and only wants her to come out to Russia for a bit. Their relationship ruined, Sofia says goodbye to Tommy, realising she needs to move on from him altogether. There had always been a spark between Sofia and Dean, with he feeling she was a businesswoman way out of his league but could still dream, while she enjoyed his company and had an inkling he had feelings for her. They worked well together, particularly when Dean was in trouble with the HUFC fans and needed to fake buying a player from West Ham. But sadly, they only remain friends, and with Tommy now out of Harchester, it was time for Sofia to return to Chelsea.