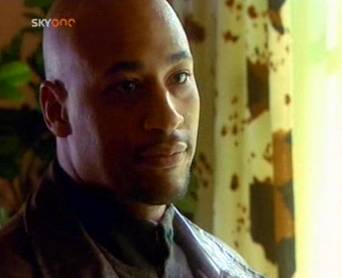 Stuart
Naysmith

(Terence Maynard)

2002-2004

First Regular Appearance: 6.1 (#261) It Could Be You Sunday 6th October 2002

Last Regular Appearance: 7.32 (#324) A Matter Of Life And Death Sunday 16th May 2004

Duration: EP: 261 - 324 ½ SE: 6.1 – 7.32

Squad Number/Position: #6 (Centre Defence) (2002-2004) / Manager (2003-2004)

Last Seen: Being put into witness protection following Marcel's murder. Says an emotional goodbye to Ryan.

Stuart was born in March 1968, the son of an England International, an illustrious feat which would be passed down from father to son, and later repeated once more with Stuart's own son. Stuart had a lot of responsibility to take on from a young age. His first-ever girlfriend Janet and he unexpectedly became parents to Ryan before they were even sixteen, and although always a part of his son's early years, young Ryan was mostly raised by his mother and both sets of grandparents, as Stuart was known to be on the verge of a prosperous career. One that would span eighteen professional years and see Stuart feature in the squads of Middlesbrough, prestigious Turkish side Galatasaray, Heart of Midlothian and Aston Villa (where he won medals at each) and before Harchester, Manchester City.

In the prime of his career, Stuart was an England International, and won twenty-two caps, mostly as a substitute. While at Man City and while Ryan was in Birmingham City's youth team, Stuart divorced from Ryan's mother, and when Harchester United came looking for an experienced Centre Half to bolster the team following the coach crash, Stuart started afresh at the Midlands club. Enlightened by his practical knowledge and mature background in football, Patrick appoints Stuart as his player/coach, and the lads respect him being the oldest in the team. Stuart gets a shock when Ryan, now eighteen, shows up at his dad's house at The Barrons, having been expelled from the Blue's squad for arson. Stuart refuses to let Ryan's talent slip away and organises him a trial with Harchester, with Ryan using his mother's name Greene to avoid being accused of only gaining a place because of his dad.

Ryan lands a first team contract with Harchester, and falls for Tara Keane the HUFC presenter, unaware she has her sights set on his dad! At the club's Christmas party, Ryan reacts badly when Tara kisses Stuart, and storms out to his car drunk with Tara taking the wheel. A man is run over, and because Ryan got into the drivers seat after the accident, Tara decides to go along with the police's view of events that Ryan is responsible. Stuart is gutted when Ryan attempts suicide by slashing his wrists, forcing Tara to take responsibility. After owning up, Tara gets forgiveness from Ryan, who persuades Stuart to do the same. Phil Wallis sacks Patrick and Stuart is made caretaker manager. When she is out for a story on Harchester covering up a positive drug test from Fletch, Tara sleeps with Stuart in order to get his keys and searches the files in his office, but is caught and fired. She leaves with a few choice words for Stuart and his abilities as a lover!

Stuart is under enough pressure as the club is down the wrong end of the table, and when a spat between Ryan and Marcel sees Marcel seriously injure Ryan, Stuart goes to attack Marcel but gets the wrong man resulting in his arrest! The incident brings to an end his time in charge, and Phil appoints Alan Rothman, however when Rothman suffers a heart attack during Jamie's siege, Stuart is once again left to steer the lads from relegation for the final game of the season. To his surprise, Harchester's new Chief Executive Pilar offers Stuart the permanent position of manager. Though he immediately sees for himself what he will have to go along with in order to keep the job, and watches as Pilar burns Karl Fletcher's contract, which does great damage to his relationship with Fletch and Abi. Stuart also feels Pilar is constantly going above his head and making decisions that affect his managerial role, particularly record-braking transfer Luke Davenport who is a law onto his own, and allowing sponsors Dream Inc. to lumber them with Zhao Qiang as part of a business deal.

Stuart is immensely proud when Ryan gets the call-up to the England squad, knowing that his son will experience what he did. However at the same time he learns from Curtis that Ryan accidentally killed a man who was blackmailing him, and seeing first hand that Ryan's mental health is at risk, Stuart knows he has to get him away from Harchester. Secretly going blind, Luke needs Ryan's game to cover his own, and forces Pilar to stop a move to Liverpool for Ryan. Because of this, Ryan has a breakdown and a heartbroken Stuart checks his son into a specialist clinic. Unable to face losing her job and the ridicule of signing Luke, Pilar flees to Spain, and it takes Stuart to find her and convince her to face up to her problems. Upon returning home, the two nearly kiss, but Pilar insists things must return to normal between them.

With the threat of liquidation hanging over the club, Stuart puts his career on the line and plays on top of an already injured knee, saving the club for another week but causing irreparable damage. With his playing days over, Stuart is desperate to keep his manager's job and agrees to help Pilar stop Fletch and Jeff Stein taking over. Stuart won't reveal Abi's affair with Marcel, but Pilar does and once again his friendship with Abi is in tatters. Pilar steals away Fletch's Sheik, and the two plot to see Harchester liquidated in order for the Sheik to buy the club at a knock-down price. Stuart is dead against throwing a game in order to lose, but Pilar knowing Stuart is secretly in love with her sleeps with him in order to get him on side. Marcel uncovers the plan and works against Stuart on the pitch to save the game, and the Sheik's assistant realises the deal has been compromised and pulls out. It is too late to stop the drop below 6th place and Harchester is liquidated.

The club is allowed to return when Coopers Bank set the ultimatum of achieving a 4th place finish, and the push is on for Stuart to make the Champions League. It all looks set to come crashing down when Tash gets wind of the match fixing, and Viv confronts Stuart in front of the team at half time in a locked dressing room. Stuart is forced to admit the match fixing, and the team especially Ryan, are disgusted. To save herself Pilar announces Stuart has resigned from the club, and when the Sheik's assistant learns from Pilar that Stuart could spill all on the deception, he tells her they will take care of the problem. The next morning Marcel is found dead - having been mistakenly killed in place of Stuart!

A guilt-ridden Pilar reveals the full truth at Marcel's memorial, and as a result, the FA bans Stuart from all forms of English football for life. In order to catch those responsible for Marcel's murder, Stuart is a key witness which puts his own life in danger. The police put him into witness protection, and there isn't much time before Stuart will be taken far away and given a new identity. As Harchester play the final game of the season and fight to secure Champions League status, Stuart is saying goodbye to Ryan, unsure whether they will see each other again, but let's his son know he will always be watching his career.

At the end of the series in 2007, Jane Hewland confirmed that while she had no idea where Stuart was, she believed he was still alive.