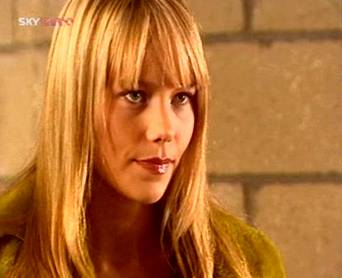 Tara Keane (Emma Harding)
2002-2003
First Regular Appearance: 6.5 (#265) Odds & Sods Sunday 3rd November 2002
Last Regular Appearance: 6.22 (#282) Signs and Wonders Sunday 9th March 2003
Duration: EP: 265 - 282 ½ SE: 6.5 – 6.22
Position: HUTV Reporter (2002-2003)
Last Seen: Fired by Phil Wallis for attempting to pass on proof of Fletch's faked drugs test to journalist Suzanne.
Looking for a face and presenting talent that would connect with the viewing audience (and male football fans obviously!), Jacqui Wallis hired Tara to front the club's own channel HUTV from its launch in the 2002-03 season. Tara is an ambitious girl, and sees her role with HUTV as just a step on the ladder to getting her place in the wide stream media where she longs to be, and will use people, even friends to ensure she finds her way there.

Tara's first assignment at Harchester is covering the debut training session of new Real Madrid signing Roberto Mendoza. When Roberto goes down with an injury that didn't seem as serious at first, something is wrong, and Tara goes with him to the hospital. After learning the severity of his injury, Mendoza asks Tara to record a statement from him on film, in which he holds Patrick Doyle responsible for making him train when he knew he wasn't fit enough. The only other person aware of the tape is Jacqui, who planned to take Patrick down with it but ultimately joins him in his bet (and his bed) so the tape stays with Tara. Tara becomes valued by Phil, which leaves Jacqui jealous so much that she cuts Tara out of a forum for the club's fans she had organised herself. Tara retaliates by showing Phil the tape of Mendoza, and Jacqui, fearful for Patrick's bet, fires Tara but is forced to backtrack when Tara threatens to reveal Jacqui's affair with Patrick.

Tara soon finds herself pursued by a love-sick Ryan, and he really thinks he has a chance with her. Working on a piece for HUTV, Tara accompanies the team on a paintballing trip where Curtis also wants to try his luck. Ever the jealous child, Ryan takes revenge on Curtis for 'muscling in' by repeatedly firing painful shots at him from his paintball gun. Tara enjoys the attention Ryan gives her, but her feelings are that of just a friend. Ryan drinks too much at the club's Christmas party, and reacts badly when Tara kisses Stuart, storming out to his car drunk with Tara making him stop and let her drive. The two snipe at each other, and when Tara loses her temper she takes her eye off the road and a man is run over. Tara cracks immediately when the police question her, and admits the truth, but because Ryan got into the drivers seat after the accident the police believe he is responsible. Tara decides to go along with the police's version of events, leading to Ryan's arrest, with him stunned at Tara's betrayal. Ryan is now a scared kid, and attempts suicide by slashing his wrists, forcing Tara to take responsibility.

After owning up and accepting her punishment, Tara plans to leave Harchester but gets forgiveness from Ryan, who persuades Stuart to do the same. Due to Patrick's bet succeeding, the club slips further down the table, meaning Tara's role at HUTV is significantly reduced and she is frustrated at how her career is suffering. When Phil Wallis makes a half-hearted suicide attempt after all is revealed about Jacqui and Patrick's betrayal, Tara sells the video he made to journalist Suzanne Simmons. Suzanne wants another story - about the suspected use of drugs by one of Harchester's first team, and Tara is put on the trail that it could be Fletch. Pressured by Suzanne, Tara seduces Stuart in order to get her hands on the keys to his office, where she searches the files for evidence of the illegal drugs test conducted. Nikki discovers what Tara is up to and goes to Phil, and she is caught leaving the stadium with the files. Tara is immediately sacked from the club in front of all the players, and gives all those around her a few choice words before heading on her way.