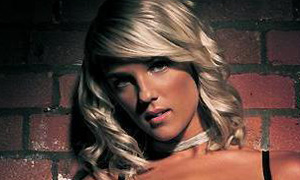 Natasha "
Tash

" Parker (Angela Saunders)

2000-2003, 2004

First Regular Appearance: 4.1 (#203) Sunday 1st October 2000

Left: 6.32 (#292) Just The Ticket Sunday 18th May 2003

Returned: 7.27 (#319) In His Hands Sunday 4th April 2004

Last Regular Appearance: 7.32 (#324) A Matter Of Life And Death Sunday 16th May 2004

Duration: EP: 203 - 292, 319 - 324 ½ SE: 4.1 – 6.32, 7.27 – 7.32

Position: Model (2000-2001) / Football Agent (2001-2003, 2004)

Last Seen: Determined to see Harchester punished for match-fixing, moves on again when she gets her wish.

Natasha, or Tash as everyone aside from her parents called her, grew up in Leigh-on-Sea as an only child, and became accustomed to a spoiled existence particularly from her football agent father Jeff Stein. Tash became a glamour model, making a name for herself thanks to her father's friends in the media, and in 1998 aged 20 was introduced to Chelsea goalkeeping talent Jamie Parker. Their public courting, romance and engagement was covered by all the showbiz press outlets, and Tash and Jamie were Chelsea's #1 power couple, the club's very own Posh and Becks. They married in May 2000, and that summer Chelsea accepted a transfer bid for Jamie from Harchester United, relocating he and Tash from the London social-scene to the quieter Midlands.

At first, Tash found it hard to adjust, with her regular behaviour and attitude from Chelsea seen as spoilt and Prima-Donnish in Harchester. Nor did she garner sympathy running to "daddy" at the first sign of any trouble - notably Jamie causing her humiliation in the press, and her paranoia that her newly painted muriel makes her look fat! As the season goes on, Tash mellows and proves a good friend to the other wives, plus Eddie Moliano when he is taken in by gold-digger Maria. The Parker's marriage receives the first of many tests when Jamie's gambling reveals itself to be an addiction, and after she is assaulted by some dodgy blokes he owes money to, Tash takes control of her husband's affairs. This is the pivotal moment Tash discovers maybe she is cut out for the world of agenting.

While Jeff is showing her the ways of the business, Jamie is feeling neglected following Tash's decision not to start a family yet. When his attempt to push things along by buying a baby from Andrei doesn't go down too well (understandably!), Jamie starts gambling again and has an affair with Victoria, resulting in her compromising Tash in Fletch's trial. Spending more time with Monday, Tash appreciates his friendship and before long they have slept together, only for Tash to discover she is pregnant and now unsure who's baby it is. She is later relieved when it does turn out to be Jamie's, as Tash desperately wants them to stay together. Following Lynda and Sam Irving's botched wedding reception, Tash goes into premature labour, as Jamie himself is involved in the team's coach crash while travelling to the UEFA Cup final.

In reflection of the team and club's recovery, Tash names the baby girl Hope, while Jamie takes the longest to recover from his physical and psychological injuries. Lonely with a new baby and struggling to support Jamie through his recuperation, Tash turns to Robbie, who is a great support to her. Soon they are in a relationship, and when Jamie needs more time to get better, this time at a clinic in L.A, Tash feels she is losing him further. Tash continues the affair with Robbie, but when Jamie returns the whole thing is revealed at the club's Christmas party. Tash begs Jamie for forgiveness, but is left feeling betrayed herself when, during Christmas dinner, Jamie's mistress Shannon turns up from America convinced they are a couple. Although they start divorce proceedings, things fizzle between both Tash and Robbie and Jamie and Shannon, and it looked like Tash and Jamie were destined to reunite.

However, when Tash discovers Jamie's secret life of throwing games for cash, she takes Hope and disappears to London, taking away the one thing that was holding him together. The next Tash hears is that Jamie has taken the team hostage in the Dragon's Lair dressing room, and she makes it back to talk Jamie into giving himself up. When Jamie walks out, he is expecting to see Tash waiting, but when he sees only the police he freaks out and is shot dead, and Tash is devastated. Furious with the club, Tash is taken away by Jeff following Jamie's funeral, and upon his return he informs Fletch that Tash is staying in Texas after meeting an oil millionaire.

After almost a year away, Tash returns to Harchester, travelling in a limousine and looking better than ever. Before long, it is revealed Tash's glamorous life in America ended months before, and she has been keeping a low profile in London at her mother's. Jeff invites her to move in with he, Nikki and Lee, becoming a part of the new agenting business they've set up. As the first anniversary of Jamie's death approaches, Tash oversees a film crew recording a drama-documentary of the events. In-between-takes, Tash overhears Stuart and Abi argue over the previous game-throwing he was involved in months before, and fearing the same thing that happened to Jamie is now happening to Viv Wright, Tash airs her suspicions only to be told she has got it wrong. Tash now fears the reliving of Jamie's death has had an unhealthy affect on her, and visiting his grave for the first time, she cries to Abi how much she misses him. Abi is guilt-ridden about what her friend is going through, and admits to Tash she really did hear what she thought while she and Stuart were rowing.

Determined to change the outcome this time, Tash convinces Viv that Stuart has thrown a game, resulting in Harchester being investigated, and then relegated for match- fixing. Following this, Tash decides she has had enough of the club and no longer wants to be associated with Harchester United, leaving it behind.