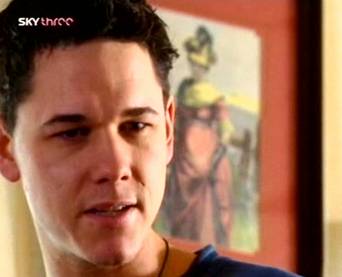 Taylor Doyle (Paul Ellis)
2002
First Regular Appearance: 5.22 (#250) Changing Places Sunday 24th February 2002
Last Regular Appearance: 5.32 (#260) Forsaking All Others Sunday 5th May 2002
Duration: EP: 250 - 260 ½ SE: 5.22 – 5.32
Position: Football Agent (2002)
Last Seen: Blackmailing Danny on his non-Irish heritage (followed by his subsequent death). Most likely forced to leave.
Taylor was born and raised in New Zealand, his parents having met when his well-travelled sportsman father Patrick Doyle was working in the country. He certainly grew up to be his father's son, following his dad into the 'family business' of football and becoming an agent, along with picking up his sly and cunning traits masked by the Doyle charm and intelligence. Taylor knows how to get what he wants out of and from people, but he has no loyalty to anyone but his father. It is not hard to understand how he is single despite being good looking, and friendless despite oozing confidence and charisma.

By the early 2000's Taylor was in France, his father's right hand man at Paris Saint-Germain. His first inkling of Harchester United came when Monday Bandele's agent Wolfgang Meyer was causing strife for Ray Wyatt and Lynda Block as they attempted to sign the Nigerian international, which they eventually did. Other future Harchester alumni around Taylor and Patrick at PSG during this time, were midfielder Marcel Sabatier and his agent Pilar Hernandez, and striker Curtis Alexander, who was later to sign for the Dragons after setting his brother up with a contract at the club.

A month after Linton Alexander signed for Harchester in February 2002, Sam Irving appoints Patrick as Harchester's new permanent manager taking over from Monday who was acting caretaker. Taylor follows his dad to the Premier League, and working on a promotional video for his father's move, the camera crew pick up a fight between the warring Monday and Andrei Belanov. When Andrei causes the club further embarrassment by telling the press Monday beat him up, Jeff finds him a move to Parma, only for Taylor to come in and switch Andrei's destination to AC Monaco, leaving Jeff in the dust.

It is the beginning of a battle-of-the-agents rivalry between Taylor and Jeff, with Taylor not only snatching new property Robbie Walsh from Jeff's books, but he goes after Jeff's most prized signing Danny Rawsthorne. When Danny receives a call-up for the England Under 21's Jeff is proud, but Taylor has something bigger to sway Danny - the chance to play for Ireland in the World Cup through his ancestry to his grandmother. Danny chooses Ireland, but the amount of publicity and commercials he has taken for Jeff alongside his intense playing and training schedule leave Danny exhausted, and Taylor persuades him to skip a call for a sports car company. Taylor's influence over Danny begins to wreck his long-held relationship with Jeff and Tash.

When Joe Rawsthorne reveals how Danny was the result of an affair between his wife and another man, Taylor pays Joe to record a tape with he and Danny discussing how he no longer has the link to play for Ireland, and Taylor uses it to force Danny into taking a lucrative transfer to Athletico Madrid. Paul Hankin learns of Danny's parentage, and Joe sells the recording to him, resulting in Danny's international career left in doubt. That same night, Danny is killed when the Harchester team coach crashes on it's way to the airport for the UEFA Cup Final in Amsterdam. Taylor's actions before Danny's death leave him less than popular in Harchester, and very shortly after the crash he packs his things and makes a prompt exit for an unmentioned destination.