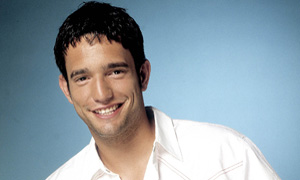 Tommy Valentine (Chris Brazier)
2004-2005
First Regular Appearance: 8.1 (#325) Down Sunday 17th October 2004
Last Regular Appearance: 8.16 (#340) Gambler's Ruin Sunday 6th February 2005
Duration: EP: 325 - 340 ½ SE: 8.1 – 8.16
Position: #7 (Left Midfield) (2004-2005)
Last Seen: At the end of his loan deal and sold to Spartak Moscow, with his relationship with Sofia ruined by their liaison.
Tommy V to his friends, the b***ard on the bench to the team mate's whose wives he played away with. Bought by Chelsea in the summer of 2003 for £10M pounds, to be mostly unused by Claudio Ranieri and be a regular fixture on the Stamford Bridge bench. Tommy took his frustrations out on the club for not making the most of his talents by living in the club's gym to stay in physical shape, and beginning an affair with the bored wife of one of his team mate's, Christine Thorsvelt. It proves to be a move too far for the lothario with a heart, for when Christine reveals all to fellow WAG Jodie Stone, she leaks it to her father, soon to be Harchester manager Don Barker, who passes it to the press knowing Tommy's value will decrease. Tommy's agent Sofia is informed he is finished at Chelsea, and she knows it will be a battle to get another Premier League side to take him. Don Barker is ready to be Tommy's only offer even on loan, and Tommy reluctantly moves to the now Championship side Harchester United, the only highlight being the club's place in the Champions League.

Arriving at the Lair, Tommy immediately makes a connection with Clyde Connelly, who is struggling under Barker's new regime. Barker has switched Tommy and Clyde's playing positions, and when the first game of the season away to Brighton isn't going well, the two switch back, and endure Barker's wrath when it doesn't win them the game. Tommy is in Barker's badbooks seemingly for his whole duration on loan with the Dragons. Determined to play in the club's CL Qualifier against Sporting Lisbon, Tommy attempts to hide an injury from his dislocated shoulder with painkillers and rest, but Barker sees his excuse of sickness as not being a team player. Barker dishes out a punishment by abandoning Tommy fifteen miles from the team hotel in the sweltering Portuguese heat. Trainee physio Holly, who knows about Tommy's injury, steals Barker's car to bring Tommy back, and gets herself fired. Tommy appreciates Holly's sacrifice, as she stops him playing for his own health, and guilt trips Jodie into making Don give her her job back.

Clyde's fitness and emotional state doesn't improve, and Tommy is shocked to find him crying when they are sharing a room at The Grange before a game. Tommy is worried for his friend, and tells Barker he thinks Clyde is in serious need of help. Barker only cares about how Clyde will play in the game tonight, following which, Clyde kills himself by jumping from the stadium roof. Tommy is consumed with guilt that he couldn't save his friend, and furiously holds Barker responsible when Holly shows Tommy a letter Clyde left her before he died. Against Holly's wishes, Tommy gives the letter to Clyde's mother, who demands Barker be made to resign. Tommy finds it hard to return to normal following Clyde's death, and lets his sullen side take over. Sofia tells Tommy he looks set to move to Juventus when Chelsea set up a deal to take Carlos Valdez in his place. But when Dean attempts to sign Valdez for the Dragons, upping a bid past Chelsea's to £14M, Chelsea lose interest and Valdez won't sign for Harchester.

Juventus are still interested in Tommy however, and when introduced to Shay Maguire, leader of the Harchester Supporters Club, Tommy and Shay's wife Michelle sleep together after Shay passes out drunk. Michelle becomes convinced that she is going to set up home with Tommy in Italy, but when he cruelly finishes with her, she cries all over Jodie Stone, who sees raunchy pictures of Tommy on Michelle's phone. When Tommy then rejects Jodie, a bitter Mrs Stone takes revenge by sending Shay the image of Tommy and Michelle making love! After the team's win against Barca, Shay sneaks into the Christmas party and stabs Tommy in the back. As he recovers in hospital, Tommy has his own bodyguard Bow when the police cannot charge Shay, as he has an alibi for the time of Tommy's attack. Juventus drop the deal with Tommy, and in his anger Tommy asks Bow to have Shay killed. After Sofia talks some sense into him (yet again) Tommy realises how if anything happens to Shay it will be linked back to him, and after a desperate search they are relieved to see Shay take his seat for the Derby game.

After taking some time out to recover, Tommy returns to Harchester, to find that in a childish way to spite Viv, Eli has sold him to Spartak Moscow in the form of a card game! Eli is a man who honours his bets, and while at first Tommy is determined not to go "somewhere where you have to queue for hours for bog roll"(!), he sees his contract and can't wait to get out of Harchester. After drinking too much celebrating his future, Tommy gives Sofia what she has always wanted - a night with Tommy V himself! Sofia is disappointed when sober Tommy doesn't want to make things serious with her, and their relationship has been ruined. After a bitter goodbye with the always 'other' woman in his life Sofia, Tommy leaves Harchester, a place he never wanted to come to in the first place.