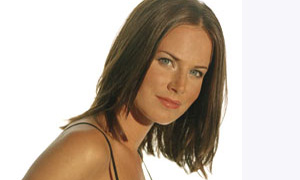 Victoria Palmer/
Baptiste

(Sarah

Matravers

)

2000-2002

First Regular Appearance: 3.55 (#195) Wednesday 26th April 2000

Left: 5.14 (#242) Judgement Day Sunday 16th December 2001

Returned: 5.28 (#256) Mind Games Sunday 7th April 2002

Last Regular Appearance: 5.31 (#259) Seize The Day Sunday 28th April 2002

Duration: EP: 195 - 242, 256 - 259 ½ SE: 3.55 – 5.14, 5.28 – 5.31

Position: Wife of Didier Baptiste's money(!) / Partner in Patterson-Palmer PR (2000-2001)

Last Seen: Running away with her tail between her legs after being held over the Dragons Lair roof by Lynda.

Victoria isn't the type of gold-digger to take a back seat and just spend her current squeeze's money shopping. She wants a slice of the action, and is tough enough not to care what people think of her. Victoria knew Didier Baptise was a defender who was desired by France's top flight clubs, a star of the International World Cup winning side in 1998. He had ambition and liked to party like her, so Victoria knew she could have some fun with him. Fun which they both knew wouldn't last. By the autumn of 1999 Didier knew the marriage was emotionally loveless, and left Victoria behind when he transferred from Monaco to Harchester United in the English Premiership. Though they do not file for divorce, Victoria remains Didier's estranged wife, and turns up at the club towards the end of Didier's first season.

All eyes are on Victoria as she enters the Players Lounge, and Billy O'Neill attempts to chat her up, though Victoria has no interest in a "little boy"! Didier is not pleased to see "Vicki" and it is clear she is back for one thing - a cash boost and says she will be out of his life as soon as she gets it. Victoria does however take the time to be jealous of Didier's friendship with Ann Patterson, who represents his personal image through her agency. Didier becomes desperate to be rid of Victoria, and when Prash offers the funds to send her on her way, he must go through with Prash's demand of ensuring Harchester are relegated in return. Another stint in the Players Lounge now showing off her new expensive clothes and accessories, and Victoria has made it pretty obvious to Lynda about Didier's actions with Prash.

After another of their rows ends with Didier hitting Victoria, she plans to make a mint and expose him in the process through the press. In an attempt to stop her spilling the beans on his deal with Didier, Prash gives Victoria the money to become a partner in Patterson PR and run the business as Patterson-Palmer while Ann is on maternity leave. Prash also becomes Victoria's literal sleeping partner, and the two are walked in on by a surprised Didier and Lynda after the first game of the new season. In Prash, Victoria finds someone who can take her all the way, and soon she has forgotten all about Didier. She is also prepared to go along with whatever Prash wants, and assists him in his mission to oust Lynda from the club. Their attempts get underway with Victoria learning of Lynda and Ray's approach for Monday Bandele, and Prash goes public on how the signing is down to him. When Bandele fails his medical, it is Prash who is left looking the fool.

Next, Prash withdraws his guarantee of a £10M loan in Harchester's bank, so Lynda tries to use The Barrons as collateral. Victoria uncovers how the houses could be built above Methane gas, and it is Lynda who feels the wrath of the residents. Their next step is to get Fletch on board with an (ultimately false) offer of making him player/manager as soon as Prash is in charge, Prash even offering Victoria £3 million to sleep with Fletch to keep him on side. When he eventually gains full ownership of the club, Prash has no further need for Victoria and drops her. Getting blinding drunk, a bitter Victoria reveals to Lynda that Prash will sell the club for profit, something he would always have done. As Prash celebrates the team's Champions League qualification in his office, a mystery assailant comes in and strikes him on the head with a trophy, causing his death. Victoria seems very happy for a woman who's just lost it all, and is boozing once again before snogging the barman!

When Fletch is charged with Prash's murder, it is learnt that Victoria has made a witness statement which places him at the scene. Victoria has been admitted to a rehabilitation clinic for her drinking, and on Fletch's behalf, Jamie attends the clinic on the cover of his gambling. Victoria is very convincing in her accusation against Fletch, and before long, Jamie has forgotten his 'mission' and has drunkenly bedded Victoria! Fletch and Jamie's Victoria-nightmare continues when she finds her latest meal-ticket in Andrei Belanov and pitches up right next door at the Barrons. Victoria now blackmails Fletch that for £100K she will not testify against him and will leave for good. When Jamie refuses to take the money to Victoria, he tricks Tash into taking it and she is unassumingly caught on video camera handing Victoria the money. Victoria uses the tape to now blackmail Jamie for £500K or she will incriminate Tash for interfering with a witness. The result of this is Jamie attempting to retrieve the tape by driving his car at Victoria as she flees down the road on foot!

At a later date, Victoria again manages to get Jamie to sleep with her, and is the one to reveal to Fletch that Lynda, who he is in love with, is to marry Sam Irving. When Sam plans to give Lynda the club as a wedding present, his jealous daughter Claudia joins forces with Victoria to destroy Lynda once and for all. Victoria again tries the videotape route of catching out Fletch and Lynda, but when they become aware of this, Fletch and Lynda re-record their encounter as a cosy chat, providing a snore-fest of a tape for Victoria and Claudia!

With Victoria about to ruin heavily pregnant Tash's life with the revelation of another bedding of her husband, Lynda decides it is Victoria who will be sorted once and for all. Lynda gets to Victoria before she can reach Tash and first persuades her to drink, before seeing that Victoria has let her guard down and physically drags her up to the club's roof. Lynda holds a terrified Victoria over the edge of the railings, and lets the bottle fall and smash below to show Victoria what will happen to her if she doesn't get out of Harchester. It is the shock which finally sends Victoria on her way and she is not seen again.