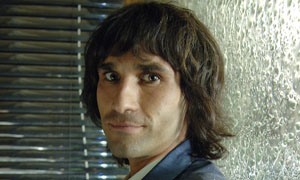 Jonny Fletcher (Rene Zagger)
Appeared: Dream Team 80's Episodes 1 - 3 (Sunday 21st May – Sunday 4th June 2006)
Position: Harchester United striker (1976-1989)
With his long hair and tight shorts, Jonny Fletcher was the epitome of the 1970's footballer. Athletic and handsome, Jonny knew and believed this of himself along with how good he was at the game. But he liked to party also; booze, betting and even cocaine, but none of it ever showed in Jonny's performance or affected his ability, to both envy and jealousy of his team mates. The fourth trick of Jonny's partying lifestyle was the women, who came and went frequently, something his wife Trish was aware of but for most of their marriage chose to ignore in favour of the affluent lifestyle she and their son Karl, born in 1972 had. It's easy to forget that Jonny and the Fletcher's weren't always a part of Harchester, and the Fletcher legend didn't begin until Jonny signed for the Dragon's from Derby County in 1976. He quickly established himself as one of the 'Three Musketeers' in the team alongside Frank Patcham and Ken Hocknell, but as the 1980's dawn, Jonny cuts a lonesome figure as his two closest friends move on from the club.
Jonny immerses his young son in the club, and arranges for Karl to be the Harchester mascot. Jonny's reputation is of paramount importance amongst the youth team, and when Harry Sidwell makes a £250 bet with Jonny that Mike Maynard will beat Terry Glover in a penalty shoot-out, Mike ignores the advice of Kevin Nelson not to embarrass Jonny and wins the bet for Harry. Jonny doesn't let anybody cross him, and when out one night at The Grange with Trish, spots Mike and Terry's girlfriend Susan Porter together, sussing that they are having a secret relationship. Mike begins training with the first team, and when he faces Jonny in a game of Doggies, Jonny warns him he will spill his secret to Terry unless he lets him win. Ironically, Jonny suffers an injury during the race, taking him out of the next game, and Mike takes his place in the team - which ultimately ends his playing career.
In the 1981-82 season, Jonny and Mike's paths cross again, when Mike is now working as a car salesman. Trish has had enough of Jonny's behaviour and takes Karl to live in London, and Jonny lets it slip to Mike that she is taking him to the cleaners. Mike says the £40K Jonny is earning should be double that, and begins acting as Jonny's agent, deciding to bring Harry into the 1980's world of football and demands £60K a year for his client. Jonny is thrilled to return to the bachelor lifestyle he once had, now with even more money, and he becomes the very first owner of legendary Harchester nightclub Studs. By the 1985-86 season, Jonny is one of the old guard in what is Harchester's most prosperous time in their history, contenders to win the Title for the first time ever. Though Jonny ruffles a few dressing room feathers with his view that a historic win won't be coming their way. The Title decider goes right to the last day of the season, and Jonny sets the ball in motion when he is brought down by a challenge from Paul Lake. A penalty is thus given to Harchester, and Terry Glover is the man to take it. Although always a man to face up to a challenge, Jonny shows his fear for the first time ever and cannot watch the kick. His penalty awarded pays off as Terry slots it in easily, and Jonny will forever be remembered as one of the Harchester heroes of that day.
What follows the victory begins a run of bad luck for the club and many of those at the centre of it, and Jonny is out for a lengthy spell after breaking his leg in the 1986-87 season. He returns to the team, getting to play alongside his old friend Frank Patcham again, but weaker and now in his late 30's, Jonny knows it is time to hang up his boots before the club tells him to. At the end of an illustrious career including thirteen solid years securing him as a Dragon's legend (ironically the same amount of time Karl is associated with the club as a professional), Jonny retires in May 1989, in time to see the next Fletcher generation in Karl arrive in the youth team to begin his Harchester story that summer. Following his retirement and Karl returning to Harchester to join the youth team, it is unclear what, if any, relationship Jonny had with Karl between 1989-1997. He is absent in both presence and mention from all key events in Fletch's life thereafter, including notably his wedding to Abi in 2002, while Fletch talks only of his mom in the present tense to Gina in 2004.