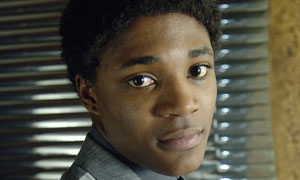 Kevin Nelson (Duane Henry)
Appeared: Dream Team 80's Episodes 1 - 3 (Sunday 21st May – Sunday 4th June 2006)
Position: Harchester United Midfielder (1984-1986) / Reserves (1981-1984) / Youth Team (1980-1981)
Raised in Tottenham, Kevin's family may not have had much material-wise, but they were rich in instilling respectful and kind values which made their son a very likable and easy to get on with guy. Extremely talented in his skill as a Midfielder, everybody wanted to see Kevin do well, and it was no surprise when at seventeen he was accepted into Harchester United's youth team. To his detriment however, the racial abuse Kevin suffered because of the colour of his skin follows him to his new home. And while he'd learnt to overcome such treatment in his lifetime, he stumbles when a coach he looks up to in Al Mackay nicknames him "Snowball", while also at the same time championing his play and taking Kevin on as his odd-job man. Kevin's team mate Terry Glover, whom he lodges with at Mrs Quinn's digs, wishes Kevin would stand up for himself against Al's jibe.
One of these odd jobs involved Kevin returning Al's car to his home one day, and here came his introduction to Al's lonely wife Isabelle. Kevin becomes a confidant for Isabelle and they find they have much in common, both living far from where they would call home. Kevin gives Isabelle a new lease of life, and she comes to watch him when the team plays Oxford United in the Midlands Youth Cup. When Al asks Kevin to drive Isabelle home after the game, Isabelle tells Kevin she doesn't want to be stuck at home alone again and for them to go out to a bar. It is here that Isabelle learns Kevin is only seventeen, and embarrassed, asks to just be taken home. At the house, Isabelle thanks Kevin for spending time with her and they share a kiss.
Christmas 1980 arrives, and Kevin is surprised to receive a Cocktail-making book from Isabelle. Mrs Quinn presents the boys with memorabilia gifts she has kept from England's winning 1966 World Cup, to remind them how their dreams can be reached. This inspires the three to make a £10 bet with the winner being the one who makes it to the 1986 tournament. At the Boxing Day game, Kevin sees Isabelle has not attended, so goes to the house. It is here that Kevin admits his love to Isabelle, who is flattered, and the two sleep together in the bed she shares with Al. Kevin and Isabelle continue seeing each other throughout 1981, with Al having no idea what is going on between his wife and his player/gardener. But by early 1982 Isabelle is forced to see sense, she and Kevin won't ever make it as a proper couple, and one day as they are about to board the coach for an away game, Al doesn't show up. Kevin goes to the house and finds Al in a drunken state - Isabelle has left him and Harchester, and Kevin is gutted.
Kevin is forced to get over Isabelle, but he is also forced to deal with Al in the wake of Isabelle's departure, as he continues drinking heavily. By the autumn of 1984 it is Kevin and Terry's covering that has kept Al in his job, and Al reacts angrily to Kevin when he throws away all the alcohol in the house in an attempt to help him. Kevin has had enough and walks out on Al, but it seems his words had an effect as Al turns up to training acting like the man he was before Isabelle left. Kevin is shocked however, when Al wants him to continue to be his skivvy, and stands up to his manager saying no and never to call him Snowball again. The time has come for Kevin to receive his overdue promotion to the first team, and just as he is moving up he learns Al has resigned as reserve team manager.
By the second half of the 1985-86 season, Kevin's play has attracted the attention of both England manager Bobby Robson and Terry Venables at Barcelona. But his past off the field returns to haunt him when, upon learning of Al's death, Kevin visits his grave and spots Isabelle making a quick getaway accompanied by a small child. Isabelle claims the boy, Archie, is her neighbour's child she is looking after, but when Archie calls her mommy Kevin realises she has had his son. Kevin wants to see Archie, but Isabelle has remarried and Archie loves her new husband as his dad. With a heavy heart, Kevin has to let his son go so as not to disturb his early life.
Mike is now acting as Kevin's agent, and is pushing for the Barcelona move to go through. There are a couple of obstacles standing in his way though, the main being Kevin's playing position needing to be switched from the hole to on the left, only Kevin plays at his best when in his ordinary position. The final game of the season could see Harchester crowned League champions for the first time in their history, but bizarrely Kenny places Kevin on the left which nobody can quite understand. For the team's best chances, Kevin plays in his regular position, and all is revealed at halftime when a furious Mike bursts into the dressing room and tells Kenny he warned him what would happen. Kevin realises Mike has been blackmailing the gaffer, and sacks him as his agent. Kevin is a part of the side which wins the Dragon's their first ever Title, and thus, makes selection for England's World Cup squad. After reminding Mike and Terry of a certain bet they once made, Kevin flies off to Mexico, where he not only gets on the pitch, but sets up a goal for Gary Lineker. Following his return from the tournament, Kevin makes that big move to Barcelona.