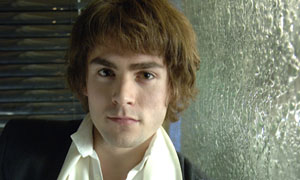 Mike Maynard (Michael Dixon)
Appeared: Dream Team 80's Episodes 1 - 3 (Sunday 21st May – Sunday 4th June 2006)
Position: Harchester United Youth Team Midfielder (1980-1981) / Agent
It was almost as if it was Mike's destiny to be a footballing luminary, and just as much Mike's father's dream as his own. But although Mike's rare and natural talent on the pitch shined throughout his time growing up in Cheshire, he has become determined in keeping up his dad's approval and not letting it show that his confidence in himself is lacking. Aged seventeen, Mike gets his biggest opportunity and the chance to stand on his own two feet away from his father, when a place opens up in Harchester United's youth academy. Although not wanting to ruffle any feathers with his new team mates, that choice is taken out of Mike's hands, when he learns he is moving into a digs where Terry Glover's best friend Lloydie has just been dropped, and Mike is the one who has taken his place. Mike is the butt of Terry's pranks, but gets on better with the club's receptionist Susan Porter, who just happens to be Terry's girlfriend. When Susan learns Mike is at a disadvantage in his new town as he cannot yet drive, she offers to give him some lessons.
On the pitch, Mike continues to impress with his debut against Oxford in the Midlands Youth Cup securing a goal, and the rivalry between he and Terry has settled down. But with the more time Mike and Susan spend together, the two have developed feelings for each other. Christmas arrives and Terry proposes to Susan, who awkwardly has to say no, and the truth hits a confused Terry when a flustered Mike arrives looking just as awkward as Susan. Terry gives Mike a good kicking, which Harry Sidwell is just thrilled about, but he has some good news for Mike; Jonny has pulled a hamstring so Mike will be making his first team debut in the game against Tottenham Hotspur tomorrow! It looks as if Mike is having the debut to remember, but that all changes for the worse when a hard tackle from Steve Perryman leaves Mike on the ground with an injury to his right knee. Mike goes through weeks of recovery, but ultimately has to face that his career is over. He makes one last visit to his team mates on the youth team to say goodbye, and even manages to shake hands with on-again-off enemy Terry.
Later that year Jonny and Terry are browsing a car showroom unaware it is in fact Mike's dad's business, and bump into Mike who has now made a new career as a car salesman. It seems he is cut out for it as he sells Terry a car and heads back to Addison Road to deliver it, where he encounters an unimpressed Susan. Mike is forced to explain how he couldn't take reminders of the club so soon after losing his career, but is settled now and wants to start things up again with her. Mike is surprised when Jonny approaches him about also purchasing a car like Terry's, revealing he couldn't afford anything else as he is only on £40K a year. Mike decides to put his business skills to use and goes to Harry as Jonny's agent, with a demand of a £20K pay rise and goal bonuses for the striker. The old fashioned Harry is having none of it, but it takes Mike and Jonny to concoct a boycott of the FA Cup 4th Round tie with Aston Villa to make Harry realise how much he needs Jonny in the team. Mike is on a high in his new career, and is bold enough to propose to Susan.
Over the next two years Mike and Susan marry and Mike continues to have great success, signing up his old team mate and potential England International Kevin Nelson. But it seems a monster has been unleashed inside of Mike, the money and success goes to his head and he is also secretly dabbling in drugs. Mike is determined to do his biggest deal to date, securing Kevin a move to Barcelona which is riding on his inclusion in the 1986 World Cup in Mexico. Current manager Kenny Bruce has found a great position for Kevin on the pitch, in the hole behind an upfront Jonny. Mike is against this as he believes Kevin's best chance of being noticed for the England team is for him to play on the left. Mike is not prepared for things to not go his way, and has secretive meetings with the press in which for dirt on Kenny he informs them of Barcelona being interested in Kevin. Mike learns of how Kenny has been cautioned twice for curb crawling, a habit his wife has no idea about. Mike pays Kenny a visit at his home, resorting to blackmail that his secret will come out unless he plays Kevin on the left.
The final game of the season could see Harchester crowned League champions for the first time in their history, but bizarrely on this day, Kenny makes the potentially destructive decision, forced by Mike's hand, to play Kevin on the left. It causes ructions in the team, so Kevin decides to play as normal in the hole for the good of the team. This makes Mike think Kenny is going against him, and at half time he storms into the dressing room to tell Kenny he is on his way to see his wife! Storming off, Mike bumps into Susan and the drugs fall out in front of her. She tells him just how he has changed for the worse, and says she wants a divorce. To make matters worse, Kevin knows Mike has been blackmailing the gaffer, and sacks him as his agent. Harchester win the Title, but Mike is not in the mood for celebrating, feeling as if he has lost everything. Terry sits with him in the empty Addison Road stands and hears Mike admit he did all these things because he was trying to heal the pain of losing his career as a footballer, and it has never worked. Kevin meanwhile, has made selection for Mexico, and after letting Mike know it'll take a while to forgive him, he still wants him as his agent, which the three old friends celebrate.