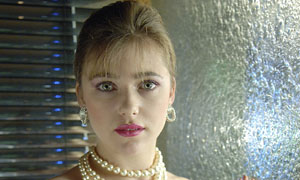 Susan Porter (Cloudia Swann)
Appeared: Dream Team 80's Episodes 1 - 3 (Sunday 21st May – Sunday 4th June 2006)
Occupation: Harchester United Receptionist (1980-1981) / Manager's PA (1981-1985)
Aged seventeen, Susan was a receptionist at Harchester United and was dating youth teamer Terry Glover. One night when Harchester are playing Nottingham Forest, Susan is upset as her father is one of many who have been made redundant from their job, and Terry offers to make her feel better by taking her back to his digs to make out. Susan knows that Terry will often put his football before her feelings, so she agrees to go, but there is trouble when Mrs Quinn, who does not allow her tenants to bring girls back, arrives home early. They are saved when newcomer Mike Maynard shields Susan from being caught, and there is an instant attraction between the two.
Terry has been giving Mike a hard time, taking a dislike to him for replacing his best friend who was released in the youth team. After Terry plays a prank on Mike, Susan shows him kindness, and learning that Mike has not yet started to drive, offers to give him some lessons. At Susan's request, Mike agrees to keep the lessons quiet from Terry, and soon the lessons are a way of Susan and Mike to spend time in each other's company. When Mike successfully completes his first manoeuvre, he kisses Susan to celebrate, and she doesn't back away.
Mike and Susan are now in a secret affair, but aren't careful enough when booking a hotel room at The Grange as they are seen by Jonny Fletcher, who susses what they are up to. They don't need to worry about Jonny revealing all to Terry, as after training on Christmas Day 1980, Terry proposes to Susan at the club. Susan can no longer keep living a lie, now it has reached this stage, and tells Terry she is in love with someone else. Mike tries to get to Susan before Terry proposes, but is too late, and looking flustered Terry realises he is the other man! A furious Terry gives Mike a kicking, and soon Susan's relationship with Mike is on the rocks as he's suffered an injury which ultimately ends his playing career. Susan discovers Mike has left Harchester, and she is single and alone.
By the end of that year, Mike is back on the scene, working as a car salesman and Susan herself has been promoted to Harry Sidwell's PA. Terry buys a flash new motor from Mike which he is planning on impressing Susan with, but doesn't bank on Mike personally delivering the car to Addison Road on match day where he and Susan see each other again. Though still upset with him, Susan gives into her feelings and gets back together with Mike. When Mike discovers how he has a knack of solving the money problems of Harchester's first team, he becomes an agent and on a high, proposes to Susan at the grand opening of Studs nightclub.
Mike and Susan are newlyweds at the start of the 1984-85 season, and Mike wants Susan to ditch Harry to come and work at his company. Susan has plans of her own - she wants to start a family with Mike. But Mike is always working and always away from her. Susan is lonely when she attends Terry's wedding to Ann, and getting the chance to dance with her old boyfriend, lets it slip how she now feels she married the wrong man! Whilst initially freaked out that his feelings for his first love are returning as he's just married the woman pregnant with his child, Terry and Susan sleep together. They are caught out when Kevin shows up to tell Terry Ann has gone into labour early, and at the hospital Susan hears a guilt-ridden Terry tell Ann he loves her, and Susan knows what happened between her and Terry was a mistake.
On the final day of the season as Harchester do battle for their first ever title, Susan decides she is going to confront Mike head on with the problems in their marriage. Mike, in a furious mood after Kevin, on the verge of playing for England discovers Mike's blackmailing of gaffer Kenny Bruce, and has sacked him as his agent. Mike crashes into Susan, in the process dropping the cocaine he has become addicted to. Susan sees Mike for everything he has become, and has made up her mind that she wants a divorce.
*With the second name Porter, and with his arrival in the first episode following DT80's conclusion, several viewers remarked on what a missed opportunity it was Susan not being revealed as Jason Porter's mother. The dates too would have added up, as Jason turned 20 years old in the middle of Season 10. Who knows - maybe she was and we were just never told!