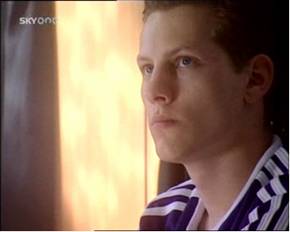 Terry Glover (James Sutton)
Appeared: Dream Team 80's Episodes 1 - 3 (Sunday 21st May – Sunday 4th June 2006)
Position: Harchester United Defender (1981-82; 1984-1994) / Reserves (1981-1984) / Youth Team (1980-1981)
Coming from a proud traditional mining family, Terry was raised in the northern town of Brampton near Barnsley. Although he wasn't destined for the physical and manual work of his mining ancestors and neighbours, Terry carried with him their strong reserve and passion for an honest hard-working living and put it all into his football. Terry had real skill and everyone around him knew he was destined for a different life away from where they'd grown up, but this never made Terry big-headed. He remained a red-blooded Brampton boy and hung onto the toughness that had been instilled in him throughout his upbringing. Hot-headed he could be accused of, for Terry was determined to never let anyone get the better of him on or off the pitch. Something which if controlled was a characteristic welcomed by his managers, but at other times, something which could wreck an entire game.
In the summer of 1980, aged seventeen, Terry is accepted into Harchester United's youth team under manager Al Mackay, and he moves into digs run by Mrs Quinn where he quickly makes friends with fellow lodgers Kevin Nelson and another youth teamer called Lloydie. Lloydie becomes Terry's best mate, and it isn't long before, through the club, he meets his first girlfriend in one of the receptionists Susan Porter. After a couple of months, Lloydie doesn't make the grade and is released by Al, which leaves Terry bitter at losing his friend. He is less than impressed with new arrival Mike Maynard who arrives immediately after, taking Lloydie's place in the digs and youth team. Terry's pride steps up a gear when Al makes him captain of the youth team, and Terry earns the nickname "Rocky" from his team mates for his passionate play and leadership qualities. That Christmas Terry, Kevin and Mike make a £10 bet with the winner being whichever makes the 1986 World Cup. Terry has a special Christmas present planned for Susan, a marriage proposal, but he is stunned when she tells him she can't. Terry needs no explanation when Mike turns up, and he realises Susan and he have been seeing each other. Terry's anger takes over and he gives Mike a good kicking. Terry feels a great sense of self-satisfaction when Mike suffers a crippling injury, but within a few months it is clear Mike's career is over, and Terry finds it in himself to forgive before Mike leaves.
Almost a year later, Terry encounters Mike acting as a car salesman. On the day Terry is making his first team debut for the club against Wolverhampton Wanderers, Mike delivers his new motor to Addison Road, and Terry's mother Ruthie is not impressed with the amount of money her son must have spent on the car. In the dressing room, Harry Sidwell tells Terry not to let Frankie Bennett, who he is marking today, wind him up on the pitch. Terry goes into the game with a bad attitude having seen Mike and Susan together again, and after giving away a penalty, Terry is soon the cause of a punch up for which he is red-carded. Terry is demoted back to the reserves and Al, with the excuse that he was just called up to the first team too soon. To make matters worse, the team have to attend the opening of bachelor-once-more Jonny's new nightclub Studs, where Mike and Susan happen to get engaged. Terry retaliates, not with his fists for once, but by copping off with Susan's replacement on reception Ann Kavanagh, who he knows is in love with him.
Terry and Ann become a proper item, and for once it seems Terry's mother, who has always liked Ann, will show she is proud of her son for something. But the problems are still there. In the autumn of 1984 Terry's older brother is beaten up and hospitalised, and Ruthie Glover is angry at Terry, with all his money, for continuing to leave them to struggle in a tough area. Terry realises he has become the type of person he would have loathed in his old life back home, and sets about finding his old self again, selling his flash car which impresses Ann. This is also the season where Terry, now a mature leader, is given his full promotion to the first team, along with Kevin.
Within two seasons in the first team, Terry, under new manager Kenny Bruce, has been made captain, in the pivotal season where Harchester are contenders for their first ever Title win. Terry and Ann are about to get married, with Ann expecting their first child. Though following his stag do, Terry admits to Kevin, who will be his best man, that he doesn't feel truly over Susan. Terry goes ahead with the wedding, but it is a lonely evening with Ann off to bed with pregnancy tiredness. Terry spends time with Susan, and learns she is disappointed in her own marriage to Mike, but isn't prepared for when Susan tells him she feels she married the wrong man! Terry tries to fight his feelings for Susan but one night with both of their partners absent, they find themselves in bed together! They are shocked when Kevin catches them - with the news that Ann has gone into labour. Terry is racked with guilt that he wasn't there to see his son born, and commits himself to Ann and their family. In their final game of the season, with Glover as captain, he slots in a 90th minute goal which wins Harchester their Title.
Terry commits his long-term future to Harchester, and is present for all of the club's ups and downs over the following eight years. He plays alongside the return of Dragons legends Frank Patcham, and the early days of Jonny's son Karl in the first team. He sees the long run of bad luck for the Dragons, as the team go from the top of Division 1 all the way down to Division 2 where they yo-yo from 1986/87-1991/92. The departure to Spain of best friend Kevin, the sacking of Bruce and his successor Steve Tomkin, through to the appointment of Ron Atkinson and Harchester's first promotion to the new Premier League in 1994. It is here, after ten years as a Harchester United stalwart, that Terry moves on to continue the final years of his career, off to Oldham Athletic.