Season 1 Episode 2
Episode 2
Sky One Transmission Date:
Wednesday 15th October 1997
Written By
Currently Unknown
Directed By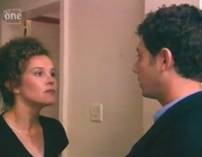 Dean, Lynette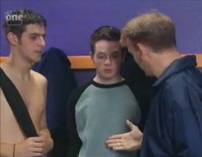 Sean, Conor, Frank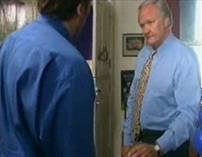 Jacobs, Big Ron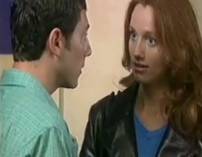 Dean, Lucy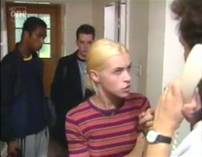 Vincent, Conor, Zoe, Des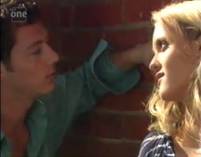 Dean, Georgina
GS: Ron Atkinson (as himself)
Dean arrives home at the Baker's early the next morning and is surprised to be met by Lynette. He tries to spin her a line that he'd been out celebrating with his mates but Lynette is wise to him, and remarks how his "mate" seems to use Givenchy perfume. When he says it was a girl at the club wanting a photo Dean is met with a slap, and Lynette tells him it was for Lucy. Conor, still sleeping outside Addison Road, is awoken by a chancer nicking his boots, and in a daze steps out in front of Jacobs' car. After realising Conor isn't homeless but the new YT boy, Michael is surprisingly helpful and invites Conor in.
Zoe, Vincent and Lynette are impressed to see Dean has made the paper following his goal, and Lynette says they showed it on TV that morning. Lucy phones for Dean, and to make up for missing her last night (for obvious reasons!) Dean offers to take her out for a meal that night. Lucy mentions how Bob has asked her to do an interview with Dean on the radio, but to avoid her seeing Lynette Dean says they'll meet at the training ground. Jacobs too is in a rush, with a meeting in London and seemingly having no idea what's going on at his own club (hearing more from Harchester Sound and The Sun) so leaves Conor in the hands of his PA, before welcoming him to Harchester United. Jacobs does stop to be suspicious about the brandy curiously sitting out on the boardroom table!
At the youth team training ground, the lads are discussing Big Ron's expected departure, with Warren telling Vincent he's heard John Hollins just wants to be caretaker. Frank comes in and makes a point of how he doesn't want to hear any talk about what's going on 'upstairs', as it is no concern of theirs in the youth team. Frank has noticed Sean is absent, and tells Vincent he looks forward to seeing him when he turns in! Lynette hasn't gone to bed from her nightshift at the casino, waiting for Des to get in, and when he finally does he lists the various travelling disasters he endured whilst away. Des is delighted to learn Dean not only played, but scored too. Dean bumps into Sean in the training ground corridor, clearly just arriving himself, and accuses his younger brother of not caring where his career is going. Sean throws it back at Dean and angrily asks him why he didn't phone their dad, as he knew he'd be watching him play.
Frank takes training, and leaves the boys to go and look for Sean. Conor goes into the dressing room where Sean is still getting ready, and the two are introduced. When Conor remembers his boots were stolen, Sean finds him a pair but tells Conor there is a hire charge. Conor, in his naivety believes Sean, but is then told he was joking! Conor gets onto the nightmare subject of his Digs when Frank comes in, and warns Sean he is pushing it with him, hard. Frank welcomes Conor but is in no mood for his (valid) excuses, reminding he and Sean there is a team of players outside waiting for them. At the Baker's, Des asks how the new lad is settling in, to which Zoe realises she has made a grave mistake.
Dean is getting ready to meet up with Lucy for the interview, when he is surprised by Georgina rocking up in the dressing room. Lucy meets two youth teamers outside and asks if they've seen Dean, to which they are vague and carry on walking - knowing she is Dean's girlfriend. Dean is unable to resist Georgina's charms once more and before long they are kissing. Georgina wants to see Dean tonight, but as he tries to make excuses Lucy calls from on her way down, and Dean hides Georgina behind the door. Lucy notices that Dean is edgy about letting her in the dressing room, and for good reason! He quickly gets her away and off to do the interview, while Georgina is now fully aware just who Lucy is!
Big Ron has resigned, and Jacobs pays him a visit as he is packing up his things in his office. When Michael points out this means he doesn't have to honour Ron's contract, the now ex-manager points out that as the chairman promised commitments he hasn't kept and money that wasn't there, he is more than happy to leave for Spain. Georgina has waited for Dean, and with Lucy busy chasing Atkinson and the big story, he takes the time to answer her questions. Georgina asks did it just slip his mind to tell her he had a girlfriend last night, but Dean's only answer comes in more kissing with Georgina!
Zoe is being defensive about her horrible mishandling of the Conor situation, and tries to put all the blame on Des valuing the "stupid boys" more than he does his own daughter and spending their money to go and watch a football match in Italy! She is even more furious to learn that because of the rooming situation in the house, she might have to give up her room for Conor and move in with Steven! Vincent has walked Conor home to the Digs, and Conor is surprised, as it is the place he turned up at yesterday. Des is on the phone to Brian McCarthy in Northern Ireland, about to tell him that they have lost Conor, when he is saved by Conor's arrival with Vincent.
Lucy stops Ron in his car as he is leaving the ground, and he tells her that there will be a press conference in the next couple of hours. Desperate for the exclusive, she asks Ron if it's true he is going back to Athletico Madrid, which he says is possible yes. Lucy excitedly calls Bob and tells him she's got the story on Big Ron, and that he's off to Athletico Madrid. Dean and Georgina watch from the window and Georgina asks has he got plans to see Lucy tonight, to which the put out Dean replies no.
Notes:
· Best Known For: Amongst his now 100 credits in stage, TV and film, Bill Fellows came to prominence with the role of Jamieson in the 1982 film "How Sleep the Brave", and has had regular TV roles in "Flying Lady" (1987-1989), "Byker Grove" (2000-2001), Ellis Harper in "Land Girls" (2011), Bernie in "Wolfblood" (2012-13) and Dad in Daymon Britton's directed TV mini-series "Harriet's Army: Harriet's Memory Box" (2014). TV guest appearances of note are Joe Burns in "Downton Abbey" (2010), and in "Broadchurch" (2013). His film credits include "In Our Name" (2010), "United", in which he played Sir Bobby Charlton's father Robert, "Almost Married" (2014) and alongside Darren Morfitt again in "Harrigan" (2013).
The Best: Lynette seeing through Dean's cheating lies, and that slap. Showing she is a wise, feisty woman if we didn't know already! Getting Ron Atkinson in for the first two episodes, to "imagine" he has been Harchester's boss for the last five years. He makes a welcome one-episode return in 274: Driven.
· Quotes: Georgina to Dean (on Lucy): "So... Gary Lineker's got a girlfriend?"
Foreshadowing: Vincent suggests Frank as the new first team manager, something that comes true for a brief period in 2.41 (#105). Georgina being vague on how she was able to get into the dressing room, when regular nobodies are not allowed (1.4 / #4).
· Continuity: Warren believing Big Ron's exit will be the end of Harchester as Ron kept the club together, clearly in the years since he took over in December 1992.
Additional Info: Production keeping things local with the newspaper story next to Dean's "Diamond in a Dustbin" reading "Desperate Albion steal star" presumably being West Bromwich Albion.
TV & Satellite Week Episode synopsis