Season 1 Episode 25
Episode 25
Sky One Transmission Date:
Tuesday 6th January 1998
Written By
Currently Unknown
Directed By
Currently Unknown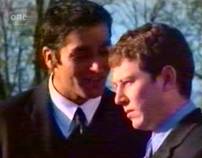 Biloo, Dean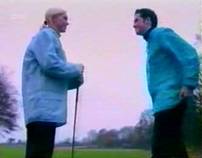 Zoe, Conor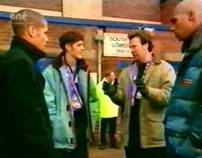 Warren, Sean, Des, Vincent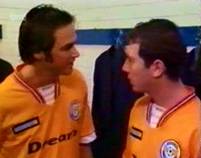 Fletch, Dean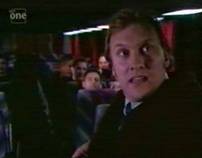 Jacobs
GS: Mandy Burley (Annelies Lovell) Biloo Kapur (Hari Dhillon)
It's FA Cup 3rd Round day, and Harchester face Coca Cola Cup holders Leicester City. Des, Sean and Vincent are travelling to Filbert Street with Warren. At the club, Jacobs is perplexed that Dean has come to sign his contract on a Saturday, a match day, but it is of course Biloo's idea. Dean signs, and when Biloo requests they get their copy of the contract back, Jacobs says he plans to go over it once more before he signs it himself. A package arrives for Jacobs by courier - it is his own copy of the 'boardroom romp' video that has been going across Fleet Street! Conor arrives just as Des and the boys are leaving, and Sean awkwardly tells him they couldn't get him a ticket for the game. Des also adds his only chance would be a tout at a rip-off price, so Zoe offers to keep the put-out Conor company for the day.
As Dean leaves the club Lucy meets him to congratulate him on signing his professional forms. Dean feels under whelmed, but Lucy tells him this is one of the best days of his career, and asks if he's called his parents. Dean has other things on his mind regarding Lucy, and after she's gone tells Biloo he hasn't been able to tell her about the tape. All Biloo cares about is if this causes trouble the club can just sell him on and they'll all get another payday! Things are tense between Warren and Mandy, and she asks him to give her a bit of notice if he's bringing someone back to the flat. He accuses her of being jealous, but warns her to just try bringing another man back home when she threatens to. Jacobs is travelling with the team on the coach to Leicester, and Ian lets him know he won't just be playing Dean because he signed his contract today. Jacobs makes sure to let Coates in on the "Post match entertainment" they will be viewing on the way home!
Warren is picked up by Des and the boys, and they cheer as they hear Lucy announce on the radio that Dean has signed a long-term deal with the club. At the Baker's, Conor tells Zoe she doesn't just have to be nice to him because she feels bad he went back to Ireland. Zoe asks Conor what should they do today, and he can choose, to which Conor answers he would love to play a round of golf. Zoe is unsure but Conor convinces her saying he'll make her grow to love it. Biloo is making calls in his car, first to a more lucrative club who are interested in Dean, and then to a sports newsdesk, in which he asks whether they'd like to know who the mystery girl on the video tape is. Des is proud as they drive onwards to Leicester, over Dean, a lad from his house playing in the FA Cup 3rd Round. Sean adds the Hocknell gene will see him achieve the same one day, and he is already up one on talent over Vincent and Warren!
Zoe and Conor are on the golf course, and not being able to hit her ball Zoe chucks her club in frustration. Conor shows her the best way to swing and Zoe hits a good shot, and is grateful to Conor. The team are waiting to go out, and Fletch tries to bet Dean £50 that he will score the first goal, adding Jacobs is paying him more than fifty quid a week right? Des and the lads have still arrived late for the game, and Des' navigating skills can't seem to find the Leicester City ground! Having found a space clearly quite a bit away, the lads get out, and when Vincent shuts the door Des realises the tickets are still inside his wallet in the now locked car! Coates is not impressed on the sidelines as Leicester City continue to dominate the game.
As they stand outside the ground, Des says the recovery truck is on its way, only it will be ninety minutes. Warren loses patience and decides to sort things out himself. He returns to the car with a copper wire, and is successful at working the door. His "result" soon turns sour as a policeman catches hold of him from behind. As they sit 1-0 down, Ian spends half time yelling at the team but goes easy on Dean, blaming the others for him not getting the ball. When Fletch blames Dean for missing a pass to him, Dean punches the dressing room wall in frustration and has to have his hand bandaged, leaving Harchester to start the second half with only ten men on the pitch. Fletch has soon come through though, and Dean gets back on to take the Dragons 2-1 up. Having been yellow, and then red carded for his temper, Dean's game is over. Des, Sean and Vincent find a newsagents where the shopkeeper lets them listen to the rest of the game on his radio, provided they pay for his services.
The full time whistle goes and Harchester have won. In the health club Conor tells Zoe of how Jacobs paid his parents money to get him to sign for Harchester, but it was Frank who made him see sense about coming back. As he sits in reflective mode in the dressing room, Dean is teased by Fletch about how he had a side bet on Dean losing his temper and getting sent off all along. Des and co arrive back at the car and find a note from the policeman regarding Warren. As the team sit on the coach, Jacobs makes an announcement - he will be playing the infamous tape and if anyone on there is the "mystery scorer" they will get a bottle of champagne. Dean squirms in his seat as he is recognised on the tape, and sinks even further when Jacobs realises it is in fact his daughter on top of Dean! A seething Jacobs stands over Dean and tells him he is finished.
Notes:
· The Best: Warren, forced to listen to the match from behind his cell door, and has a hissy fit when the sound goes off.
Additional Info: Eight seasons ago (1990-91) Harchester were playing third division football. FA Cup 3rd Round is Des' favourite day of the season, and he was there when Harchester knocked Leicester out of the cup in 1974.
· What Was The Score?: Fletch passed a late fitness test for the game, as did Heskey and Elliot for Leicester. Ian Marshall scores for Leicester, while Fletch equalises with a strike. A further goal from Dean wins the game 2-1 though seven minutes before the end he brings Walsh down, resulting in a yellow card. Dean's temper again gets the better of him and he pushes the referee, resulting in him being sent off with a red.
Soundtrack: Fun Lovin' Criminals: "Scooby Snacks", The Lightning Seeds: "You Showed Me."
TV & Satellite Week episode synopsis