Season 1 Episode 31
Episode 31
Sky One Transmission Date:
Tuesday 27th January 1998
Written By
Currently Unknown
Directed By
Terry Iland
Georgina, Stephanie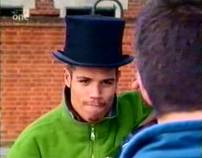 Warren, Conor
Lynette, Dean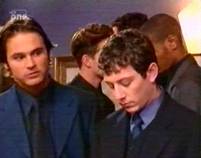 Fletch, Dean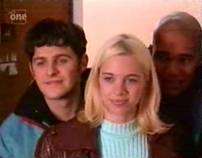 Sean, Zoe, Vincent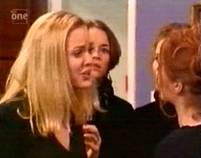 Georgina, Stephanie, Lucy
GS: Noah Langham (Adam Garcia)
Frank takes Warren and Conor to the hearse that will be used for Mike Jacobs' funeral today, and says he wants it thoroughly cleaned before being decorated with the club's colours. Warren isn't keen, and tells Conor they will be taking it to a car wash. Georgina is dressed for the funeral and Stephanie tells her how all down Addison Road is awash with flowers and tributes to Michael. Georgina says she feels she had been awful to her dad, how she was all he had and all she did was think about herself, adding it feels like she killed him. Sean tells Zoe how he saw Noah kissing another girl outside Studs yesterday, but she thinks this is just something he and Vincent have cooked up as Noah was working yesterday. Conor is cringing as Warren tells him they will be taking a shortcut in the hearse, which involves them driving across the training pitch!
Ian goes to the flat to tell Dean he is excused from the funeral what with everything that's gone on recently. Dean brings up how Michael told him he'd never play for the first team again, but Ian says the Cup Round against Blackburn means more to him than the late chairman's wishes. As they go through the car wash, Conor learns that Warren doesn't even have a driving licence, but again Warren isn't worried - he's been driving since he was eleven! Warren and Conor make it back to the club thinking they are just home and dry, but upon leaving the car it rolls with the handbrake left off and backs into a parking bay smashing a tail light. Frank is not pleased when they have to show him the damage, and tells Warren and Conor they are on the delightfully-sounding toilet duty next week.
Lynette goes to see Dean, another making sure he won't be at the funeral. She adds how she's just looking out for Georgina on behalf of Michael and Dean remarks she has a job on her hands there. Lynette can't leave without telling Dean that Georgina is pregnant, for they both need to talk about things together. Frank is surprised to learn that Lucy plans to go to Michael's funeral, and tells her it's Stephanie and Georgina's day. Lucy says she now blames herself for Michael's death, describing how she was so angry thinking about how she became a part of his revenge on Dean, and the very next day he died. She tells her dad how she had to interview the fans knowing she wished Michael dead. Warren thanks Conor for taking the blame for the car in front of Frank, especially as he's living with him right now, and says he's been thinking - Warren wants a place of his own and asks Conor if he'd fancy being his flatmate, to which Conor says yes.
Sean and Vincent stake out the university, and before long Sean has seen Noah romancing the same girl he saw him with before. As Noah takes the girl into his room, Sean tells Vincent to keep watch while he goes to fetch Zoe. At the church, several members of the first team, including Fletch, act as pallbearers for Michael's coffin. Stephanie is not pleased to see Frank and Lucy, adding alongside the unwelcome photographers the only thing they need now is for Dean to show his face. Lynette tells them of how she spoke to Dean asking him to stay away, as they catch sight of Dean arriving at that very moment. Stephanie says Lynette clearly was very persuasive! Michael's wake is held at the club, and Ian reminds Frank he described Stephanie to him as a "ranging alcoholic". Frank says she is, but must have gotten herself together for today.
Sean tells Zoe Noah has got a girl in his room right now. She still refuses to believe him and says she is on the verge of asking her dad to get Frank to chuck Sean out of the club. Sean hands his mobile to Zoe and says Vincent will back up his story. Fletch tells Dean he was a brave man turning up today, and is excited when Lucy approaches Georgina, expecting World War III. Lucy actually ends up comforting Georgina when she says she never wanted any of the Dean business to end up in the papers, and how the stress of it all killed her dad. After a while bored waiting, Vincent's head is turned by a student who he asks to show him the way to the "library"!. Warren and Conor go and look at a flat and Conor is not impressed with how run down it looks, while Warren can't wait to move in. Conor says Warren must be desperate to move out of home, and he replies he has his reasons.
Georgina is feeling unwell and goes into the corridor for some air. Dean follows her out and asks her if it's true about the baby, which she says yes. He asks if it's one of her tricks and she reminds him this is her father's funeral. Neither of them know what to do, and Stephanie comes along and takes control, reminding Dean she told him to stay away from her daughter. Warren is handed the keys to the flat, and Conor is not happy about having to spend the last of the money his mother sent him on this dump. Warren says all he has left to do now is tell Frank where he's moving to... and Mandy. Dean tries to take Lucy home but she is still angry with him. She gets upset and says she shouldn't have been angry at Michael, for it was she who threw herself at him in order to hurt Dean. She says she slept with Michael, unaware that Georgina has heard the whole thing.
Zoe, Sean and Vincent stand outside Noah's room and Zoe takes the chance and opens the door to see if Noah really has another woman inside. Noah is surprised, but introduces Zoe to a completely different woman - his mother! Zoe takes Sean outside and tells him she is sick of this campaign to destroy her relationship he is running. Sean blames Vincent for going off with a girl when he was supposed to be watching, and chases him down the hall. Dean is about to take Lucy home when Georgina stops them, and loudly berates Lucy for crying all over her when she is a hypocrite for sleeping with her dad. Before long a big scene has been caused and Lucy's anger at Georgina has spiralled from her mouth to her pushing Georgina to the ground! Dean wades in and yells for people to get back as Georgina is pregnant. Lucy flips and has to be carried out of the room by Fletch and Frank, as Georgina sits on the floor humiliated.
Notes:
· The Best: Conor looking out for (and caring about) Warren, saying he needs a mate like himself to keep him out of trouble. Their friendship is very charming. Warren trying on a top hat left inside the hearse. Another fireworks display from Lucy and Georgina doesn't disappoint!
Quotes: Lucy (to Georgina): "I caused it? No you were the one who started it by sleeping with my fiancée you slut!".
· Foreshadowing: Ian says as Jacobs was a majority club shareholder, it means either Stephanie or Georgina is bound to inherit, making one of them their new boss!
Soundtrack: Bruce Springsteen: "Streets of Philadelphia"