Season 1 Episode 48
Episode 48
Sky One Transmission Date:
Wednesday 25th March 1998
Written By
Patrick Melanaphy
Directed By
Andy Richards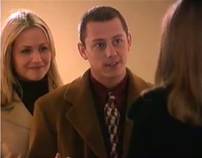 Natalie, Dean, Lucy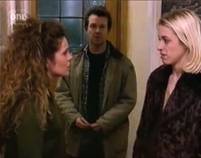 Lynette, Des, Zoe
Dean, Sean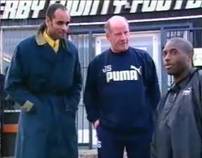 Ian, Jim Smith, Dean Sturridge
Biloo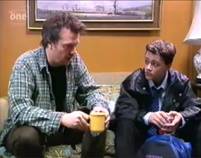 Des, Steven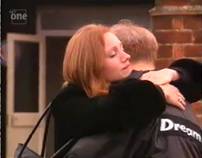 Lucy, Frank
GS: Steven Baker (Ian Middleton) Biloo Kapur (Hari Dhillon) Dean Sturridge (as himself) Dave Bassett (as himself) Jim Smith (as himself)
It's Transfer Deadline Day, and Ian has raised £5M to put in a bid for Dean Sturridge, while Nottingham Forrest have offered a lot of money for Dean Hocknell. He gets back from Italy today and Ian doesn't want him to leave, asking Frank to stall Dean until he gets back from Derby. Frank is sceptical as he and Dean aren't on the best of terms, but will do his best. Lucy is all set to leave for London when a phone call from Harchester Sound FM Sport asks her to take one last job down at Addison Road, although she doesn't think anything will happen as the deadline is Lucy opens the door to find the returned Dean standing outside. He is surprised to see her too, as he expected Sean to be using the flat while he was away. Lucy tells him she is leaving herself and about her new job, but a young blonde woman joins Dean and he introduces her as Natalie, his fiancée!
At Pride Park Stadium, Ian is desperate for Sturridge, and puts forward five-and-a-half-million, telling his assistant to get on to the "Merry Widow" to ask for the extra half million. Jim Smith goes to the board to ask whether it will be enough, but he is doubtful. Natalie is describing to a bemused Lucy how one minute she was this single woman and now she's been whisked back to Harchester to get married. Lucy is so stunned at how quickly Dean has worked that she really doesn't know what to say! Dean obviously knows how awkward the situation is and speeds up Lucy's exit to do her final report at Addison Road. Lynette has been phoning around looking for Zoe, but it's OK, Oscar the Grouch comes home. Zoe snarls that she is quitting college and is going to get a job and move out. She still has no time for Des and huffs off when he comes in.
Sean is preparing for training when Dean enters the dressing room, and they are naturally thrilled to see each other. Dean begins to tell him he's brought something (or someone) back with him but they are interrupted by Frank, who tells Dean no matter what Biloo has called him to the club for, do not sign anything until Coates gets back from Derby. Dean is surprised the club wants to sell him the moment he has just got back, and Stephanie says an offer of three-million is good for his first professional season. Dean says he needs time to think this through, but makes sure Biloo knows he wants to think alone! In the canteen Dean gets round to telling Sean he brought his fiancée back to Harchester with him, although their parents don't even know about her yet. Lucy is telling her dad the same story in his office, and an equally shocked Frank asks her if she's OK with it. Lucy replies it shouldn't matter to her as she's leaving.
Biloo tries to tempt Dean with the move to Forrest, revealing Dave Bassett is interested and he'll be asking for 10 grand a week, a 100K signing on fee and a bonus if they make the Premiership. When Dean continues to stall, Biloo tries his next trick, by suggesting to Stephanie that she offers to give Dean £100K to sign for Forrest, explaining that it would ultimately get her the three-million she needs. Sean is relieved to see Zoe has returned home, and wants to make sure she didn't sleep with the guy from last night. She puts his mind at ease by saying no she didn't, although she doesn't know why he cares. Coates explains to Sturridge the terms of his Harchester contract, how he will receive a £150K bonus if they stay in the Premiership. Sturridge is happy and can't wait to sign, with Coates sticking to his previous word of wanting to build the team around him.
Biloo introduces himself to the "Future Mrs Hocknell" and tells Dean about Stephanie's one-hundred grand offer. Dean remarks they want rid of him more than he thought, and Natalie is excited about that amount of money, but tells Dean he should go with what his heart says. Dean says there's not much else keeping him in Harchester and accepts Biloo's offer. Sean is adamant Zoe cannot drop out of college, just because her dad has had some "middle-aged brainstorm". Zoe says now Des has put the idea in her head that he may not be her father she doesn't know him, her mother or who she is anymore. Feeling that she has no-one Sean says she's got him and he has something to tell her, but has to meet with Dean first so arranges to see her later at the Health Club.
Steven has come to see his dad at Warren's flat, and asks him can he live with him after the divorce, as his mom is a useless cook and she and Zoe are always arguing. Des says it isn't a given he and his mom will get divorced, and Steven presents him with a broken gnome painted Harchester purple, saying they could fix it together if he came home. Biloo lays out his terms with Dave for Dean signing for Forrest, but Dave won't agree to them, and Biloo says it would be a shame for him to come all this way for nothing. Lucy sits with Natalie in the canteen, and after Lucy can tell the club is selling Dean, Natalie reveals he's going to Nottingham Forrest. Ian is stuck in grid-locked traffic on the motorway outside Birmingham, and phones Frank to tell him he won't be back before the window shuts, adding he knows Bassett has been in the boardroom all afternoon. He tells Frank if Dean ends up going, then he will be off too.
Natalie asks Lucy why she and Dean split up, but before Lucy can answer, Dean comes back and asks her to wait at the Health Club while he finalises his contract. Lucy sarcastically tells Dean he will never change, and that he hasn't told Natalie everything. Frank tries a last ditch attempt to get Dean to stay at Harchester. Dean doesn't understand why, and Frank agrees after the way he treated Lucy, but reminds Dean that he trained him and knows with him here the club stands the best chance of surviving in the Premiership. Zoe has waited a while for Sean and swaps change with Natalie to use the phone, not knowing who she is. While she is away Sean arrives and Natalie offers to pay for his orange juice when he has no money. Zoe sees them talking, and assumes Sean is chatting her up before she storms off.
In the boardroom, Dean says he cannot sign for Forrest as he feels he has unfinished business in Harchester, and Stephanie is not impressed. Frank offers to drive Lucy to the train station, but she says she's no good at goodbyes, and father and daughter share a hug. Zoe returns home, and enters the living room to see Des, Lynette and Steven waiting. Des tells Zoe he's come home, and Zoe runs to hug him. Lucy is surprised when Fletch shows up just as she is leaving, and he pleads with her not to go. She solemnly tells him it's over, she has a new life, and all Fletch can do is watch her leave. Sean and Natalie are still talking and getting on well, and Sean realises he has screwed things up with Zoe. Dean arrives and Natalie is all over him, confusing Sean. Natalie then clicks that Sean is in fact Dean's brother, and Dean introduces the girl Sean has the hots for as Natalie, his fiancée!
Notes:
· First appearance of Natalie Moore (later Hocknell) played by Helen Latham.
Last appearance of Lucy Patcham (Kate Farrah). There appeared to be a general sadness in Farrah's acting style during this and her final episodes, as if she was genuinely sad to be leaving and couldn't hide it.
· Best Known For: Helen Latham's credits include "Brookside" (1999) "The 10th Kingdom" (2000) "EastEnders" (2003), a recurring role in "The Bill" as Christine Weaver (2002-05) and Lucy Milligan/Lockhart in both "Footballers' Wives" and it's spin off "FW: Overtime" (2005-06). Plus the DT-alumni movies "Landscape of Lies" (2011) and "Lords of London" (2014). She and Darren Morfitt were together throughout their time as Dean and Natalie in DT, having met while studying at the Mountview Academy of Theatre Arts in 1995. They have been married since June 2004.
The Best: The fact that this episode features several real-life football world figures, and not just in stock-footage! The now increasing-rare sight of Steven (alternately Stephen) Baker, and he being the one to get Des to return home. Lucy – it's a shame she couldn't have seen out the full first season.
· Additional Info: Coates describes the selling of Alan Law, who Middlesbrough came in for, ending an almost twelve-year playing stint with the Dragons. Jim Smith is seen here where he was Derby County Manager from June 1995 - October 2001. Dave Bassett is seen as Nottingham Forrest manager, where he was from May 1997 - January 1999.