Season 1 Episode 63
Episode 63
Sky One Transmission Date:
Tuesday 19th May 1998
Written By
Currently Unknown
Directed By
Andy Richards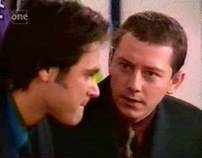 Fletch, Dean
Ian. Frank, Brian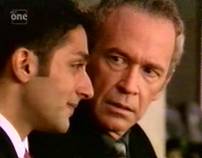 Biloo, Clive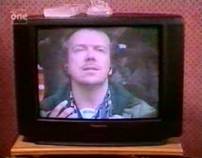 Des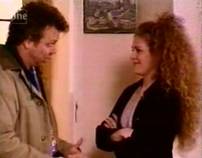 Des, Lynette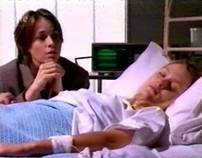 Stephanie, Georgina
GS: Biloo Kapur (Hari Dhillon) Doctor Timothy Mersh (Ian Price) Dean Sturridge (as himself)
Coates, the team and the whole town are preparing for the last game of the season, where only a win against Chelsea will guarantee Harchester stays in the top flight. Stephanie has been sat by Georgina's bedside, and Georgina's consultant, Dr Mersh tells Stephanie the painkillers Georgina took are very dangerous in large quantities, especially towards her liver. They will have to wait for blood test results before they will know if there has been any damage. Sean finds Des in the back garden, having lined up his very own starting eleven of Harchester gnomes. Des talks of how he felt this time last year knowing the Dragon's were going up, and today feels like the end of the world. He has faith though, and tells Sean one particular gnome over there is just waiting to come on and score the winner - he's Sean Hocknell. Sean is flattered but tells Des he'll be on a bench like the one they are sitting on now.
Ian has Brian check Fletch over and he gets the all-clear to play today. Fletch tells Coates he is up for it, but mentally, Karl is not sure himself. Frank tells Sean, Conor and Warren he will be speaking to them all individually tomorrow, before handing Sean the £20 that was stolen from him by a now-unmasked security guard, caught by Franco Rossi. As Des prepares to leave for the game, the knowledge of if Harchester stay up they will take the new youth team hostel, which Lynette doesn't want, is playing on both their minds. Conor tells Warren he wants to apologise for thinking he could be behind the thefts, as they mop the home dressing room floor. Warren says it's nothing new, and a lot of people thought that of him, though he's still convinced Frank will be sacking him tomorrow. Sean comes in and Warren makes a £20 bet that if Harchester goes down Sean will cough up.
Fletch is troubled, and Frank can tell that he's nervous about playing again today after a lengthy spell out. Frank compares Fletch's situation to going from falling off a horse to getting back on it. Warren lets Fletch know about his bet and says if he could miss a few chances to score then that would be great! Biloo comes to Stephanie as she continues to wait for Georgina to wake up, and she asks him to do all he can to stop this getting out publicly. Biloo gently brings the matter of the club's sale up, adding the property developer BAJ is offering a further £8M more than Clive but he needs to get back to them. Stephanie is consumed with worry for Georgina and says to just go ahead and sell. Biloo reminds her didn't she have a verbal agreement with Clive, but Stephanie blames him for keeping her from Georgina when she tried to kill herself, so says no she definitely didn't.
Dean finds Fletch sitting alone in the dressing room (his favourite pastime) and gets it out of him how worried he is about screwing up today. Dean jokes today is not the day for "Flash Fletch" to change his personality, but adds today is their day, and to just go out there and do the business. Kick off time arrives, and Ian tells Fletch in his team talk he doesn't expect a full 90 mins from him today. Georgina is awake, and Stephanie is shocked when she says she wishes she was dead. Stephanie apologises for not being there as she promised, but Georgina informs her it's much worse - she knows she slept with Fletch.
As the game kicks off, Ian, Frank and Brian notice Stephanie is a no-show for the last game, and Ian smugly remarks maybe she has better things to do. Clive takes his seat next to Biloo, and is shocked to hear about the better offer for the club and how his deal with Stephanie no longer stands. Des and Natalie are disheartened to hear that Barnsley have got a goal up away to Blackburn. Stephanie tries to explain to Georgina how she was flattered that Karl had a crush on her, but anything between them was over before Georgina got with him. Georgina says she doesn't understand how her mother could destroy everything she's ever cared about, and accuses Stephanie of not loving her. Fletch escapes his bad run and scores. As the ground celebrates, Biloo remarks to Clive how that goal is bad news for him, as the rival bid is subject only to Harchester staying in the Premier League.
As the second half gets underway news comes through that Blackburn have equalised at Ewood Park. Clive realises that the property developers want Addison Road as a prime bit of real estate. Ian knows it's time to take Fletch off, and he leaves the pitch to hero's cheers, following his goal which is currently keeping them up. Di Matteo scores and Harchester are drawing to everyone's horror. The game ends with a draw, and Harchester must wait for their fate with the final result at Ewood Park. The crowd stay in their seats and the full team and coaching staff anxiously wait in the dressing room with the radio bringing the latest from Blackburn v. Barnsley. Dr Mersh tells Stephanie the results of the tests are back and they go to his office to discuss them.
The final whistle is blown with Barnsley failing to score, meaning Harchester have survived their place in the Premier League. The dressing room erupts with glory, whilst at the Baker's, Lynette watches as the cameras pan in on a relieved Des in the stands. Clive presents Biloo with an option, he could raise the further £2M needed for the bid, or he could put the money in Biloo's account, provided Biloo is up for persuading the council against BAJ's bid. When Biloo reminds him that is bribery, Clive responds he would call it business.
Dr Mersh tells Stephanie the toxins have not cleared from Georgina's body, and there's a high probability that her liver will not recover. He tells her if Georgina continues to deteriorate, they are left with the option of a liver transplant. Only this is a very risky procedure, first they would have to find a suitable donor and then her body may reject the transplant. Stephanie is then told Georgina's chances are not good. Des arrives home, and Lynette tells him he won, and that she wants to go and see the hostel. Des is surprised and asks what changed her mind. Lynette says it was something she saw on the TV. They hug, whilst at the hospital, a worried Stephanie sits by Georgina holding her hand, and waiting.
Notes:
· Last appearance of Georgina Jacobs (Clemency Burton-Hill). Georgina is still around, gravely ill off-screen in the next episode, with her fate being told through Stephanie and her doctor. Dean Sturridge also makes his final appearance playing for Harchester, and quietly departs over the summer. As he stayed on at Derby County until 2001 it seems likely his DT persona returned there!
Best Known For: Ian Price was an accomplished stage actor, who, among his television credits was the ITV daytime soap "Gems" (1986-88).
· The Best: Always good to see Fletch tested, with his fears and demons taking away all of his confidence and cockiness here, before he finds his form again. It was also nice to get a unique take on the team's end-of-season fate being decided through another game's results, with the club and its fans waiting eagerly for the news to come through over the radio. Compared to every other season (except for S7 of course) where the answer came with Harchester's win or lose there and then.
Additional Info: The Harchester team for the final match is (13) Jennings (2) Brady (3) McNeill (4) Stiles (5) Adams (6) Moore (25) Rossi (7) Best (9) Fletcher (22) Hocknell (11) Sturridge with Substitutes (8) Charlton (17) Brown (18) Muller (23) Wright (26) Banks.
· What Was The Score?: A free kick from Stiles and a pass from Adams sees Fletch return to form and take Harchester up 1. With eight mins to go, Roberto Di Matteo equalises and McNeill manages to see him off again before the final whistle goes. All hopes are left that Barnsley do not score, and when their game with Blackburn ends 1-0, Harchester have secured their place in the Premier League.
Soundtrack: Chumbawamba: "Tubthumping"