Season 2 Episode 1
Episode 65
Sky One Transmission Date:
Tuesday 1st September 1998
Written By
Paul Hodson
Directed By
Terry Iland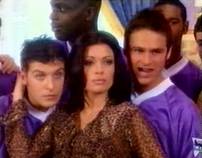 Sean, Lynda, Fletch, team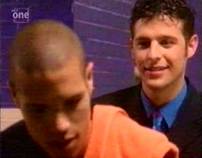 Warren, Sean
Des, Lynette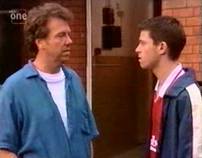 Des, Billy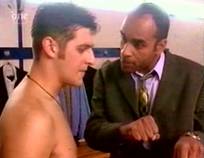 Sean, Ian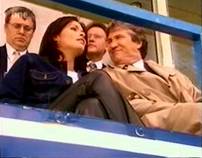 Lynda, Jerry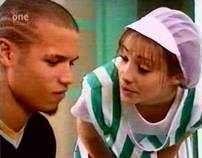 Warren, Julie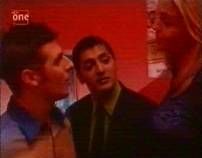 Sean, Biloo, Natalie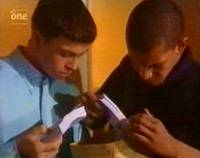 Billy, Leon
GS: Biloo Kapur (Hari Dhillon) Frazer (Sean O'Kane)
Going into the third weekend of the new Premier League season, a win today against Spurs could see Harchester at the top of the table. Fletch and Sean arrive at the Block family's mansion for the team's photoshoot, and Sean recognises Fletch's latest conquest as Lindsey, the girl from the Sunday Sport. Fletch asks Sean whether he's heard from Dean, and Sean says he is apparently living in a mansion like this and it was 105 degrees when they played last week. Soon they, and the rest of the team, are distracted by another 'scorcher', in the form of Mrs Lynda Block, as she is set to join them in the photoshoot. The photographer finds a problem with Lynda's leopard-print top against the purple of the team's kit, and rather than her wish of the boys going topless, she is required to lose the top!
The new intake of youth team players have arrived at the new hostel manned by Des. As he allocates them rooms to share, he puts one present lad, Leon Richards, with Billy O'Neill. Frank tells him Billy is coming down from Liverpool and wants Leon to look after him as he will probably be nervous. As the photoshoot continues, Jerry arrives home with his assistant/henchman Frazer. Wanting to take Lynda away as the boys have a game this afternoon, the photographer remarks to Jerry how the camera loves his wife! Meanwhile, the "nervous" Billy that may need looking after has been trying to hitch a ride for so long, he throws his bags into the road and curses the drivers - until a police car pulls up behind him.
Warren is hard at it in the gym, and Frank comes in with a suggestion. He knows how being out with an injury has left Warren feeling isolated from his team mates, so suggests he move into the new hostel where he would get better care than having to travel across town from his flat. Warren reminds him he already tried living in the Baker's digs which was crap so why try living "with a load of spotty kids". Frank replies he could make money renting his flat out, and leaves it with him. Warren hobbles out into the corridor where he meets Sean, and says he's heard he made today's squad. Sean feels awkward and tells Warren in a couple of weeks he'll be further forward to playing with them. The lads, led by Fletch come sauntering along and drag Sean away to lunch, again leaving Warren pushed out.
Des and Lynette are unpacking the last of their things into their new home, but Lynette is not happy about the lack of privacy and how the lads and their noise can be heard through the walls. Outside, Billy arrives by escort from the police, and explains to Des that his dad is a friend of the Chief Constable of Merseyside Police and got the lads to give him a lift down! Des shows Billy his room and introduces Leon, and Billy is surprised to hear he has to share a room, something he hasn't done since he was six. At Addison Road, Jerry and forget-back, more like still-on-the-scene-remarkably Biloo, lament the first home game of the season. Jerry points to the penalty area, and tells Biloo he sees a block of luxury flats going up there. He asks how progress is coming along, and Biloo replies they have four councillors in the bag, and need another two to be sorted - so just Mr Lal to get his extra cash, a further £50K. Jerry and Biloo make plans to exchange the money tonight at Studs, where Biloo is hosting post-match drinks.
Leon is explaining to Billy how he got kicked out of the Arsenal youth team for having a part-time job in a fish market which left him too exhausted for his football. All he will say is that he needed the extra money. Billy's long-stretched tales continue with how Michael Owen was his reserve in Liverpool Boys Under 15's. In the canteen, Frank is reading out the list of rules to the new youth team players, including, of course, how all public houses in Harchester are out of bounds. One player, Gary Pascoe, remarks how he "can't wait to go home on weekends and get plastered" with his mates. Canteen girls Julie Alexander and Kelly James watch on, and Julie remarks "That ginger bloke" Frank Patcham reminds her of her old French teacher. Kelly is more excited about the real action - the first team coming in, particularly her favourite Karl Fletcher. She even does him a special meal every home game as "he doesn't feel right without it"!
Sean is nervous about starting today, and has been paired up with Fletch. Before he goes out Coates tells Sean he wouldn't have selected him if he didn't feel he was ready, and would rather he missed ten today rather than didn't try. As they wait in the tunnel, Fletch thinks Sean hasn't got the bottle to accept his bet that the other will pay a grand-a-goal to whichever scores today, until Sean tells him to make it two grand and he's on! During the first half, Sean is the first to score, and he reminds Fletch of his expected payment in his goal celebration. Warren goes into the canteen looking for lunch, but Julie tells him they're closed. He gets ratty and explains he's been working in the gym all afternoon, and will be complaining to her boss if he doesn't get served. Julie scrapes together a plate of leftovers, and mashes in a cigarette butt to get back at Warren, before placing it in the microwave. She is surprised when Warren tucks in with no fuss!
Fletch scores, with Sean now losing what he'd just won. Warren apologises for shouting earlier, and handing the plate back Julie and Kelly are shocked to see Warren actually ate the fag butt without noticing! Sean scores his second goal, taking Harchester 3-0 up and the final whistle goes. Frank tells the youth team lads that he doesn't want them going out celebrating the club's win tonight, as the new educational officer arrives tomorrow and there is going to be classes every afternoon. Leon asks Frank about the club paying people to do duties such as cleaning boots and toilets etc. Frank says it's all part of the Football Academy plan, but tells Leon he is to concentrate on his football only, which is why other people have been brought in to do those jobs. Frank is confused as to why Leon would be needing extra money, as everything is provided for him here. Billy catches up with Leon and tells him he's got a great idea of how they can get into this party at Studs tonight.
Jerry meets up with Biloo as the party is getting going, and they arrange to exchange the money in the gents where there are no cameras. As he is making his way there he spots Natalie arriving with a heavy suitcase, back from Turkey. Billy is trying to chat up girls when Leon interrupts with how Frank is sitting in the corner and they better make a quick exit. Sean too has pulled two blondes, but spots his favourite blonde at the top of the stairs with Biloo. Natalie tells Sean she is over for a few days, and didn't want to spoil his night so she'll catch up with him later. Natalie insists everything is fine to a concerned Sean. Leon and Billy are forced to hide in the gents when Frank comes along, and Leon makes a quick escape while Billy locks himself in a cubicle. After Frank leaves, Jerry comes in, and believes the "Billy-boy" inside the cubicle is in fact Biloo. He throws the £50K package over the door and leaves. Leon comes back in looking for Billy, and they open the envelope and are stunned by the wads of cash inside. Billy reminds Leon that he told him he was lucky!
Notes:
· First appearances of new regular characters Jerry Block (Michael Melia), Lynda Block (Alison King), Leon Richards (Nathan Constance), Billy O'Neill (Phil Barantini), Julie Alexander (Julie Smith) and Kelly James (Emma Gilmour).
Best Known For: Michael Melia's wide-stretching and long-running career has seen him appear in amongst others "Doctor Who" as Terileptil (1982), "The Hard Word" (1983), "Screen Two" (1988-89), the regular role of D.I. Frank Dagley in "Dangerfield" (1996-97) and other DT alumni in Jane Hewland's "Daylight Robbery" (1999). Of course, his famous role (and exit) was unlucky pub landlord Eddie Royle in "EastEnders" (1990-91). Since DT, Alison King has achieved high-recognition for her role as Carla Connor in "Coronation Street", spending nearly ten years in the part (2006-16). Her other credits include "Cold Feet" (2000), "Coupling" (2001), the film "Shanghai Knights (2003) and "Mile High" (2005). Nathan Constance played a number of regular TV roles including Josh Mitchell in "Bad Girls" (2000-02) and Ian Walmsley in "Footballers' Wives (2002-03). He also appeared in the films "London to Brighton" (2006), "Adulthood" (2008) and "Bonded by Blood" (2010). In 2013 he exec produced, wrote, directed, edited and starred in his short film "Results". Recently he has been providing voices for video games "Battlefield 1 (2016), "The Order: 1886" (2015) and "Lords of the Fallen" (2014). Phil Barantini has appeared in a number of successful movies and TV, including "Band of Brothers" as Wayne A. (Skinny) Sisk (2001), "Ned Kelly" (2003), "The Boys & Girl from County Clare" (2003) and "Hard Boiled Sweets" (2012). He recently exec produced and starred in the short "Wanderlust" (2016) and the to be released in 2017 film "An Actor's Life". Julie Smith was a successful face on British TV in the 90's and 00's, appearing in the film "Beautiful Thing" (1996), a famous appearance in Travis' music video "Turn" (1999), and the soaps "Night & Day" as Kate Ellis (2002-03), and "Family Affairs" as Lucy Day (2002-05). Emma Gilmour appeared in "The Parole Officer" (2001), "Cold Feet" (2003), "Mile High" (2004) and several guest appearances on "Coronation Street" (2006 & 08). Sean O'Kane has had a wide-ranging career in acting, modelling and stunts. He was a stand-in on American cop drama "Cagney & Lacey" in the mid 80's. The tile role in TV series "The Interceptor" (1989-90). He also appeared in "Grange Hill" (1991), Sharpe's Justice (1997), provided voices in "Million Dollar Baby" (2004), "The Crews" (2016) and the 2017 mini-series "A Study in Red Trilogy". Seen here as recurring youth teamer Gary Pascoe, Gary Lucy has had a hugely successful acting career on British TV, going on to "Hollyoaks" as Luke Morgan (1999-02), Kyle Pascoe in "Footballers' Wives" (2002-04), PC/DC Will Fletcher in "The Bill" (2005-10) and recently Danny Pennant in "EastEnders" (2012-14).
· The Best: The beginning of the pairing-up of Fletch and Sean, alongside new great double-acts Billy and Leon, and Julie and Kelly. What an entrance for Lynda Block! Almost seems a totally different character in her pre-Luis, pre-Chairwoman status here as simply Jerry's "Good-lady wife" as she is announced as at the game. The blossoming relationship between Warren and Julie starts well too. Great Natalie was back as another survivor from the Season 1 cast.
The Worst: Lynette seems to have inherited the moany sprit of her missing-in-action daughter Zoe from this episode, constantly in a sulk about her present life as if to prepare her exit which is another eight episodes away!
· Foreshadowing: It's ironic that in Warren's first scene of the new season, Frank is trying to persuade him to move out of his flat and into the new hostel, considering what happens to him in 2.43. Julie seemingly has her eye on Leon with "That dark one's quite cute" even before meeting Warren. There are mentions of further regular characters set to arrive; from Frank there's the educational officer in Helen Jensen, and Warren telling Julie if she won't serve him, she can go fetch "the old lady" i.e Denise Wilkinson who runs the place.
Continuity: The events over the summer 1998 transfer window are recapped; On May 7th "Building supplies millionaire" Jerry Block officially became chairman, purchasing the club for £25M. June 20th and Dean Hocknell leaves on loan to Galatasaray, with it believed Harchester will push to make the move permanent. August 15th and Harchester open with a 2-0 win against Newcastle, with goals from Fletch in this and the following week's (August 22nd) game against Middlesborough. A trace of Stephanie Jacobs remains in the club's gym, with an infamous Harchester Says No poster still up.
· Additional Info: Sean is described as an England youth international, and played in the same England youth set-up as Michael Owen.
What Was The Score?: Before the Spurs game, Harchester are on maximum points with Arsenal, Chelsea and Derby. Their 3-0 win, with two goals from Sean and one from Fletch, takes them to the top of the table. The commentator states the team don't appear to be missing Dean Hocknell one bit.
· Soundtrack: Republica: "Ready To Go", Rosie Gaines: "Closer Than Close."