Season 2 Episode 11
Episode 75
Sky One Transmission Date:
Tuesday 6th October 1998
Written By
Johanne McAndrew
Directed By
Perry Miller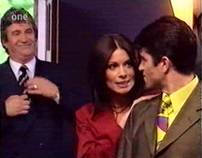 Jerry, Lynda, Luis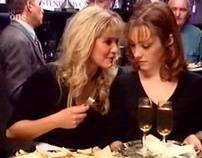 Kelly, Julie
Helen, Frank, Alex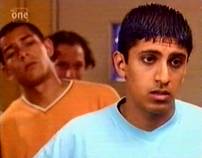 Leon, Hari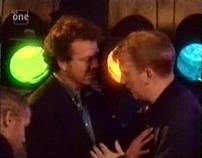 Warren, Des, Frank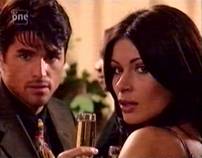 Luis, Lynda
GS: Councillor Lal (Madhav Sharma) Harvinder "Hari" Lal (Sushil Chudassama) Fraser (Sean O'Kane) Helen Chamberlain (as herself)
Fletch and Sean arrive at the club to be surrounded by a crowd of reporters, one of whom is Helen Chamberlain, determined to get their view on the hot story of Real Betis's Luis Amor Rodriguez signing for Harchester. Hari is moving into the hostel today, and Gary and a gloating Alex watch as Councillor Lal waves him off. Alex kicks Hari's suitcase, but is forced to (roughly) carry Hari's luggage inside when Des welcomes him to the hostel. It is now Luis's turn to pull up at the club and be surrounded, only he has a mob of racists chanting "Go home" waiting for him. As they wait for Luis's unveiling to the press, Jerry and Fraser discuss Leon and his suspicious betting. Jerry tells Fraser to go down to London and check out Leon's Arsenal connections, speaking to as many people as he can. Ian meanwhile introduces Luis to the assembled media.
In the canteen Kelly is showing off her outfit with its altered hem to Julie, and tells her she's sorted hers too. Julie is more worried about what Denise will say. Des brings Hari to training and Frank tells him Hari should move in with Alex and Gary, as Leon might need the place in Dion's room to give him a break from Billy. They get onto the subject of Lynette leaving, and Frank tells his old friend they should go out for a drink tonight. At the press conference, Helen (Chamberlain, not Jensen) presses Luis about why he didn't play in Argentina's World Cup, but he is distracted by Kelly and Julie entering in their 'adjusted' outfits. Afterwards, Jerry and Luis pose for pictures with his Harchester shirt, and Lynda introduces herself to Luis, standing with him for the photos which give the press their money shot.
Alex is none too happy to find Hari has moved into he and Gary's room. Helen is having a one-to-one with Luis, but she fails to notice him pinching Julie's bum as she walks past with drinks. She tells Kelly who plots revenge, sneaking up behind Luis and sticking a fork in his backside! Frank is in the middle of lunch in his office when Jerry comes in, and obviously he is out to impress Councillor Lal so takes it Hari will be playing at the Arsenal game tomorrow. Frank says Hari's only been here five minutes, but is railroaded by Jerry in at least putting Hari on the bench so his parents can see him. Jerry makes it clear he only wants to see Hari subbed once, playing every other time! The only real attention Kelly and Julie get for their outfits is from the youth team lads, and Denise sternly tells them it's time they changed.
Hari reads his name on the team sheet bench for Arsenal on Saturday, and is excited. Lynda offers to take Luis on a guided tour of Harchester before they have dinner at The Grange tonight. Alex and Gary snoop through Hari's suitcase, and Alex finds a Harchester teddy bear Hari keeps as a mascot, which Alex teases Hari about. Alex goes to Frank complaining about someone with Hari's lack of talent being in the team, when he only has a couple of weeks himself. A henpecked Frank lets it slip to Alex that he is far from happy about the situation himself, which intrigues Alex. Helen (Jensen) overhears their discussion, and tells Frank he has now given Alex, who is a bully, ammunition to unsettle Hari. Frank doesn't take kindly to Helen's criticisms, and tells her to stick to what she is here to do for the last few weeks she has left!
Fletch and Sean are also on Luis-guided-tour duty and show him the boot room. Luis tells them of his 'date' with Senora Block tonight and Fletch is intrigued, as Lynda is "Hot stuff". Kelly challenges Warren to come out with her and Julie tonight, as a gesture for him to step-up and show Julie he likes her back. Frank and Des are on their 'night out' which is so far miserable, with Des pining over Lynette. Frank tells him if he feels this way then he should go after her (again as if he doesn't have the welfare of an, albeit missing-in-action, teenage son to consider), but Des thinks he lost Lynette years ago and he wasn't the man she wanted him to be. As the night goes on, Des continues to drink, and Frank is not happy to see Warren rock up with Julie and Kelly, who has to insist to his once-again boss he is on the orange juice.
Jerry is sweet-talking Councillor Lal over dinner that Hari is a valued member of the youth team and even has a place in tomorrow's game against the Arsenal youth team. Hari meanwhile, is at the centre of a penalty shoot-out set up by Alex with Hari's teddy in goal. The other youth team lads join in, but Leon doesn't get involved and walks out. Des is getting quite drunk, and Kelly and Julie egg him on to sing on the karaoke, which Warren is not pleased about. The youth team lads get louder in their humiliation of Hari, and eventually Helen remembers she is supposed to be in charge of them in Frank's absence, and yells at them to get to bed like naughty schoolboys. All except Alex, whom she wants a word with.
Soon Des is on stage singing to "Always On My Mind", but halfway through has to stop because he is upset over Lynette. Frank takes Des off stage and angrily demands Warren help him, while Kelly and Julie feel uncomfortable about their actions. Helen tells Alex of how his mother begged her not to tell Frank about her catching him stealing from Billy's room, but can tell Alex doesn't care because he is a liar and a bully. As they celebrate his arrival in Harchester, Luis and Lynda notice Jerry is sitting across The Grange restaurant with Councillor Lal, but are happy to carry on partying. As Jerry and Councillor Lal toast their business deal Harchester 2000, Lal points Jerry to Lynda being photographed with her arms around Luis!
Notes:
· Best Known For: A Londoner sporting an Australian accent from moving to Perth in his pre-teens, Martin Crewes began his stage and television career Down Under, before touring internationally with "South Pacific" and as Marius in "Les Miserables". At the time of and after Dream Team, Martin lived once more in Britain, with credits in fellow Hewland shows "Daylight Robbery" (1999-2000) and "Mile High" (2004), alongside "Bad Girls" (2001), "Heartbeat" (2007) and "Casualty" (2008). In film, he impressively conducted his own stunts in "The Man from Snowy River: Arena Spectacular" (2003), plus a notable role in the 2002 action/Sci-Fi film "Resident Evil", and the 2013 Australian thriller "Patrick".
The Best: Helen Chamberlain, unaware of the love story she is about to set off, makes the ultimate suggestion of Lynda getting in on the shot of Luis's press unveiling. Helen Jensen, showing that whilst making some questionable decisions early on she does have other values as a teacher, and is able to spot and take on a bully, better than the long-term management.
· Additional Info: Fraser tells Jerry he looks glum because of his new signing - and reminds Jerry he fought in the Falklands War. Frank tells Des how in January it will be ten years since his wife, and Lucy's mother (Helen, again!) died.