Season 2 Episode 12
Episode 76
Sky One Transmission Date:
Thursday 8th October 1998
Written By
Stephen Russell
Directed By
Perry Miller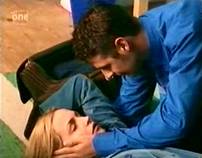 Natalie, Sean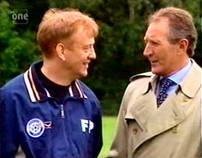 Frank, Howard Wilkinson
Clare, Kelly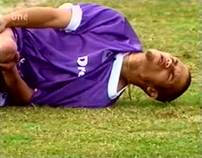 Warren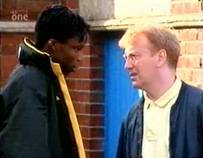 Adi, Frank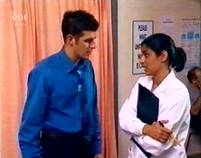 Sean, Doctor
GS: Hari Lal (Sushil Chudassama) Councillor Lal (Madhav Sharma) Clare (Sarah Farooqui) Doctor (Syreeta Kumar)
Adi Coleman (Roger Davies) Howard Wilkinson (as himself)
Sean and Fletch are about to leave for the coach to play Sheffield Wednesday when Natalie turns up and collapses in Sean's arms. As they wait for the ambulance, Sean tells Fletch to go on ahead without him, and Fletch warns him he is leaving his place open to Luis, but Sean won't leave Natalie. As they train for their match against the Arsenal Under 19's, Leon and Billy are scaring themselves that they are on someone's hitlist over the money, when Frank arrives with Howard Wilkinson. Frank explains that Howard is scouting for an England Under 19 Tour. Ian is waiting at the coach for Fletch, Sean and Luis who are holding the team up, while Jerry tells Lynda he accepts she being photographed with Luis is getting as much publicity for him as possible. Luis gets there while Jerry and Ian arrange to meet at Hillsborough, and continues to flirt with a giggling Lynda from the coach.
In the youth team dressing room, Frank is discussing Arsenal U19's Adi Coleman who plays up front, and how Leon has shared prior knowledge of his play which they can use to their advantage. He is interrupted by Councillor Lal and his wife walking into the dressing room wanting to wish Hari luck, which the lads find hilarious. Frank has to politely tell them it isn't possible, before sending the lads out with his usual "Play the game, not the occassion". Fletch makes it to the coach and explains to Ian about "Dean's" Natalie, while Sean himself watches as Natalie is admitted at the hospital. Des joins the others to watch the youth team match, and Julie nicknames him "Snake hips" after last night. Leon and Adi meet up on the pitch, and Adi remarks Leon must find it much smaller here than Arsenal. Billy takes offence at Leon chatting with "the enemy" and the U19's match kicks off.
As they travel Coates tells Fletch they have to be prepared for Sean to miss kick-off, which means when exactly to bring Luis on. The doctor comes out to Sean and tells him Natalie has suffered a ruptured spleen which they will have to operate to remove, but Sean can see Natalie. When he is out of earshot, the doctor tells a nurse to keep an eye on Sean, as they are still unaware of how Natalie came to receive her injuries. Sean phones Coates and confirms he won't be able to make the game. Clare walks past Julie and Kelly, having no time for their silly games. She's here to see Leon. Jerry brings Lynda into the Hillsborough away dressing room to wish Ian and the lads luck, and she hears about the drama involving Natalie. At the hospital Sean tells Natalie he knows Dean did this to her and he's spoken to Lynda, though she begs him not to say anything as the doctors believe her story of it being an accident. Sean is consumed with guilt that he was the one who sent Natalie back to Dean.
The U19 match sees Simon Coggan injured and to the reluctance of just about everyone but his parents, Hari is put on in goal. Frank puts Warren on for the second half. Lynda can't concentrate, and Jerry gives her the keys to the car so she can go and see Natalie herself. The doctor questions Sean about Natalie's bruises, remarking on how there are some which are older than the ones she has been admitted for. It isn't long before Arsenal U19's have scored, and everyone holds Hari responsible. Sean sits by Natalie's side as she drifts in and out of conciousness, and promises her everything will be all right. When Hari inadvertently stops a back pass, a free kick is given to Arsenal, and Warren goes down injured while in the wall. Lynda finds Sean at the hospital, and he explains Natalie will be having surgery on her spleen. He tells her he feels this is his fault, and Lynda hugs him, assuring Sean it's nobody's fault but Dean's.
As the youth team leave after the game, Adi waits to talk to Frank, where he reveals he is not happy at the Gunner's. Frank tells him to come and have a chat with him next week. Hari feels guilty at the mistakes he made at the game, but Councillor Lal tells his son he is proud. Leon meets up with Clare and asks her why she's back so soon, and she surely hasn't spent a grand already? Clare asks Leon where he got the money, because this "Scotsman" has been to the flat wanting to know if Leon had given her any money, before acting menacingly towards Clayton. The same doctor who has been dealing with Natalie now takes over with Warren, as if she is the only doctor on duty in the whole hospital today. Frank spots Sean and wonders why he is there. Sean explains about Natalie, but avoids telling Frank the boy who was once engaged to his daughter has put his new wife in hospital.
Billy watches as Clare hands money back to Leon, saying if it's going to bring trouble she doesn't want it. The doctor cannot tell Warren and Frank how bad his injury is until they do a scan, but Warren is convinced he has done his ligaments in. In the canteen, Billy tells Leon what he saw with Clare, and Leon tells him about the Scottish guy who is looking for them, and how they are in big trouble. The doctor asks for Sean's consent before the operation, as Natalie is unconcious, and they are unable to discuss her pregnancy with her, although they are sure she and the baby will be fine. Sean is shocked to learn that Natalie is pregnant. At the first team game, a pass from Fletch sees Luis scores on his debut.
Notes:
· Best Known For: Roger Davies starred as sports commentator Vinnie Rodrigues in that other cult football-based TV series "Renford Rejects" on Nickelodeon from 1998-2000. He was also in CITV's "Comin' Atcha!" (1999-2000) and had a regular role as Ziggy Pascal on Channel 5 soap "Family Affairs" (2001-02). A recent TV credit was "Hounded" (2010). Among her 30+ credits, Syreeta Kumar appeared in the TV mini-series "The Buddha of Suburbia" (1993) and was one of the many DT alumni to put in an appearance in Jane Hewland's mini "Daylight Robbery" (2000). She also starred in the films "Notes on a Scandal" (2006) and "The Infidel" (2010).
The Best: Luis humorously explaining to Ian how he got stopped by police for not understanding "Round-and-bout". Kelly, furious at Hari's mishap resulting in an opposition goal and yells "Oi! Butter-fingers" at Hari.
· Quotes: Clare: "He threatened me and Clayton" Leon: "Calm yourself down and speak proper!".
Additional Info: Leon previously met Howard Wilkinson during his time at Arsenal.
· What Was The Score?: Howard Wilkinson is impressed as Billy scores the first goal of the U19 match. However it all goes downhill from there as the inexperienced Hari lets in two Arsenal goals and screws up a back pass. At the first team game against Sheffield Wednesday, a pass from Rodriguez leads to a goal from Fletch, following which, this time with a pass from Fletch, Luis scores on his debut.