Season 2 Episode 24
Episode 88
Sky One Transmission Date:
Thursday 19th November 1998
Written By
Directed By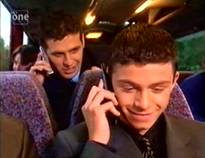 Sean, Billy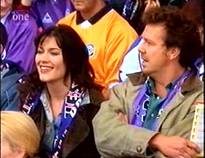 Helen, Des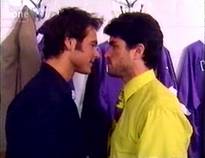 Fletch, Luis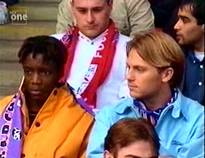 Adi, Alex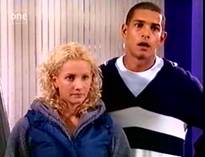 Clare, Leon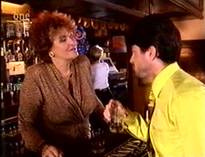 Shirley, Luis
GS: Clare (Sarah Farooqui) Adi Coleman (Roger Davies) Shirley (Gaye Brown)
At breakfast, Luis tries to talk to Ian about playing Fletch wide today so he can have a better shot at the Arsenal boys, but Coates says they will do things his way. Fletch comes over and reminds Luis he will be gone soon, and it will be back to he and Sean scoring the goals. Natalie tells Jerry about Sean asking her to move into his house. She feels awkward living at Lynda's while she is away in Puerto Morelos. Jerry asks her to stay as Lynda will be back soon, and besides, he wants Natalie to accompany him to the Arsenal game today. Des arrives on Helen's doorstep and she is surprised to see him. He tells her Billy has made the first team and invites her to join him for the game at Highbury.
Billy takes a call on the coach and finds he is on Radio 5, unaware it is in fact Sean on the other end. When the "interviewer" asks him how it feels to be the new Michael Owen, Billy remarks how Michael Owen should be asked how it feels to be compared to Billy O'Neill! The lads find it hilarious when Billy realises he has been scammed. The coach arrives at Highbury and Helen calls to Billy, but there is an awkward moment when she and Coates meet each other's gaze. In the Away dressing room, Fletch taunts Luis about making him think he'd slept with Lynda when he hadn't, and Luis squares up to Fletch about him having no respect for the team or women. Helen remarks on how Highbury is huge and Addison Road is less intimidating. Des replies they still haven't found anyone for her job yet.
Ian calls Luis over and tells him his head isn't right for today so he is putting him on the bench. Luis reacts badly to this and throws his tracksuit at Coates before storming out and away from Highbury. In the executive box, Jerry is shocked to hear Luis is listed as on the subs bench and goes to find out what's going on. As the boys head out to warm up, Jerry demands to know why Rodriguez isn't playing, and Ian slyly tells him he's gone walkabout and has no idea where he is! Leon and Clare sneak into the empty canteen and are surprised to find Kelly working there. She thought Leon would have gone to Arsenal what with he being from London and Billy in the team. Kelly recognises Clare from attending the youth team games, and sensing three's-a-crowd leaves her and Leon alone.
As the game kicks off at Highbury, Luis wonders into a pub and asks the landlady to use the phone for a taxi - only his wallet is still in the dressing room as he's a big footballer! The landlady has no idea who Luis is! Jerry complains to Natalie about Luis, saying how two goals this afternoon would have doubled his asking price. Natalie wonders if he's selling Luis because of the Lynda story, and adds nothing happened, but Jerry thinks Lynda has only told her that. Clare tells Leon that she's found a job, waitressing at a Chinese restaurant. She talks about how she's had no money lately, and how Clayton gets by on baby food Leon's mom buys, though she never offered Clare a meal. Luis is on the landlady's good side and she asks him about how long he's been in England and how he must miss home. Luis remarks he is too busy having fun to be married.
Leon refers to the grand he gave Clare and the "Scottish man" who came after them, and how now they've got to pay it back. Clare suggests maybe it would be best if Leon dropped down leagues, as he'd be paid more in a week and in time could return to a club like Harchester, somewhere he's spent years trying to make it and still hasn't succeeded. In the second half of the game, Overmars scores taking Arsenal 1-0 over Harchester. Luis is getting quite drunk still chatting away to Shirley, and tells her he feels he has no real friends at Harchester or anyone who really wants to know him aside from his football superstar status. He then falls off his chair sprawled out on the carpet. Des takes Helen out to dinner, where she can tell there is more to his visit to see her than attending the Arsenal game. Des asks Helen to come back to the club.
Sean and Fletch are not in the mood for having a drink, or even hanging out with Billy when he approaches them on the coach home. Billy answers the phone and its Bob Adams looking for Coates. Ian continues to spin his story on Luis's health, taking pleasure in telling Bob Luis reacted badly to him dropping him because of his "health issues" and stormed out. Des can tell Helen is holding something back in her decision to stay away from Harchester and asks if it's about Coates. Helen defends him over their "misunderstanding and wrong signals" but Des says Ian is a grown man and should take responsibility. Helen agrees that Des can let Frank know she is interested in returning.
It is closing time at Shirley's pub, and Luis is the last one left, but passed out drunk. Shirley says she's taking him upstairs to bed, and will have something good to tell the girls tomorrow! Billy arrives back at the hostel and Leon is watching the game's highlights on Match of the Day. Billy is stoked when he sees himself on TV and wishes he'd recorded the show. Leon is depressed however, and compares being stuck in the academy to prison, working non-stop and still not knowing if anything will ever come of it. Billy has more faith, and tells his friend that they will both be at the World Cup in 2002. Leon solemnly adds he wishes he could believe that.
Notes:
· Best Known For: Gaye Brown is a veteran in stage and screen acting and performing going back to the 60's. She appeared in the iconic classics "Up Pompeii" (1971), "A Clockwork Orange" (1971), "The Rocky Horror Picture Show" (1975) and modern cult hit "Sweeney Todd: The Demon Barber of Fleet Street" (2007). Other film roles include "All The King's Men" (1999), "An American Haunting" (2005) and "Into the Woods" (2011). Director Philip Wood worked on a number of television factual projects before moving into TV drama and social films. He directed more than 40 episodes of "Brookside" between 1995-98, "Family Affairs" (50 eps, 1998-99), "Coronation Street" (30+ eps, 2000-02) and 80 episodes of "Emmerdale" from 1999-2007. Writer David Lane had an eight-year-stint writing for "Emmerdale" (1988-1996), followed by 14 years writing for "Coronation Street" (1998-2012) in which he penned more than 200 episodes.
The Best: Billy sitting next to Luis and telling him not to be nervous as it's his first time at Highbury too! Alex and Adi being shocked to find themselves with the Arsenal crowd in the home stand, and having to hide their Harchester gear! Shirley letting Luis drink the afternoon away whilst providing a sympathetic ear to his stories. And then not missing the chance of having him stay the night! The contrasts between Billy and Leon's days, and how Billy doesn't get down over not making it on the pitch or being the butt of the team's jokes and ridicule.
· Quotes: Ian during his half time rant when Jerry walks into the dressing room accompanied by Natalie: [sarcastic] "Oh Mrs Hocknell, lovely to see you! Any ideas you can give us?!"
Foreshadowing: Ian tells Billy he is definitely on the bench but probably won't get on "unless Hocknell and Fletch get struck by lightning". Eerie in Sean's case, as that is what is believed happens to the plane when it disappears on the way back from Holland [3.4 / #144].
· What Was The Score?: With two minutes of stoppage time, Harchester fail to score and Arsenal win the match 1-0, with Billy never having made it off the bench.