Season 2 Episode 30
Episode 94
Sky One Transmission Date:
Thursday 10th December 1998
Written By
Currently Unknown
Directed By
Currently Unknown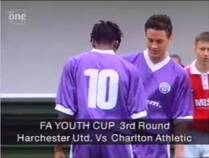 Kick Off! Adi, Gary Pascoe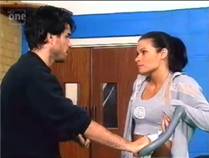 Luis, Lynda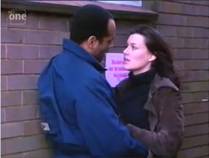 Ian, Helen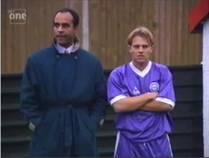 Coates, Alex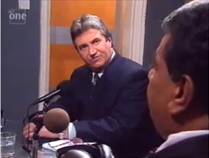 Jerry, Councillor Lal
GS: Bob Adams (Martin Beaumont) Councillor Lal (Madhav Sharma) Adi Coleman (Roger Davies)
The youth team lads are leaving for the FA Youth Cup match against Charlton Athletic. Billy watches Denise and Frank discuss their dinner plans for after the game, and takes pleasure winding Alex up over his mother and Frank until Alex grabs hold of him. Ian plans to join the boys on the coach, but sees Helen and says he'll use his car to travel instead. Ian wants to take Helen to the game in his JAG, but she's already told Des. Warren strolls into the canteen having returned from his week at Lilleshall, and is shocked when Julie has no time for him, reminding him he can't just pick her up again.
Coates manages to wangle a seat in Des's car, and as Des checks for problems under the bonnet Helen and Coates sneak a kiss without him seeing. Warren hangs around the canteen, and tells Julie he has no mates and she's the only one who still knows he's around. When she says she has to work Warren offers to pay her wages for today, just so she'll come out with him. As they sit in the stands at the game, Des offers to get teas, but only Denise will volunteer to help him carry them, leaving Ian and Helen alone. Coates has no desire to sit in the cold watching the youth team and tries to tempt Helen with getting a taxi to the Grange for some fun. She wants to, but her commitment to the boys keeps her there.
Lynda walks into the gym at the Health Club and sees Luis for the first time since they both got back. Luis is worried about them being seen together but Lynda says Harchester is a small place and they are going to meet. Besides Jerry is off doing a radio show today. Lynda says she read about Luis's health in the papers, but is surprised when he tells her it was all made up by Coates in order for him to stay and no other clubs to come in for him. Bob shows Jerry into the room where Councillor Lal is waiting, and knows there isn't much chance for a friendly debate today. Des wonders where Helen has disappeared off to, and Denise thinks the ladies. She is in fact, having her own half-time team talk with Coates, only with more tongue-action than talking!
The debate begins on Harchester Sound FM Sport with Bob asking Councillor Lal if he has forced Jerry's hand to sell by refusing his plans for a new stadium. Lal says there are more important matters at the club, like racism. But Jerry gets his way when Bob asks wasn't that more of his son Hari just not making the grade? Ian returns from his liaison with Helen and realises he has to take the game seriously, telling Frank to take Alex off as he may be needing him. Frank is thrilled Ian wants Alex for the first team squad, but leaves it up to Coates to tell the annoyed-at-being-taken-off Alex that he might be needing him for Saturday.
Julie is less than impressed when her afternoon with Warren results in playing pool in the Rec Room. Warren tells her his time away was a waste of time and he believes his career with Harchester is over, but will drop down to Non-League if he has to get his career back. Fletch and Kelly stumble into the Health Club where Lynda and Luis are listening to Jerry on the radio, and despite the frostiness between Fletch and Luis, they sit together. Jerry makes it clear that he blames Councillor Lal alone for destroying his dream to bring the best to Harchester United, and forcing him to take his money elsewhere. Coates is impressed with Leon's performance, and how the youth team have great defensive options.
The phone-in callers are all on Jerry's side, one referring to Jerry as the best thing that has ever happened to the club, and Councillor Lal is left squirming as he is accused of stopping them getting the stadium they need to move forward. Des is having more car trouble, and Ian wants he and Helen to take the coach with the lads, but she doesn't want to leave Des alone so a put-out Coates heads off. The team arrives back and Alex is sick of the praise for Leon so reveals the reason Frank took him off - Coates wants him for the first team.
Helen is frustrated when Des puts calling the radio show over calling the AA for their broken down car. Des goes on air and says Councillor Lal should put aside the grievances over his son to let Harchester have the stadium it deserves. Des and Helen eventually arrive back and Coates entices Helen over to the empty coach where he has sat waiting for her, and the two have a very special 'ride' of their own on board!
Notes:
· The Best: The foursome of Fletch, Kelly, Lynda and Luis sitting together listening to Jerry's radio show, with Fletch still bitter that Luis is hanging around Lynda, and Kelly's obliviousness to it all. Jerry and Councillor's Lal's latest sparring match, with game, set and match to Jerry.
Foreshadowing: Alex is coming to see Leon as his threat, especially when Frank informs Coates that Leon can play wing-back as well as him.
· What Was The Score?: In the FA Youth Cup 3rd Round, a pass from Adi to Billy takes Harchester one-up, and they win the game with Leon and Alex both impressing.
Soundtrack: Lutricia McNeal: "Someone Loves You Honey", The Corrs Feat Tin Tin Out: "What Can I Do (Remix)"