Season 2 Episode 35
Episode 99
Sky One Transmission Date:
Tuesday 29th December 1998
Written By
Zeddy Lawrence, Chris Fewtrell
Directed By
Currently Unknown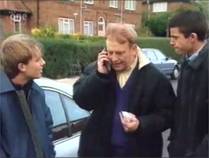 Alex, Frank, Billy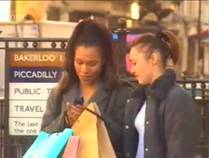 Mica, Julie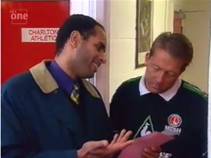 Coates, Alan Curbishley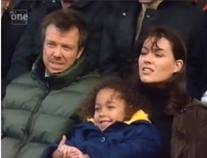 Des, Leah, Helen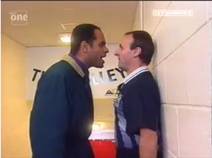 Coates, Kingsley
GS: Ingrid Coates (Minna Aaltonen) Peter Coates (Aiden Crawford) Leah Coates (Leigha Samuels) Colin Kingsley (Ron Webster)
Gary Bloom (as himself) Alan Curbishley (as himself)
Coates gets his worst nightmare (except for maybe Ingrid catching he and Helen) when he walks into Fletch and Sean's hotel room to find the two have been struck down by food poisoning. Warren is determined to be rid of Mica, especially before Julie comes round to the flat, and Mica can mockingly tell her little brother is in love. Frank goes round to Denise's where he finds Alex is still bitter after yesterday, and is showing signs of having a hangover. Frank then gets an unexpected call from Ian, informing him how some of the first team have gone down with food poisoning, and he'll be needing Alex and Billy after all.
Des tells Helen he is going to meet Charlton Athletic's commercial director Steve Dixon who set up the Valley Party, and will get tickets to the game. He asks her to come, but she is unsure, and Des says he hopes their liaison isn't going to ruin the fun they had as mates going to matches together. Warren thinks he is finally seeing Mica off with forty quid of his own money, but when Julie arrives she doesn't take to Warren's attitude and says she'll see him another day. Mica catches up with Julie and asks her to come to London with her, as she has so much money from "waiting on Christmas tables for bankers". Billy has arrived at Watford from Liverpool, and Frank takes a call from Ian who informs him Billy will be on the bench while Alex is in the starting eleven.
Mica and Julie quickly spend all of the money shopping, and Mica has a plan to find some rich men who will pay for their clubbing in London tonight, i.e. Harchester United footballers who are already in town! Des meets with Steve at Charlton, and in the tunnel he and Helen encounter Ingrid with the children. Helen finds it hard to smile when she learns how she and Des will be sitting right next to Ian's family during the game. Things get worse for her when, in order to get a better sight for the match, Leah has to sit on Helen's lap. Julie has to pretend to be Fletch's sister in order to find the hotel he is staying in, but chickens out when she is put through to his room.
With Alex and Billy late to the ground, Coates has to send through his team sheet, encountering an unsympathetic referee, Colin Kingsley, for the first time. After learning from Frank that the three are stuck in traffic in the Blackwall Tunnel, Coates has to inform Alan Curbishley, and then take amendments to his team sheet back to said ref. Coates returns to the dressing room to find Frank standing there with Billy and Alex. They managed a police escort as the driver's daughter is a big fan of Fletch's. Coates now has to go back to Curbs and then once more to Kingsley, who is less than pleased to see him. Kingsley goads Ian about making any more last minute changes before finally accepting his latest team sheet.
The bell goes for kick-off in the dressing room, and Kingsley comes in demanding Harchester change their shorts from white to purple as orange and white is too close to Charlton's red and white. After walking up every corridor the hotel has, Mica and Julie spot Fletch, and he invites them in. During the first half, Ian's patience is tested by Kingsley, when a foul on Luis is ruled a throw-in. With Sean still vomiting into shoes, and Fletch wanting to stay with him, Mica won't wait for them to come clubbing and pinches money out of a wallet before leaving with Julie.
In the second half, Mendonca pulls down Gary Blackburn and there is no fowl, but when Hodson pulls down Mendonca, Kingsley awards a penalty to Charlton and sends off Paul Hodson with a red card! Coates is having kittens, and has to be pulled back by Frank and another official, before he calls to Jimmy Russell to go in goal. Mendonca takes the penalty and, obviously, scores. As Alan Curbishley gives his post-match interview to Gary Bloom, Coates storms past them and bangs on Kingsley's door. When Coates loudly berates him, Kingsley asks Coates can't "you people" control yourselves, meaning football managers. An already fuming Ian, now believes Kingsley was racially discriminating against him, and gets in Kingsley's face yelling. The Sky Sports cameras capture Ian's aggressive behaviour and Frank has to pull Ian away, telling him he's going to be in big trouble.
Notes:
· Best Known For: Ron Webster appeared in '80's films "Whoops Apocalypse" and "Bellman and True", the TV movie "Fool's Gold: The Story of the Brink's-Mat Robbery" (1992), the George Best biopic "Best" (2000) and other football flick "All in the Game (2006), through to blockbusters "Gosford Park" (2001) and "Grace of Monaco" (2014).
The Best: Mica and Julie's Leicester Square scenes. A great day (although not for Harchester!) with Charlton at The Valley, with one of his earliest of many DT appearances, Alan Curbishley. Dragons stalwart Jimmy Russell, usually a midfield general, having to switch to goalie.
· Continuity: Mica tells Julie that Fletch is from London. This could be relating to events which aren't really made clear (or even written in) until DT80's in 2006. Fletch, born 1972, didn't come to Harchester until Jonny Fletcher signed for the club from Watford in 1976. He was then supposedly living in London following Jonny and Trish's divorce in 1982 through to joining Harchester's youth team in 1989.
Additional Info: Ingrid met Ian while he was still playing, as her father was his agent. Colin Kingsley is averaging 7 bookings per game, meaning nobody has given more yellow cards this season. By the end of this game Kingsley has brandished five yellow cards and one red.
· What Was The Score?: A John Robinson goal three minutes before half-time gives Charlton the lead. The second half sees Redfearn, who Alex Wilkinson was supposed to be marking so closely Coates wanted him in his shorts(!), score. A controversial penalty taken by Clive Mendonca leaves the score 3-0 to Charlton.