Season 2 Episode 38
Episode 102
Sky One Transmission Date:
Thursday 7th January 1999
Written By
Directed By
Terry Illand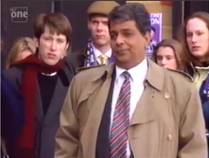 Lal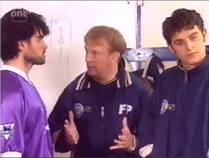 Luis, Frank, Sean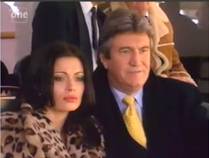 Lynda, Jerry
Ingrid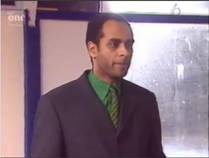 Coates
GS: Councillor Lal (Madhav Sharma) Ingrid Coates (Minna Aaltonen)
It's FA Cup Third Round day and Fletch finds Sean still in bed, with Mica under the covers. He tells his friend he should sort his life out. Coates and Ingrid watch Frank be interviewed on Sky Sports about his first match in charge of the Harchester first team. Coates assures his wife it isn't bothering him, but tells Ingrid he wants to go and watch the game later. As soon as Sean is off with Fletch to the club, Mica wastes no time having a good mooch around the bedroom until she finds money. In the canteen, Frank goes through the pre-match routine with the first team, and makes it clear to Sean there will be no changes from last week - he is still on the bench.
Kelly is not happy about having to work during a Cup match while Julie who doesn't even mind gets to go. Mica turns up and tells Julie and Warren she is attending the match as a player's guest - Sean. The first team give Coates a rapturous welcome as he passes them, but there is embarrassment for him when a security guard won't let Ian into the authorised area on Jerry's orders. Outside the stadium, Des is canvassing for The Dragon Party when Councillor Lal rocks up. In front of both fans and the media cameras, the candidate rivals go head to head, with Des accusing Lal of ruining the dreams of every Harchester fan over the new stadium because of a personal vendetta. The crowd appears to be on Des's side and a burger is thrown at Lal, who yells the Dragon Party's supporters are yob's and bully's - just like Jerry Block!
Jerry and Lynda are drinking champagne inside the VIP box when Ian saunters in, followed by the annoyed security guard. Jerry yells at him that if it gets back to the FA that he's at the club they will think they aren't taking the suspension seriously and the inquiry will not go their way. Jerry warns Ian to stay inside the VIP box and not to go near the dressing room or players. Helen meets Ingrid, saying she wanted to see if she was OK after yesterday. Ingrid says they take it one day at a time, and asks Helen to have lunch with her, and although hesitant, Helen agrees. Ingrid tells Helen she is sorry she dropped Ian's past on her, and Helen adds she didn't realise it had been so bad. Ingrid describes how once Ian got so desperate she found him licking vodka off the bathroom floor, and when Helen asks why she's stayed with him, Ingrid can just say because she loves Ian.
The half time whistle goes and the score is 0-0. Although the team's performance has been below average, and Jerry is doing his nut to Lynda and Ian, Frank remains calm, telling the boys when they get the ball they must relax and allow themselves to play. Frank says he will change things in the second half to help the team, by playing 4-4-2, and putting Sean on. Ingrid tells Helen even marriage and having Peter didn't stop Ian drinking, in fact he got worse; disappearing for days until Ingrid briefly left Ian. It was when Leah was born six years ago that made Ian sort himself out, and he went from the hospital at her birth to his first AA meeting, not touching alcohol since. Frank's tactical choices pay off with Fletch, Sean and Luis up front, and the home crowd's spirits are lifted when Fletch scores. Kelly comes in on a stressed out Ian, and not knowing about his drinking problem offers him champagne. Ian is especially ratty and snaps at Kelly to leave and to take the bottle with her.
Ingrid and Helen realise they've been sitting in The Grange all afternoon and don't even know if Harchester won the game. Ingrid says they'll have a quick coffee and go and when Helen asks for De-Caff, Ingrid remarks how Ian drinks it like that. Helen unassumingly reveals she knows he takes it with a dash of milk and one sugar. Ingrid is stunned to hear this - as Ian only takes it like that first thing in the morning. Helen cannot hide her embarrassment, and it slowly dawns on Ingrid that Helen shares more with Ian than her job. Ingrid puts the story of Helen's boyfriend whom she couldn't be with together, and confronts her that it is in fact her husband!
After three minutes of stoppage time, the full time whistle goes and Harchester have won, with Frank hailed as the saviour of the game. The lads celebrate with him in the dressing room by dumping a bucket of water over Frank. Jerry makes a loud entrance into the dressing room to congratulate the players, but most of all, Frank. Frank looks uncomfortable when Ian appears behind Jerry, and Coates solemnly congratulates Frank on the win before shuffling out.
Notes:
· The Best: Jerry refusing to let Ian sit outside with he and Lynda to watch the game, sliding the doors closed in his face. Frank's supportive team talk at half time, in the face of a usual screaming tirade from Coates, sends the boys out feeling more confident into the second half. Ingrid planning with Helen to check the match score on Teletext (so 1999!). The toe-curlingly revelation between Helen and Ingrid of Helen being Ian's secret lover.
Foreshadowing: Sean is feeling rough and Fletch says he'll need some of the caffeine pills Adi sold them.
· Additional Info: Frank tells Sky Sports he will be in charge of the first team for the next three weeks.
What Was The Score?: It is mostly First Division Barnsley who dominate the first half. But with Frank's patience and support, the team win the game 1-0 with a goal from Fletch.
· Soundtrack: Space: "Female of the Species", Natalie Imbruglia: "Wishing I Was There".