Season 2 Episode 4
Episode 68
Sky One Transmission Date:
Thursday 10th September 1998
Written By
Directed By
Perry Miller
Fletch, Lynda, Sean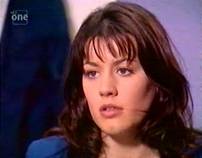 Helen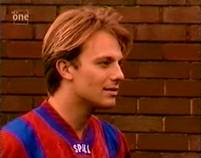 Alex
Councillor Lal, Jerry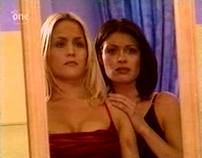 Natalie, Lynda
Clare
GS: Biloo Kapur (Hari Dhillon) Councillor Lal (Madhav Sharma) Clare (Sarah Farooqui)
Natalie comes down the stairs at the Block's and Jerry mistakes her for one of Lynda's highly-charging beauticians, until Lynda reminds him Natalie is Sean's sister-in-law staying with them. Lynda remarks how great it is having a friend her own age in Natalie, as all Jerry's "Coffin-dodging" friends and their wives are way older than her. Des and Lynette can hear Helen throwing up, and Lynette is less than sympathetic following Helen's drinking last night. Lynette tells Des she's decided to resign from her job as Chairman's Secretary, as the hostel is giving her enough football as it is. Des wakes up Billy and Leon, warning them that Frank is none too happy with them after last night, before telling Leon a girl called Clare wants him to phone her back.
Frank is apprehensive about Ian attending the youth team's training session, as he is supposed to decide when they are ready to move up to the first. At training, Frank tells the boys this weekend some of them will be playing their first game representing the club, and how last night's antics do not paint a good picture, so they are each fined £10. Billy boasts to the lads how he will pay their fines, as he has £300 coming in - which Leon is annoyed for him bragging about the money they picked up. Jerry is excited about his vision for the new stadium and plans to hold a party at his house to discuss the redevelopment of Addison Road. Biloo informs him how Lal cancelled his dinner with the other councillors, as he didn't get paid the previously-promised fifty grand until the following day. Jerry is annoyed as he needs Lal to be keeping the other councillors sweet for things to progress.
As Frank predicted Ian takes over his training session and yells his way through their practice match. Natalie and Lynda have gone to the Health Club, and Lynda wonders why Natalie won't change out of her tracksuit top to exercise. Fletch is also there and Lynda shows him a procedure on how to keep his posture when weight-lifting by getting very close! Fletch and Lynda both head off to the pool, leaving Sean and Natalie alone. Sean says he's sorry for what he said yesterday, but Natalie says maybe she hasn't understood how much pressure Dean is under, and that she's just going to spend a few more days staying with Lynda. Natalie says she does miss Sean, and the way it was for them. Billy is panicking when he can't find the money, and Leon informs him he is hanging onto it, as Billy cannot be trusted.
Helen goes into Frank and apologises for what happened, saying she was just trying to make the lesson more interesting. Frank says he has no alternative but to let her go, as it has shown she doesn't have the experience to take this on, but wants Helen to stay another month while he finds a replacement. Billy is forced to make up a tale to the lads of how a "steward's inquiry" has prevented him from getting the money to pay their fines. Frank and Denise arrive at the young offender's institute, and Frank explains to Denise how it's not uncommon for club's to scout for talent in these places. They go out to the yard and meet with Alex, who thanks Frank for coming to watch him play, adding he is hoping to make up for the stupid things he has done in the past.
Lynda has had a rail of designer dresses delivered to the house, and finds one that she thinks would look great on Natalie. Although apprehensive, Natalie agrees to try it on. Jerry meets with Lal in the park, and Lal says he had his doubts after the first money failed to turn up, and could still do with something to make him feel more confident before ensuring the Addison Road planning permission goes through. He explains to Jerry how his son Hari is desperate to make it as a professional footballer, but can't seem to progress. How convenient that Jerry is the Chairman of a Premier League football club! Natalie shows off the dress, but wants to take it off quickly. Lynda asks her to have a look in the mirror, and standing behind her notices Natalie has some nasty bruises on her back.
When Billy and Leon have a fight over the money in Helen's class, Des has to break them apart, before telling Leon Clare phoned again and he is to call her back straight away. Frank tells Denise he thinks Alex is worth another look at, and the best he can do is offer him a three-week trial. As they leave the centre, Frank tells Denise it's important that Alex stays on the straight and narrow after he is released, and wants him to move into the hostel right away where an eye can be kept on him. Des is cooking dinner when Lynette arrives home, having worked her last day at Harchester United. She says Jerry wasn't really interested in her going and she won't be missing him or the place. Des says nothing is going to spoil their night and he tells the still squabbling Billy and Leon lights out.
Late that night the Baker's are woken by loud banging on the door, and Des gets up to answer the door to a blonde girl. The lads have got up to see what the commotion is about, and Leon recognises the girl as Clare, the girl who has been chasing after him. Clare says Leon knows what she is here about...
Notes:
First appearance of Alex Wilkinson (Craig Robert Young)
Best Known For: Before his acting career took off, Craig Robert Young was a member of the pop band Deuce, having the bulk of their success between 1995-97. Following DT, he took his career to the US where he has had success on many big name TV series including "Charmed" (2002), "Sabrina, the Teenage Witch" (2003), "Lost" (2006), as regular Coach Leslie Moore in "Just For Kicks" (2006), a well noted appearance as Alfred Hoffman in "Fringe" (2010), and the crossover character Dracul Comescu in both "NCIS: Los Angeles" (2011) and "Hawaii Five-0" (2012). He also appeared as Piet Hartog in the film "War of Resistance" (2011) and it's follow up "Return to the Hiding Place" (2013). He also continues to write, direct and produce many of his own projects. After her recurring role as Clare during Seasons 2-3 of DT, Sarah Farooqui starred in the TV movie "Witness of Truth: The Railway Murders" (2001) and fellow Hewland/Sky companion "Mile High" as regular Charlotte Taylor (2004). She followed Craig Robert Young with a guest appearance in "Lost" (2009), whilst sticking Stateside for a part in the Iron Man franchise "Iron Man 3" (2013). With writing credits for "Byker Grove", "Peak Practice" (2001-02) and "The Bill" (2001-03) to his name, Chris Fewtrell secured the epic gig of being a long-term writer for "Coronation Street", with, to date, more than 230 scripts to his name since 2004.
The Best: Lynda discovering something bad has been going on with Natalie and Dean. Alex, who it is plain to see will be trouble right away!
Continuity: Lynette is considering going back to her old job at the casino, which Des is not happy as they never used to see each other when she worked nights. Ian says he wants to take more involvement with the youth team as last season was all about him moulding the first team before anything else.
Additional Info: Alex was with the Harchester academy three years ago.