Season 2 Episode 49
Episode 113
Sky One Transmission Date:
Tuesday 16th February 1999
Written By
Paul Hodson
Directed By
Neil Adams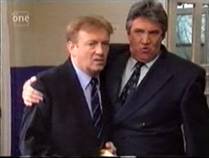 Frank, Jerry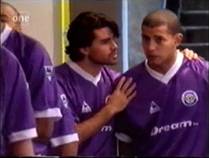 Leon, Luis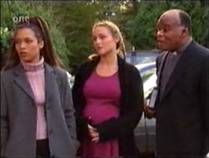 Mica, Natalie, Reverend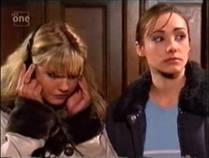 Kelly, Julie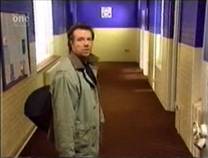 Des
GS: Trudi Payton (Shelly Minto) Reverend (Oscar James) Ruel Fox (as himself) Les Ferdinand (as himself)
Its FA Cup Fifth Round day and Harchester face Tottenham. Frank is hoping all will go to plan for his last game in charge of the first team, but that goes out the window when it appears John won't be making his debut today after all. Jerry calls Frank to the boardroom and Frank is taken aback when Jerry offers him a new contract - as manager of the first team on a two year contract. He asks what about Ian, whose ban is up on Monday. Jerry won't give Frank the weekend to think it over, and wants it confirmed tonight at when Harchester are in the sixth round of the cup. Trudi has further bad news for Frank - Tommy Becker has flu and won't be able to play either.
Helen calls in on Des and asks why he hasn't gone for his pre-match pint with his mates, and he tells her he's more important things, and not to look for "dutiful Des Baker" because he's gone. Julie and Kelly have to attend Mica's wedding rehearsal but are determined to make it back for the most important game of the season. Mica makes sure Natalie knows how happy she and Sean are, and asks her to come to the rehearsal as she's "nervous and needs her sister-in-law". Frank's wildcard for the game is Leon, who is trying to get his head around marking Les Ferdinand. Ian appears, and asks Frank will Leon be up to it, and Frank replies he played against Sheringham in the reserves last week. Frank is forced to smile and nod uncomfortably when Ian shakes his hand and thanks him for all the work he's done with the team. It gets worse when Ian suggests they work together more closely, with Ian making Frank his number two.
In his Quarters, Des is at his computer typing a letter to Frank, referring to the "change in his personal circumstances". John guides Leon into the first team dressing room, but his reassuring words are cut short when Leon has to run off to be sick. Des goes to hand Frank his letter when Frank confides in him about being offered the managerial role full time. Des is delighted for his friend, and tells Frank to go with his gut instinct, but knows he would be great. Jerry reluctantly lets Ian sit with he and Lynda in the director's box, with Ian still under the illusion he is to return as manager. As the team heads out, Frank instils it in Leon that he has to trust his talent and he will be fine, whilst Luis is also supportive to the nervous Leon.
Mica meets Julie and Kelly for the rehearsal, and there is further awkwardness when the Reverend asks Natalie would she stand in for the absent Sean at the alter. With the first half underway, Des still hasn't turned up, and Helen finds him at the hostel - packing. At the rehearsal, Kelly realises the team have kicked off and whips out her headphones. Helen learns Des is heading to Florida, and apologies for what she said the other week. Des says she's helped him realise some things, how he let his wife and kids down and now he just has to see them, and put things right.
Harchester win the match, taking them through to the sixth round. As the team celebrates, Jerry is prepared to unveil Frank as Harchester's permanent manager, until Frank stops him. Frank gives an impassioned speech on how he already has the job he wants at the club, and turning lads like Leon Richards into fully fledged players is what gives him the most joy. Jerry can't believe Frank is turning down the chance to take the team to Europe all to "play headmaster to a bunch of overgrown schoolboys". Frank confirms it's what he wants.
Notes:
· Best Known For: Acting since the 60's, Oscar James has more than 80 credits as an actor. From appearances in "Carry On Up the Jungle" (1970) to roles in TV series "Gangsters" (1976), "Emmerdale" (1978) and "Bottle Boys" (1984-85). In a prominent role, he was one of the original regular cast of "EastEnders", playing Tony Carpenter from 1985-1987. In 2005 he appeared in the film "Charlie and the Chocolate Factory".
The Best: Kelly's ill-quipped joke about how Natalie hasn't run off with Sean before she appears behind Mica for the rehearsal! Season 2's trend of Premier League players putting in appearances for Harchester games continues, with cameos from Ruel Fox (Tottenham 1995-2000) and Les Ferdinand (1997-2003). Des's talk of the current whereabouts of his family (Florida) although his final appearance isn't until the next episode. The Reverend wanting to join the girls to Addison Road for the game, only Kelly says sorry upon learning he is a Spurs fan!
· Additional Info: Harchester last reached the quarter finals of the FA Cup in 1983. Jerry reads out Frank's contract, which describes him as Director of the Youth Academy and Youth Development Officer, on eighty grand a year. Oscar James is back as the Reverend to (almost) marry Lynda and Sam Irving in 5.32 (#260) Forsaking All Others.
What Was The Score?: The first half finishes goal-less, with both teams having performed well. Sean comes close to scoring, but is blocked. With a minute of stoppage time, a strike from Fletch bounces off Ferdinand, and gives a shot to Sean who scores.