Season 2 Episode 7
Episode 71
Sky One Transmission Date:
Tuesday 22nd September 1998
Written By
Directed By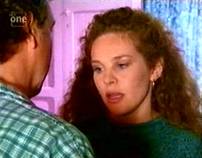 Des, Lynette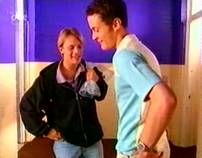 Alex, Gary
Coates, Warren, Brian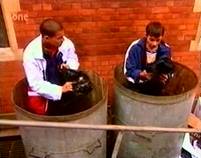 Leon, Billy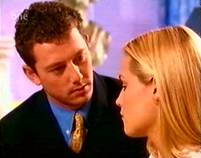 Dean, Natalie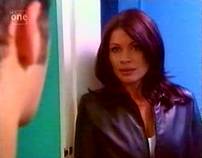 Sean, Lynda
Denise meets Alex as he is released from the detention centre. She reminds him of the big chance Frank is giving him, and how he's going straight into training and the hostel today. Alex tells his mom she doesn't have to worry about him going back inside, as next time it'll be prison - but insists he's joking. Dean tells Sean he tried to speak to Natalie but Lynda is coming between them, and he asks Sean to help him see her before he flies back to Turkey tonight. Billy has stepped up in his pestering of Leon over the hidden money, and is now determined to follow Leon everywhere he goes!
Lynette tells Des she has been offered a new job, but his excitement for her diminishes when he learns it is on a cruise ship going around the Caribbean for three months. Their conversation is interrupted by Alex's arrival, and Des shows him to his room where he will be sharing with Dion Osbourne. Alex bumps into Gary Pascoe, who is an old friend, and when he learns Gary has no room mate Alex decides they will share together, without asking Des. Des doesn't want to be separated from Lynette for so long, but she tells him she needs an adventure in her life. In the canteen, Warren tells Julie if he gets the all-clear on his leg he could be back in training tomorrow. She is distracted by Alex, and Kelly fills her in on how Alex was caught joyriding until Denise comes over, and reminds them Alex is still her son so to stop the gossiping and get back to work.
In his office Frank makes it clear to Alex there will be no drinking nights in the youth team, and his trial is unusually long because of his circumstances. He tells Alex he is a good player but it takes more than that to make it as a pro, and he doesn't think he can handle the discipline. At the hospital the doctor views Warren's X-Ray's and says the "clean break" has healed quicker than he expected. Warren can return to training, and physio Brian tells him they'll work out a rehab program straight away. Warren goes back to the canteen and Julie and Kelly are thrilled he has got his cast off. Kelly plays matchmaker and invites Warren to come watch a movie with her and Julie, but Warren backs out to do more weight-lifting in the gym, leaving Julie put out. Brian takes Warren to Ian, who is watching the youth team train. Ian tells Warren it will be months before he is fit enough to play with the first team, so in the meantime he will train with the youth, which Warren is annoyed at.
Dean learns from Sean that Natalie has agreed to see him, and he goes with his brother to the Block's mansion. When Leon finds he is unable to shake the persistent Billy off, he tells Billy that he's keeping the money in a locker at the health club. When they get to the locker however, Leon is shocked to learn that the club empties the lockers every week, and the black bin-liner full of money is amongst all the other rubbish in black bags! Sean tells Natalie Dean's leave from Galatasaray ends tonight, and Lynda is on the verge of telling Sean what Dean has been doing but Natalie stops her. After a double-search inside two metal containers, Billy finds the bag, and Leon grabs hold of it and tells Billy he's still hanging onto it for Billy's own good. Sean tells Natalie if she won't see Dean for herself then do it for him, as he was in love with her. Natalie tells him she knows, and the two nearly kiss, until Dean walks into the room saying he couldn't wait any longer!
Alex is desperate for some 'excitement' but all of his attempts at pulling women are shot down by the youth team's curfew, and Alex remarks this place is worse than the nick. Frank has discovered Alex has moved in with Gary and informs Des of the trouble they got into the last time they were together. Des takes a more sympathetic approach when Alex claims it was because he hadn't seen his old mate in so long, but Frank bluntly tells him he knows well why they don't want him and Gary together. He again warns Alex that unless he obeys the rules, he will be out. Dean is whinging to Natalie about the stress he has been under out in Turkey, and when she asks does that give him an excuse to hit her Dean tells her to lash out at him. Natalie lays into Dean, but still nothing compared to what she suffered at his hands.
Frank tells Denise he's told Alex he can't have dinner at home tonight, which she is disappointed about, but understands as he has to set an example for the other lads. Des tells Lynette to give him a week and he'll be able to convince her to stay, but she tells him there isn't the time - the ship sails from Southampton in 24 hours time. Dean continues to sweet talk Natalie, saying without her he was just rattling around in the villa alone, and it's been affecting him in the dressing room. Natalie reluctantly agrees to go back with him, and makes him promise to never let it get that bad again.
As they scoff pizza's in their room, Leon reminds Billy that the person who owns the money still might come after them and go all "Reservoir Dogs", so instead of spending the money they should just sit on it for a couple of months until they know they are safe. Alex has somehow managed to wangle things to get to stay with Gary, and as soon as Des turns out the lights he is lighting up cigarettes. After learning Sean has seen Dean and Natalie off back to Turkey, Lynda goes to the house and tells him she's seen the bruises all over Natalie's back and arms, and that Dean is a wife-beater, with Sean now sending her back for more.
Notes:
· Last appearance of Dean Hocknell (Darren Morfitt). In what was a big turnaround for the character, Dean went from being the (supposed) hero character of the first season, to a villain with a menacing presence in the second. It almost seems like with the departure of his actor, it was decided the template of his character was transferred into Fletch, including his brotherly relationship with Sean.
The Best: Sean and Natalie about to give in to their feelings right before Dean walks in. Lynda sensationally revealing all about Natalie's ordeal to Sean. The history between Alex and Warren, where Alex goads Warren that it looks like they will be vying for the same position again, and Warren smugly reminds him he is a pro while Alex is on trial with the youth team. Billy and Leon rummaging through the two giant waste skips cursing each other before re-finding the money.
· Logic: Lynette suggests to Des that he come with her on the cruise as they must need other staff and they like hiring couples. God knows where the forgotten Steven Baker is supposed to live if that happens!
Continuity: Coates hears from Brian that Warren has gained five pounds (in muscle), and he tells Warren he can now get £250, reminding him he promised him a pay-rise if he put on weight (1.64).
· Additional Info: At training Frank introduces Alex to the lads, adding "Some of you may remember when he was here before", which we learn from Denise was pre 1997-98 season when she says it's his first night home in a year. Billy and Leon are seen to be watching "The Live Six Show", Sky One's very own "The One Show" in the late 90's. Being interviewed is Phil Middlemiss, who at the time was playing Des Barnes in "Coronation Street", and also happened to be Alison King's boyfriend at the time!
Soundtrack: The Soup Dragons: "I'm Free"