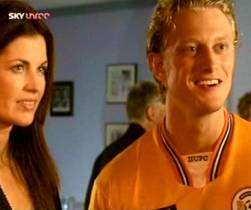 Inroduced as the new owners
6.1 [261] It Could Be You (06/10/02)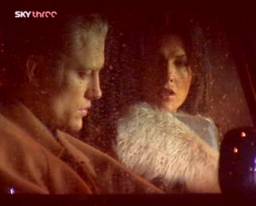 Learning the truth about Jacqui... from Jacqui!
6.19 [279] More Than A Game (16/02/03)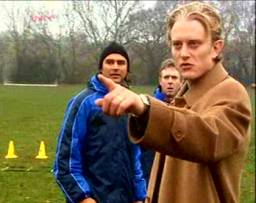 About to give Doyle a pasting!

6.20 [280] They Think It's All Over (23/02/03)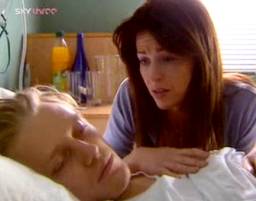 On a downward spiral after Jaqui's betrayal

6.21 [281] Dead Man Walking (02/03/03)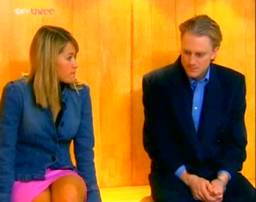 Finding love again with Nikki

6.27 [287] 48 Hours (13/04/03)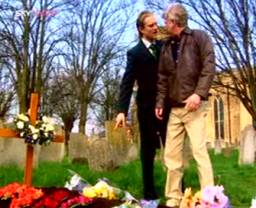 Vowing to make Doyle pay for Jamie's death

6.32 [292] Just The Ticket (18/05/03)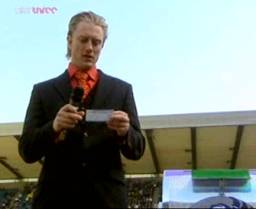 "And the winner is..."

6.32 [292] Just The Ticket (18/05/03)
At your casting for Phil back in 2002, you've told of how the producers of Dream Team had a totally different image for Phil before meeting you. Do you think because you may have looked more the footballer than Chairman contributed to you having to audition 6 times?
I think that's exactly why it took so long. I was originally brought in for the new captain role, played by Dhaffer, but I've never been good at football. More of a boxer/ rugby player. So, after my football audition failed miserably, they brought me back in for Phil. They originally saw Phil as an older more "portly" character, but they obviously saw something in me that they liked. It was an ordeal though. They wanted my hair slicked to make me look older. They talked about having a beard too. Anything to age him up and separate him from the players. In the end we just played him very dorky... something that also changed as the character evolved. In many ways I just don't really think they knew what to do with him until towards the end.
Have you gone past that number of auditioning for a role since going up for Phil?
I've had some complex auditions since Phil Wallis. I had a fight and stunt audition for Bond that took 3 hours and had me and the other 20 or so candidates doing fight sequences and dive rolls for what seemed like forever. But to date 6 auditions is the most I have ever had for one role.
As they originally planned for Phil to be middle-aged, do you know if they had to change Jacqui too or was she always intended to look like Jane (Campbell)?
Once they cast me we started looking for actresses to play the Jacqui role. I auditioned with several women but eventually found that Jane was the best fit. She wasn't afraid in the audition room. She slapped me and showed personality and sass - all important qualities for Jacqui.
Phil was the good against evil in your Season's story-arc, up against Patrick's (Shaun Scott) bet and the ever-deceitful wife. Did you like Phil's characteristics and good nature?
As I said, he evolved through the season. Phil started out as something of a clown. He made a fool of himself and had very few redeemable qualities apart from his passion and enthusiasm. But as I and the writers and producers got to know him better, his good qualities started to shine through. He was basically an idealist thrust into cold reality. David to the lions. And it took its toll on his relationship and his life. In the end he got a handle on it though and the way he left was just perfect.
But although Phil was nice he was never boring - remembering the infamous naked date he had with Nikki (Nina Muschallik). Do you have good memories of that scene?
It was the end of January and freeeeezing cold. Second unit was shooting football stuff further down the pitch. I had to walk out to the centre spot and strip naked. They did initially give me a flesh coloured G-string, but it showed in camera so naked literally meant naked!!!
I did the first take, standing there in the freezing cold with my Crown Jewels on display, when I notice something. I look up and there, in the managers boxes, are a group of people taking photos of me naked on the pitch below. It was a tour of people being taken around Millwall. Somewhere someone has a pic of me in that less than flattering situation!!
If Phil had met Nikki while he'd been a plumber do you think they would have made it or was it just not meant to be despite the chemistry?
Good question. I think they both needed a crutch and they provided that for each other for the time they were together. Nikki was a good, honest and decent woman. Phil needed that after Jacqui.
You had quite a unique exit - Phil announcing to the crowd that whoever's seat number pulled out of his raffle would own the club! What were your feelings on how he went off?
I think it was very fitting. He was a fan who took control and he was mocked and lambasted for it. Here he was simply passing the torch and saying "you all think its that easy? Here, you have a go."
Since that year on Dream Team, aside from your continuing acting projects discussed below, you've had success as a writer, The Passage picking up the Jury Award at the Durango Film Festival in 2008. It must be a very proud achievement...
My girlfriend took a photo of me from the last day of shooting The Passage in Marrakech. We were filming in the central square and had brought it to a stand still. Police cordoned off the area and thousands of locals were watching. I was involved in the shoot when I turned round and saw what we had caused. To think that that all came about from an idea that I had put into words was incredible. She managed to capture that exact moment in a photo. It says it all.
From what we've seen on-screen, you've made the transition to Stateside projects with natural ease. Beginning with Oliver Stone's Alexander to Blade: The Series and Flashforward amongst others, each one must have been a step further in your acting dreams?
Absolutely. To be on set with Oliver Stone and the amazing actors in that movie was surreal and amazing. But every project since then has made me love what I do more and more. Dreams change and evolve, but I feel so grateful and humbled that I continue to have a career in the profession and industry I love.
Judging by what you're most approached about on your Twitter account, Make It or Break It (or MIOBI) sits currently as your most far-reached television work in the US, with it seems, like Dream Team, a loyal fanbase. Did you have fun making that show?
MIOBI was an amazing experience. I was originally signed for just four episodes but they kept asking me back. I'm sad it finished.
With it being 007 season, as with Nina Muschallik recently, I couldn't not mention your role in Quantum of Solace as Henchman Edmund Slate. How does it feel to have been in one of the Bond films as the franchise reaches 50?
As a kid I used to beg my parents to take me to the Bond movies, so I would have paid good money to be around the filming of a Bond movie. But to be in one, as a henchman, fighting 007 himself? That was just incredible. Daniel made me feel very welcome on the set and we had a lot of fun (and bruises) rehearsing and filming our fight scene.
Aside from developing your career in both TV and film in the US, you're still very active in Britain too as we saw in the revived Upstairs Downstairs. There was surprise when it was announced the show wouldn't be returning for a third series. Would we have seen you return as Harry Spargo if there'd been a change of minds?
I would have loved to come back. To see those characters going through World War II would have been fascinating. I would have loved to be a part of that.
Spargo was involved in a big boxing story during the second series, were you allowed to use any of your experience and knowledge from your boxing days in what we saw on screen or just follow as it was written as?
Unfortunately, Spargo wasn't supposed to be too good at Boxing. He was all heart no skill. But it was great fun rehearsing with the stunt coordinator and Sam, the other boxer. To get the authenticity on some of the angle though Sam had to bounce the glove off of my forehead. He pulled his punches but that was a sore following day for me!
Away from your career, you're a patron of the UK spinal injuries charity Trust PA. How did you become involved with that?
My dear friend PA Blundell was paralysed from the neck down after a rugby accident. He later died. His family set up the charity Trust PA to raise awareness for spinal injuries.
How about upcoming projects in acting - anything you can discuss at this point?
I have just completed a 5 part show for ITV called "Lightfields".
There's some big excitement for your upcoming debut album "The Little Things", and the first single "Holding A Candle" being released on December 3rd. Is it exciting to be releasing music professionally for the first time having been acting for more than ten years now?
I am so excited to be releasing the album. I've been playing and writing songs for a long time now. At several points in my career I have meant to record an album, but the timing was never right. Everything just fell into place perfectly this time around and I could not be more excited by the result. I can't wait to share it.
A good place to conclude would be, if you ever had £21M pounds like Phil, where would you begin? Not football clubs as you've said before you're not a fan!
I would pay off my mums mortgage and make sure my family are set. Take a big family holiday. Buy a new house. Then probably invest in some of my movies.
Neil's first single "Holding A Candle" will be released on December 3rd.
His upcoming album "The Little Things" follows on February 4th. Both will be available from his Official Website.